Q1 2015 Newsletter
(Written by Suzie)
Introduction
Pawsitively Good News!!
In case you are wondering what AARF has been up to since our last newsletter — we have a lot of good news to make you smile and for those of you in the cold U.S. and Canada — to hopefully warm up your day!
Images or photographs with a thick gray border around them may be clicked to see an enlargement or another web page related to the image. And we've added a horizontal menu for quick jumps to different sections of this newsletter.
Feedback about this newsletter is always appreciated; please use our Contact Us page.
Geraud's Sweet on AARF Week
AARF volunteers just finished another very successful Geraud's "Sweet on AARF" Week, an annual event which is the brainchild of Mel and Geraud.
They graciously give us space at their very popular and delicious patisserie. This gives us a chance to sell AARF t–shirts and other items from our store (hats, mugs, pet toys, koozies, wine bags) to support the shelter, and of course to spread the word about AARF .
We are thrilled to say that this year we made about $3800 which will be designated for our next free Spay/Neuter project.
Follow Geraud's Patisserie on Facebook (especially to see the great daily menus!). And here is map to the Patisserie.
Thank you also to Jo-Anne Mason who not only donated part of the sale of her books but also came out and signed them!
Go to Jo–Anne Mason's web site to see her books and art. She also has a Facebook page.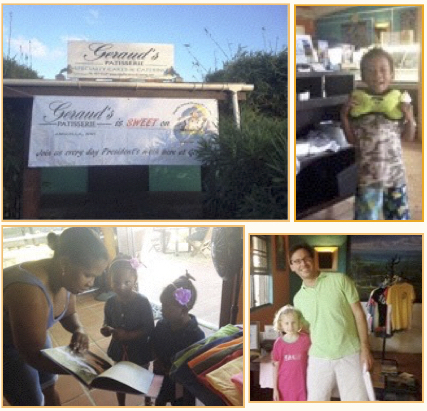 Spay and Neuter Update
Speaking of Spay and Neuter — thank you to all of you that support this project by your donations to our coin boxes placed at supporting businesses around the island. AARF super volunteer and builder extraordinaire Bob T. recently completed another 10 boxes and they too were placed at various locations by Rick V. from New York who visits frequently and supports this project.
Coming soon, another free spay month, so be on the lookout for our banners and sign up information. Last year, AARF sponsored 400 free spay/neuter surgeries and we are hopeful that the fewer unwanted puppies and kittens surrendered to the shelter these past few months are a positive result — paws crossed that will continue!
Shelter Improvement Drive
It's that time of the year for our 5th annual shelter improvement drive, which we are calling "Paws for a Cause"!
Last year we were able to install electricity, lights and ceiling fans in our puppy shelter room, lights in our bathing room, a window and door on the surgery unit plus screen doors on the front and back of the shelter!
This year our project is the long dreamed of puppy play yard which will give the puppies some time outside to enjoy our fresh air, sunshine and island breezes!!
As with all our projects, the success of this shelter improvement depends on your participation and we are so grateful for your donations and support!
This year we have 10 prizes and that means — ten winners!! Each ticket you purchase includes a paw print being displayed at our shelter office.
The prizes include:
The tickets are $10 each or 3 for $25 and the drawing will be held June 30th! None of the prizes have an expiration date so can be used any time.
Tickets may be purchased at the AARF shelter, our Second Chances Thrift Store (when we are open) or from AARF board members. Not on island?? No worries — you can send a check to:
P.O. Box RI–4228, Anguilla, AI–2640, BWI
Anguilla AI—2640
British West Indies
Or
AARC — R. Taillon
c/o D. Tabor
9715 Dahlia Avenue
Palm Beach Gardens, FL 33410
USA
You can also pay electronically. Get to our PayPal portal by clicking on the orange kitten in our Navigation section or via our How to Help web page.
When you fill out the donation form, there is a section called "Add any special instructions to AARF".

Type in "Paws for Cause". We'll know how many tickets you want by the amount.
Come visit our shelter, meet our guests and see the improvements your support has made possible. We have a shelter to be proud of.
Roy's Raffle Results
Also, big, big thank yous to the guests at Roy's who continually buy raffle tickets each Friday night — even when you don't win those fabulous prizes! This year we have raised almost $2000 which helps support the AARF shelter.
Thanks to Jill Walker for her donations of massages, Ferry Boat Inn for lunch, Albert Lakes Grocery store for their two bottles of wine, the pedicure from Sandra at Ossia, Heather at Essential Stationery, Anchor Miniature Golf and the many individuals who bring us gifts such as beach chairs, towels and yummy maple syrup, and other spirits that we happily use as prizes. And of course our wonderful supporters at Roy's — Mandy, Roy, Claire, Patrick and Joan!!
Please remember to support these AARF–friendly businesses! Thank you to everyone for your donations — without you we simply could not exist!
AARF Education Days
In January, AARF sponsored two events that included FREE Flea and Tick Puppy/Dog Washes to promote proper flea and tick prevention, as well as to give out information on spay and neuter surgery.
Event participants included the Department of Youth and Culture, Morlens veterinarian Dr. Garry Swanston, volunteers from the St James Medical School and students from the Albena Lake Hodge Comprehensive School.
JW Proctors donated vouchers for 10% off pet food purchases and also AARF presented vouchers for free spay/neuter surgery and free collars, leashes and puppy toys.
This project was funded by a grant from Carita's Gift!
St James School of Medicine Students Donate to AARF
Along with the many assets that the students at St James Medical School bring to Anguilla, including their numerous additions to the economy, they also have partnered with the Anguilla Animal Rescue Foundation to help make things better for the dogs and cats of the island.
In the past few months, medical students have assisted AARF volunteers in educational events focusing on spay/neutering, good pet care and a dog wash to educate the pet's owners on the elimination of ticks and fleas and other parasites.
Recognizing the importance of controlling the births of unwanted puppies and kittens, the students of St James also donated a total of $560 US to AARF's Spay and Neuter Project.
A check was presented to Suzie Donahue, chairman of the project, Sally Baumwell, Adoption Chair and Joan Hill, AARF volunteer by St James School of Medicine in Anguilla officials: President of Student Government, Kurtis Carlson, Vice President Delini Sivakumar and Dean of Student Affairs Bruce Davidson.
The Anguilla Animal Rescue Foundation is grateful to the students for this donation as well as the many hours they have contributed as volunteers at community events and at the AARF shelter at Morlens Veterinary Clinic in Sandy Hill. Also, importantly they provide needed fostering and adopting of homeless dogs and cats.
We look forward to a continued and growing partnership with the students and the school.
Second Chances Thrift Store
"Second Chances", the AARF Thrift Store, located on the grounds of The Wallblake House, in The Valley next to St Gerard's Catholic Church, has created a lot of community interest and support. It is a major source of our operating revenue (our expenses run close to $45K/year) , but also gives back to the community as we provide gently used clothing and housewares at very reasonable prices to those who shop with us.
It has generous open hours, thanks to dedicated volunteers. We try to be open:
Tuesday: 9 am – noon
Friday morning: 9 am – 3 p.m.
Saturday morning: 9 am – noon
We have "open" and "closed" notices that hang on the Second Chances sign (by the main church entrance). If you drive by and see the open sign, we'll be there, so stop in.
Thank you to everyone that has donated and comes by to browse and shop! We are grateful to all who support our efforts to make Anguilla a better place for the animals
A special thank you to Sherille at Paradise Cove who donated display racks to help display our merchandise.
Special thanks to Cap Juluca who donated several bags of towels to the AARF shelter when they closed for the season in September, as well as all the other items they donated to Second Chances!
We are always in desperate need of merchandise to sell so if you are "in the mood" to clean out closets, drawers or are tired of working electronics/appliances/housewares, please think of Second Chances!
It's easy to donate: There is a large drop off box on the property which can be accessed at any time. Donations can also be left at the AARF shelter.
How can you help?
We have a comprehensive list of needs (ongoing as well as time sensitive) on our How to Help Page. They include these important needs:
Funds — we desperately need financial support for the operation of the AARF Shelter. Donations made to AARC (via PayPal or check) are tax deductible.
Collars & long leashes for our shelter puppies.
Donations of gently used clothes or household items for Second Chances Shelter.
Volunteers — stop by the shelter to pet/cuddle a puppy or kitten.
Thrift Store Volunteers — contact us for our hours (email, call us at 476-2731 or stop by the Adoption Center/Shelter).
To defend against spammers, we have put our general email address in a graphic below. For all other email addresses, please see our Contact Us page.
On a Lighter Note
Time now for a little episode we call "if it fits, it sits". Roll over or tap any image for an enlargement.
(Yes, we did a similar entry called the art of sleeping in boxes in our Q2 2011 newsletter.)
Until next time, thank you again for all you do for animals and AARF.