Introduction
This newsletter covers the third quarter of 2011.
Note: images or photographs with a thicker gray border around them may be clicked to see an enlargement or another web page related to the image. And we've added a horizontal menu for quick jumps to part of this newsletter.
Feedback about this newsletter is always appreciated; please use our contact us page.
Upcoming Events Vital to AARF (and fun for all)!
Valley Street Festival
November 26: Visit our booth at the Tourist Association's Valley Street Festival. This Fair is held in The Valley on the main road next to the People's Market (and across from St. Mary's Anglican Church). There will be all sorts of goods, food, music and more, sold by locals. We'll be selling used books and some pet supplies.
Bingo Extravaganza!
December 3: Bingo event at Roy's Bayside Grill in Sandy Ground.
Speaking of fundraisers, one of our most fun (especially for you participants) is Bingo, and it is nearly as important to us as the yard sales. for a bargain entry fee, and a small fee for extra cards (as many as you want), we hold fifteen or more games, with each game winner getting a very nice prize (donated by friends of AARF).
And, that's not all! The Bingo games are on the beach at Roy's in Sandy Ground, so you get a special view of the boats and beach at Sandy Ground. You can even play just outside the covered restaurant area on picnic benches an have sand between your toes as you play. A bar is available for drinks the whole time, and you can come early to claim the best spot and have a Bingo dinner special.
Yard Sale
December 10: We are having another of our great yard sales on December 10th. Come out and join us. This is a great time for AARF friends, especially visitors to meet volunteers and see what all this raving about yard sales is all about. As always it is at Roy's; we have covered yard sales in past newsletters and have a permanent link (with directions) to them here.
Yard Sale
Fact: our biggest fundraisers are our Yard Sales — we could not operate without them! Please continue to help us with donations of gently used goods, and by coming to our sales!
On September 17th, we had one of our yard sales, which again raised crucial funds for our operation, while offering tremendous bargains on quality goods.
We continue to be pleased with having our sales every few months so that we can showcase the very nice goods we receive as donations as early as possible.
Please support us with your donations of gently used (and functional) goods (clothing, books, household goods, electronics, games, and more); drop them off at Anguilla Techni–Sales (map) or the shelter (map/directions/about the shelter). Give us a call at the shelter if you have questions (hours/phone).
As usual, Gayle, our fundraising chairperson, keeps this event running smoothly, and she gets our thanks and kudos!
Our next sale is on December 10th. Future sale dates and directions to the Bayside Grill are listed here. Come by and meet volunteers, meet Roy and Mandy, and find some great bargains!
Thank you
The support you give us financially — as well as being our friends — helps us care for our animals and find them homes. In particular, we've really been lucky with many adoptions back to the USA (see our Happy Tails for examples), and we really want to keep that up.
However, this year has been a particularly rough one with so many animals needing adoption. We were deluged these past several months with a very large number of surrenders. And because of that, we are in financial distress. We like to ask for donations.
If you can help, checks can be sent to our Treasurer at the following USA forwarding address (the line that says ANGPO" must visibly appear on the envelope; that is what gets it sent to Anguilla as opposed to Aruba):
Rebecca Taillon / AARF Treasurer
12600 NW 107th Ave
ANGPO
Medley, FL 33178-3127
Thank you very very much for your support; we couldn't do it without you!
Happy Tails
Josey
Meet Josey. She was adopted in May 2011 from Dr. Jack Civic from the Newport Animal Hospital†. Her owner, Jordan, says:
I was told to send some pictures of her for your newsletter about dogs taken off island. The photos should be in order from when we got her to present.

We are having the best time with her, and she is VERY popular over here in Rhode Island. She definitely turns a lot of heads with her unique looks and great personality.
As you can see, we have some fine photos documenting Josie's tough transition from the bush to more comfortable settings. Dog lovers parsing the photos will have no trouble seeing Josie learn to appreciate fine furniture and comfortable masters; we've seen this before. Pun intended: Josie certainly grew happily into her new home.
†Editor's note: Josey is one of three lucky recently transplanted Anguillian dogs, thanks to the work of Jack Civic, a veterinarian from Jamestown, Rhode Island. Dr. Civic came to Anguilla in 2010 and took them home for adoption in the USA. For background on this rescue, read this article from our Q2 newsletter. And, we cannot stress enough how easy it is for visitors to come to our shelter and adopt a dog or cat to take home with them! We cover those details on a special web page.
Addison (nÉ Clive)
Clive arrived at the shelter on January 10th and was adopted by Laura and Eph and, under the new moniker Addison now lives in Kentucky. And he turned from a cute puppy into a really gorgeous dog.
Laura and Eph send us this great update and back story:
My husband and I were in Anguilla for our annual trip to heaven on earth. A friend had found a stray dog that was hanging out at their villa. We decided that she would have him neutered and I would take him back to the US to try to find him a home.

I went with her to AARF for his day to be neutered and while there could not help myself from going back to look at the available puppies. Oh my goodness…that was the beginning of the end for me!

There were so many and all so adorable. They were out of their cages running around and one particular puppy just would not leave me alone. He was so friendly and sweet. One of the volunteers sadly told me that he had been at the shelter the longest and that the next day would have to be his last unless he was adopted that day.

I had already agreed to take the other dog, but left with such a heavy heart. I got back to our villa and called the airlines to see about arrangements to take the original dog home. I was surprised to find out that our airline only accepted dogs 15 pounds and under. The stray was a full grown dog, so it was impossible to figure out how we could take him.

Right then I called the shelter and told them I wanted the puppy. I was concerned that my husband was going to say we just could not take him so I asked if he would come with me to the shelter just to see a really cute puppy. That was all it took! Addison immediately got in his lap and with great contentment went right to sleep. We ended up finding a home for the other dog on–island, which was a great relief!

We bought a carry–on crate to transport Addison home. He was the perfect traveler! It was late January and we had a layover in Charlotte, N. C. We decided to take him outside to let him walk around. It was so cold…in the single digits and Addison wanted nothing to do with it.

He immediately started shivering and looking at us as if we were out of our minds. I took my sweater off and wrapped it around him as best as I could. There was a small patch of snow that he saw and took off towards. I am sure he thought it was sand and when his little paws touched it you would have thought he had jumped into a fire! He totally did not like the cold!

Thankfully, when we got home to Kentucky, he immediately bonded with our two other dogs and decided that if they liked the snow and cold, he was okay with it too. I did put a sweater on him for a few weeks until he grew a thicker coat.

Well…he is now the size of a large German Shepherd and smarter than any dog I have ever owned. We love him and can't imagine life without him. He not only bonded with our Basset Hound and Retriever but he also loves our cat!!

Adopting him from AARF was a great decision. We will be back in Anguilla this January and it is going to be so hard to not want to bring another one home…I wish I could help them all find loving homes.

Please consider adopting one of these special dogs or cats…it is one of the best decisions we ever made!!
Lucy
Lucy came to us at the AARF Shelter very thin, loaded with ticks and fleas, and frightened of everyone. She soon blossomed with lots of attention from the volunteers who quickly fell in love with her.
The allotted two weeks passed with no interest in adopting her and even delaying with additional time we were faced with giving up hopes of finding her a forever home. Thankfully, after an appeal to Jeanette from NJ, who has a caretaker at her home here on Anguilla, Lucy was delivered to Morgan Hill in September of 2010.
Subsequent guests at the villa told Jeanette they had seen Lucy around, but she wasn't very friendly and while Donald, the caretaker, kept an eye on her, she wasn't attached to anyone in and spent most of her time alone.
For some reason though, when Lee arrived in May, something special happened and Lucy and Lee quickly bonded. In fact, Lucy was reluctant to leave her side — even sleeping in the villa with her.
What could Lee do but take Lucy home with her to Massachusetts?
Since then, Lucy has adjusted well to the extra care and attention and the connection between Lucy and Lee has grown. Lee wrote in late October that Lucy is adjusting well to life in Massachusetts: "She is such a good dog (except when she chews my bedding!)…and I'm so happy I brought her home."
Lee sent a picture of Lucy's first snow and reported: "she was hysterical to watch…running around in circles and hopping through the deep snow…I think she liked it…thanks again for all your help with everything!!"
We say thank you to Lee for giving Lucy a wonderful forever home that she deserves.
Suzuki and Cricket
Virginia agreed to foster two little kittens several years ago and ended up like so many of the rest of us: what we term a "foster failure".
She wrote:
I took these two little ferals in to tame them so that they could readily be adopted.

Little Suzuki was very protective of her brother upon arrival and tried to be the brave one, hissing at me when I came near.

Once they came out of their hiding spot, the top shelf of the little laundry room, they began to roar around the house at top speed, upstairs and down. All we saw was a flash go by. I decided that Suzuki was the perfect name for her. A 90 mile/hour furor.

Cricket is the vocal one and you would bet your top dollar that there was a real cricket in the house when he starts talking.

Little did I know that they would not be returning to the shelter for adoption. We quickly fell in love with them and I also could not bear the thought of their being separated in adoption.
This is a great save by Virginia and we are so glad Suzuki and Cricket have such a wonderful forever home.
Chiclet, Twinkie & Mia(ow)
Tonia at Seaside Stables in Anguilla has been an AARF supporter for many years. And she has had several successful adoptions (which her many visitors to the stables enjoy meeting).
Recently, Tonia sent us pictures of three of her AARF felines. They live happily at her stables, along with her beautiful riding horses. We think these are among the best cat photos we have seen; pretty much award–winners, don't you think?
Tonia pointed out that Twinkie has a perfect heart on his side…and suggested we use him for an adoption advertisement: "Have a heart…adopt a cat from AARF!!" We like this great idea.
Thanks also go to Tonia for donating a sunset ride from Seaside Stables —for two — as a prize for our Dec 3rd Bingo night!
Like the idea of riding on the beach? Check out the web site for Seaside Stables.
Mango
Mango came to the shelter and AARF friend Sue was willing to take her and Savannah back to the USA, foster them and then put them up for adoption. In a whirlwind rush, the two puppies were taken to Sint Maarten on the ferry by volunteers Sally and Mark. There, Sue picked Mango and Savannah up and took them back to the USA and put them up for adoption. Both found great homes, thanks to Sue. Here is Mango's story from Kami:
Last December, 2011, we lost our 3 1/2 year old miniature Australian Shepherd to kidney disease. We had paid a lot of money for her and were left with a huge vet bill. Our family went through a very difficult time, including our 4 year old puggle. We decided that paying for another dog was not an option and that we were going to rescue a puppy that was in desperate need of a home.
I spent Christmas Eve and Christmas Day searching petfinder.com for a puppy that would fit our family of three cats, 5 teenagers and one other dog. I found Mango.
I took one look at her picture and the story of how she came to live with her foster family in New Jersey and it was love at first sight for all of us. I filled out an application to adopt Mango and we were approved. On January 2, 2011 we drove from Long Island to New Jersey to meet Mango and take her home.
At that time, Mango weighed just 6 lbs. and was about 2 1/2 months old. She had scabs left over from flea bites she got in Anguilla and the cutest face I had ever seen. She immediately latched onto our dog Miles and became relentless in winning him over from dragging him around the house by the collar to biting his ears and tail.
It was also a bit of an adjustment for her to come from the Caribbean to such a cold climate as we had a very snowy winter. She spent a lot of time curling up with any one of us.
Mango has always had a love for food and I believe it comes from being hungry before she was rescued. This love for food has helped in training her. At 5:30 every morning, when her daddy comes to get her, she flies out of her crate, down the hall, wipes out on the rug, flies down the stairs, over the gate and and lands 2 inches from her breakfast dish. Dinner is a whole other comedy routine with her.
Mango has the sweetest disposition; she is very lovable and sensitive. She is very well behaved and follows simple commands. She loves to go for walks and play ball in the backyard and she has grown into a beautiful dog. Mango and Miles are on a constant quest to see who is the "alpha dog". They still have not figured it out, but if nothing else, she has won Miles over.
Mango proudly wears her Bob Marley collar and tag as a tribute to her homeland. She never wants to forget where she came from. As her foster Mommy says, she went from an "Island Stray" to an "Island Princess" and she is living the American Dream here in New York. She is a very lucky dog.
Thank you to all of the volunteers who played a part in Mango's rescue and for all the work you do to save these precious souls.
On a Lighter Note
A couple of things to make you think, smile, laugh close out this newsletter.
If I didn't have a dog (or cat):
I could safely walk barefoot around the yard.
My house could be carpeted instead of tiled and laminated.
All flat surfaces, clothing, furniture, and cars would be free of hair.
When the doorbell rings, it wouldn't sound like a kennel.
When the doorbell rings, I could get to the door without wading through fuzzy bodies who beat me there.
I could sit on the couch and lay in my bed the way I wanted, with out taking into consideration how much space several fur bodies would need to get comfortable.
I would have money, and no guilt to go on a real vacation.
I would not be on a first–name basis with six veterinarians, as I put their yet unborn grand kids through college.
The most used words in my vocabulary would not be: out, sit, down, off, come, no, stay, and leave it alone.
My house would not be cordoned off into zones with baby gates or barriers.
I would not talk baby talk: "You're such a good girl!" or "You ate all your dinner, good boy!"
My house would not look like a day care enter, toys everywhere.
My pockets would not contain things like poop bags, treats and an extra leash.
I would no longer have to spell the words B–A–L–L, W–A–L–K, T–R–E–A–T, O–U–T, G–O, R–I–D–E, C–O–O–K–I–E and S–Q–U–I–R–R–E–L.
I would not have as many leaves inside my house as outside.
I would not look strangely at people who think having one dog/cat ties them down too much.
I'd look forward to spring and the rainy season instead of dreading 'mud' season.
I would not have to answer the question, 'Why do you have so many animals?' from people who will never have the joy in their lives of knowing they are loved unconditionally by someone as close to an angel as they will ever get.
Put another way: if I didn't have a dog (or cat): how EMPTY my life would be!
Finally, here are some cute photos. It must be admitted: the very first one makes the webmaster laugh every time. Every time!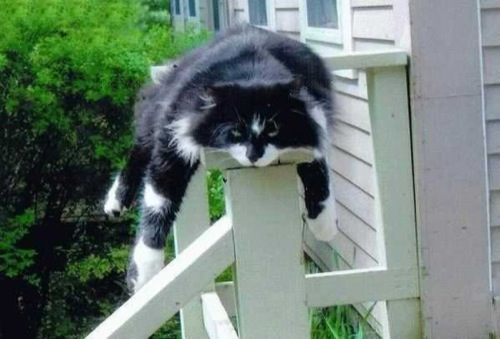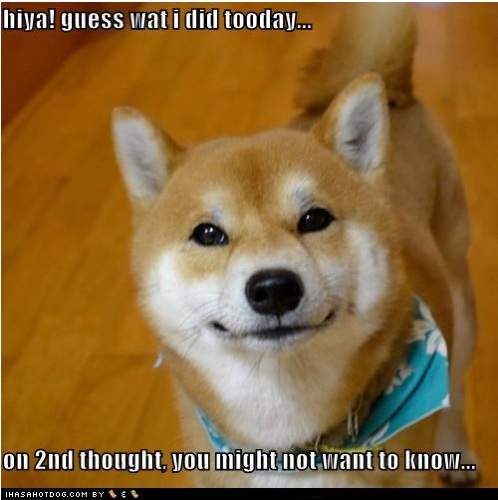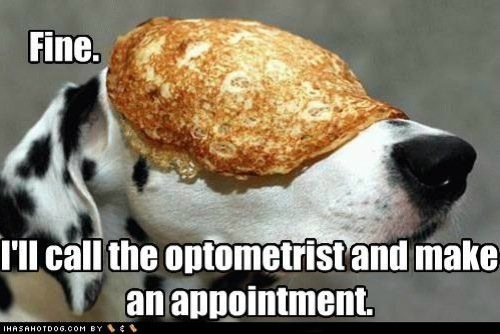 Until next time, thank you again for all you do for animals and AARF.