Here is a gallery of just some of our shelter animals in the last several months
Introduction
This newsletter covers the third quarter of 2009. Some highlights: Bingo is coming! Also, we participated in two awareness campaigns. Again, we have many people to thank for generous donations. Finally, we re–run a couple of stories from the last newsletter about how you can join our email list and Facebook, and we give directions to our shelter (visitors are always welcome).
Feedback about this newsletter is always appreciated; just send a pre–addressed email to the webmaster.
Also: images with a border around them (such as the ones just above this section) may be clicked to see an enlargement.
AARF Bingo Night: November 28th
Before you do anything else, mark your calendar for the evening of Saturday, November 28th. That's AARF Bingo night, and it is one of AARF•s• most fun events.
You can try your hand at Bingo, with as many cards as you think you can handle, in as many games as we can squeeze in for the night (last year it was over fifteen). You have a chance to win fabulous prizes (artwork, dining, drink and spa prizes, for example), socialize with friends and AARF supporters and enjoy food and beverages. Admission and the first Bingo card is US$20, and additional cards (again, as many as you would like) can be purchased for $5 each. Add a dinner for $19 (menu to be announced).
Lest we forget to mention, this all takes place in a lovely beach setting at Roy•s•.
Proceeds from the event will be used to help meet AARF•s• annual budget of $30,000 dollars. This includes expenses for spay/neuter surgeries, education projects and the care (food and boarding) of the animals that are brought to the shelter for adoption.
Details are as follows:
Date: Saturday Nov 28
Place: Roy's Bayside Grill, Sandy Ground
5:30 PM – Happy Hour begins with a cash bar
6:00 PM – Dinner
7:00 PM – Bingo starts (Note: we are striving for a 7 PM sharp start time! We need to start on time to get in as many games as possible.)
Tickets will be available starting Nov 4th at Anguilla Techni Sales and Morlens. Or you can call AARF (264–497–2731) and reserve your tickets. (Please leave your name, telephone number, good times to call you and the number of tickets you want.)
Thank Yous
AARF received many wonderful donations of funding, volunteer time and much–needed supplies, and we'd like to send special thank yous to those that donated funds, goods, time among other wonderful things! To protect internet privacy, we sometimes choose to use initials.
Mere thank yous can't go far enough to express what these people have provided us. All donations go directly towards the welfare of AARF animals.
Viceroy
Viceroy General Manager, Jan Tibaldi, has presented a donation of $1000 US to the Anguilla Animal Rescue Foundation for the purchase of animal crates which will be available for pet owners to safely transport their pet for surgery, vaccinations and other needed pet care.
Suzie Donahue, AARF President, expressed the Foundation•s• gratitude for the generous and needed gift and thanked Viceroy for their continued support and willingness to partner with AARF to assist in making Anguilla a better place for the animals.
Cuisinart Resort and Spa donates to AARF
Bathing incoming homeless puppies and kittens at the Anguilla Animal Rescue Foundation•s• shelter is pretty much a daily occurrence. These days, each new arrival that often needs a thorough bath (or two) to clean up and to treat for fleas and ticks.
Cuisinart Resort and Spa made this task a little easier by donating a large bag of used towels for the homeless animals of Anguilla.
Sherri Hughes–Morton was instrumental in responding to AARF•s• request and Joyce Richardson, Assistant Executive Housekeeper/Laundry Manager, assisted by the laundry department employees, arranged for a large bag of used towels to be donated.
AARF is extremely grateful for the support and encouragement from the staff at Cuisinart.
The Anguilla Animal Rescue Foundation can always use old towels, newspapers and small bowls to feed the shelter animals in and is thankful to everyone who supports the Foundation•s• efforts to take care of and find forever homes for the unwanted puppies and kittens/ cats and dogs here in Anguilla.
Summer Visitors and Volunteers at the AARF Shelter
The AARF Shelter which opened last year at Morlens Veterinary Hospital in Sandy Hill has been a busy place this summer. We have been very, very lucky to have a wonderful group of committed volunteers as well as many visitors that arrived bearing much needed gifts for our shelter guests.
Phil
Phil arrived in May for a visit of several weeks and volunteered at the AARF shelter as well as fostering an adult dog and a puppy while he was here. He turned out to be a fantastic dog bather (in the photo above, he is shown giving a bath to Mary before the new bathtub was installed) and we even named one of our cats that was up for adoption after him!
Liz
Liz spent every single day of her vacation at the shelter doing everything from cleaning cages, walking dogs, calling people that wanted to adopt and organizing files before she left to return to school in Paris. All the volunteers appreciated Liz•s• enthusiasm and hope that next year she will be back again.
Yuki
Yuki was another of our student volunteers and we all were very happy to work with her. We were so very grateful that she (and so many others) took time from vacation to give help to the shelter, and we needed and appreciated her help.
By the way, for anyone interested in being a shelter volunteer: we offer "free training" and excellent (albeit unpaid) benefits. For starters, we offer lots of wet kisses from our shelter guests! And you get to work with great AARF volunteers, the wonderful people at Morlens and lots and lots of cute puppies, kittens, dogs and cats.
Susan and Richard
In August, Susan from Philadelphia was back with us again! Susan and her husband Richard generously donate to the Rubin Rainbow Fund that helps dogs and cats in the West End and also bring treats, collars and leashes for the shelter animals each year when they come to Anguilla for vacation and Susan even spends a day volunteering at the shelter. Thanks to Susan and Richard for their continued commitment to AARF.
Barbara and Gary
Barbara and Gary visited the shelter in April with two pet carriers loaded with much needed towels, collars, leashes and other supplies. And it turned out that they were from the same town in Maryland where Suzie had lived for 22 years. It is a small world!
Bud and Kathie
Bud and Kathie (hailing from Pennsylvania) arrived at the shelter in July with a lovely gift bag jammed packed with collars and leashes. They have incorporated their Harley rides and hunting for bargains for AARF and turned it into a challenge to see how many collars and leashes they can accumulate for their next visit. Obviously we think this is a win–win for the shelter animals that all go to their forever homes with a new collar and leash.
Annie and Marvin
Annie and Marvin from New Jersey visited again this year and gave a wonderful donation to AARF and sponsored a puppy that had been adopted by one of their friends here on island. They have been faithful supporters of AARF for many years. Thank you!
Jeanne
Jeanne is another visitor that continues to donate to AARF on her frequent visits to Anguilla. This year Jeanne arrived with collars, leashes, litter boxes, flea & tick shampoo and all kinds of treats for our shelter guests. Check out the photo above to see all of the goodies. Thank you so very much Jeanne.
Other thanks
Marvin and Annie S. gave us a nice gift. Cole and Wendy B., adopters of Boo (see our last newsletter) added to their generosity by sending us a donation. Thanks also to generous donors Bob and Mary Ann .G and Linda E. And what can we say about Jeannette G. for her four adoptions! Special thanks to all those who take the time from vacation to come by the shelter for a visit. We also want to thank Rick, Cindy, Jack, Tiffany, Mark and anyone else we missed!
Would you like to drop by to say hello, kiss a shelter animal on the snout, or get a tour? Consider yourself invited!
We would like to extend an invitation to anyone wanting to drop by the shelter for a visit or a tour on your next trip — we would be thrilled to have you! If you need directions, see here for a map. To contact us, please call AARF at 476–2731 or email us at aarfinfo@aarf.ai.
School Visits
As part of the ongoing Education Program, the Anguilla Animal Rescue Foundation (AARF) visited primary schools (concentrating this time on Grades One and Two) to spread the word about pet care and needs, along with giving key animal safety tips. Penny Hope–Ross of the Education Committee took her dog Maggie as a live prop to work with the students.
Penny started with questions to the student to get them involved and then spoke about how to care for pets: the best type of food to give them, their need for exercise, the importance of water and and the need for a cool place to sleep. She spent some time discussing dog behavior, specifically how to approach a dog and when not to approach one (if it is eating, tied up or has puppies for example). In particular, Penny advised them to watch the dog's posture and body language to gauge whether the dog was agitated or angry.
She then encouraged the children to use their new knowledge to approach Maggie — something nearly all of the children were happy to do, even those not accustomed to dogs.
The AARF adoption and spay/neuter programs were also described to the students who were given the opportunity to share their experiences with pets and to tell stories about them.
Department of Disaster Management Safety Fair
On July 3 AARF members Kathy Starr and Barbara Owen joined Suzie Donahue to provide information and answer questions regarding animal care and preparation for hurricanes and other disasters at a Safety Fair sponsored by the DDM.
The Anguilla Animal Rescue Foundation told fair attendees that they must plan ahead by preparing an emergency kit for pets that should include:
Supply of food for 7 days in an airtight, waterproof container
Drinking water
Bowls for food and water
Vaccination records and physical description including a picture for each pet
For dogs, add: leash, collar and a sturdy carrier
For cats, add: litter and litter box and a sturdy carrier
AARF also advised those attending that they should:
Keep their animals with them; if for some reason there was a need to leave an animal outside, they should not leave it tied up as it would not be able to escape from flying debris or flooding.
Place the pet emergency supply kit by the door to be ready to go in case of a need to evacuate quickly
Make sure the pet has visible identification (and they should do it right now)
Talk with a trusted neighbor who would care for the pets if the owners were away
AARF, in conjunction with the Department of Agriculture also recommended the following tips for owners of livestock animals including goats, cows, chickens and pigs:
Livestock, especially goats, should not be tied during storms as it prevents them from seeking shelter from high water and blowing debris.
Poultry must have access to high areas in which to perch if they are in a flood–prone area, as well as to food and clean water.
All barbed wire should be removed. In addition, it was recommended to consider rerouting permanent fencing to allow animals to move high ground in a flood and to low–lying areas during high winds.
Obtain enough large containers to water the animals for at least a week after the storm, as water supplies are often contaminated during a disaster.
Secure or remove anything that could become blowing debris. Large items than cannot be stowed away, such as boats, feed troughs or other large containers, should be filled with water before the hurricane. This prevents them from blowing around and also gives you an additional supply of water.
The leading causes of death of large animals in hurricanes and similar events are collapsed barns, dehydration, electrocution, and accidents resulting from fencing failure. Owners of farm animals should take precautions to protect them from these hazards.
AARF Makes Presentation at Kids Connect Summer Camp
As a part of the Kids Connect Summer Camp, AARF was invited to participate and share information with the campers about pet care.
The weeklong camp was designed for children between the ages of 5–11, providing an opportunity for them to connect with other children in their age range by doing, caring, and sharing – all of which was aimed at enhancing social skills, encouraging team spirit and fostering leadership traits.
Suzie Donahue, AARF President, assisted by AARF Volunteer Carol Gilbert presented information about caring for pets including the importance of fresh water and food each day as well as exercise. Pictures of dogs and cats exhibiting different types of "body language" were also discussed with the group of approximately 30 children as well as the importance of spaying and neutering.
Happy Tails
We have several happy tales in this issue of the newsletter. First, we have a happy story of a couple of New York Yankee fans (you'll find out just how far their fandom goes) who adopted two Anguillian dogs over the years. Next, we have the tale of very playful Jupiter (who has interesting spots just like the planet). Karma was aptly named — she was "destined" to be saved and given a great home. We conclude with Kate, a pretty black and white kitten that this author helped foster until she was ready to be adopted
Joe–Dee and Mickey
Here is the story of Joe–Dee and Mickey, straight from the owners.
In early January 2006, we got Joe–Dee, who is named for Yankee great Joe DiMaggio, but is a female (Ed: See? They are such big Yankee fans, they couldn't even wait for a boy puppy slugger!) through Alex, who worked at The Pump House. (Alex is an AARF supporter and an animal lover to the max.)
My husband was talking about how much he wanted a puppy. Alex said she knew people who had a litter of puppies and took us there. Little Joe–Dee hid under a banana tree while the rest of the litter scattered. When my husband finally managed to pick her up, he knew she was the one he wanted. Unfortunately, we found out a few weeks later that the rest of the litter had been poisoned and killed. We were devastated thinking about all those other puppies and wished we would have taken more than one.
We found our second dog Mickey (yep, you guessed it: named for Mickey Mantle) at the baseball field in The Valley one rainy afternoon in late June 2006. My husband coached a little league baseball team and was checking the condition of the field for practice that day. We got out of the Jeep and saw a little movement under the bleachers next to a garbage can. There was this tiny puppy all by himself, cowering and scared to death. We chased him a little, but he was tired and hungry and didn't put up much of a fight. His fur looked gray and he was covered in ticks and fleas. He had ticks in between the pads on his feet so badly I was amazed he could even walk, and the inside of his ears were BLACK with bugs. I started crying because I thought for sure he didn't have long to live in his condition. We wrapped him in a towel and rushed him home. I gave him a bath in the kitchen sink, trying desperately to remove the bugs. He was so tiny I could hold him with one hand while I picked off the bugs with the other. I got all but the ones in his ears, which I knew I'd need the vet to remove for Mickey's safety. But I was amazed to learn after his bath that his fur was pure white! We took him to the veterinarian and Amy removed the rest of the bugs from his ears, gave him his shots and dewormed him. She said that other than the worms, she thought he was a perfectly healthy pup. After a couple weeks of testing and re–testing him for other diseases/infections, he was given a clean bill of health by the vet.
A month later we decided to move back to the states and were concerned about possibly having to quarantine the dogs. We found out that Anguilla was rabies–free and there would be no need to quarantine upon entrance to the US. This was wonderful news. All that was needed to transport the dogs were two appropriately–sized pet carriers and a document from the vet that they had their shots and were okay to travel. We came back into the US via Puerto Rico and the customs agents there were wonderful about letting us walk, feed and water the dogs while waiting for our connecting flight.
Today, Joe–Dee is one of the smartest, most curious dogs I've ever known. She loves playing frisbee and riding in the car. Mickey is now a super–healthy 58–pound, 3 1/2–year–old extremely happy and hilarious boy. Every day is a good day for him, and he has taught us to appreciate life! Adopting the dogs was a wonderful experience and I always tell people the story of our "Anguillian Long Dogs".
We plan to come back to Anguilla for our 10–year anniversary (if not sooner!) and we'll probably adopt another dog, this time through AARF if we have a chance.
Jupiter: The Giver of Gifts and Luck (or: Be Careful What You Wish For)
Here's a great Happy Tail about Jupiter by Sammi, her mommy!
Jupiter showed up on my birthday, a much smaller version of who she is now, but with the same dominant, naughty, but oh–so–sweet and lovable personality. We were driving for birthday drinks when she made a mad dash across the road, right in front of our car (she chose well, we like to joke) and her unusual coloring (those spots!) made us stop immediately.
Since her first trip to the vet (when she was approximately 8 weeks old and weighed in at 3 pounds), she has grown into a happy and super friendly 7–month old, gaining around 30 lbs along the way. Jupiter's current interests are long walks to the Cove with her 2 doggie friends that join us on the road, playing with sticks — she really really loves a stick — and stealing trash and slippers from the neighbors' yards. She also loves to play with Bubby, our neighbor's kitten.
Jupiter has found her voice and often barks to make her demands known. Her biggest demand is for people to play with her, as one of my neighbors can tell you as well as the workmen at another neighbor's house.
Jupiter hates to have a bath but does enjoy romping in the sea and rolling around in the sand. She also rolls in pretty disgusting stuff she finds along the side of the road and next to dumpsters. Ew.
You can find Jupiter at Passage Anguilla (next to Devonish Gallery in West End) during the day if you want to stop by and say hello or to arrange a play date. Jupiter loves a play date and will chew on your doggie's ears if possible.
Karma
Christine, Karma's mom (and a shelter volunteer when she was living here) writes:
I was living in Anguilla last year and was driving a friend of mine home in The Valley when I saw a puppy, running in the middle of the road ready to get hit by a car. I scooped him up and I drove off to drop the little guy off at Dr. Vanterpool's. He seemed very hungry and thirsty and I knew he would get well taken care of and adopted. I already had a male dog, and unfortunately could not adopt him as I was looking for a female puppy. As I walked back and dropped him off, I saw a litter of puppies who were about 5 weeks old. These pups were found abandoned in a dirt hole and brought into AARF. I couldn't help but grab one of the puppies and as I did she laid right on my chest. I adopted Karma around November 2008 and had her in Anguilla with me until end of January. She flew with me to her new home in Philadelphia around February and the rest is history!
Kate
Kate is another great case of a rescue by Anguilla visitors. One day, some tourists found Kate huddled under a tree being attacked by a chicken. They brought her into the shelter and she was skinny and hungry. And scared! But she soon responded well and went to a foster home for a short while, where she enjoyed helping out around the office.
We wanted to thank Kate's rescuers, but could not find them before they left Anguilla. If you know their identities, please contact us via email.
AARF Shelter Location
We are often asked how to get to the AARF Shelter (which is inside the Morlens Veterinary Clinic) as well as operating hours for the shelter and animal hospital.
To get to the shelter and the clinic, see the map below.
From The Valley, take the Long Path road towards the East End. After passing the Best Buy supermarket, look for the the clinic on the right side of the road just before the Sandy Hill roundabout (the red dot in the upper right part of the graphic). If you go too far, just use the roundabout to turn around. If you do not have an animal to bring to the clinic, please park across the street to allow parking for people with emergencies and appointments (there is also a music studio attached to the building which shares the parking area).

The clinic is open Monday through Friday from 9 a.m. until 1 p.m. AARF shelter volunteers are on staff from 10-1, Mondays through Fridays.
On Saturday, the shelter is open from 9 a.m. to 11, and a volunteer usually works the same hours.
It's a good idea to call the AARF cell phone at (264) 476–2731 before coming out to verify someone is on duty, or to talk to about AARF–related issues. This phone has voicemail.
For Morlens veterinary business (vet appointments, purchase of pet supplies, etc.), call 497–4600.
Stay Connected with our email list and Facebook
Besides the AARF web site and newsletters like this, we have two other ways to receive AARF communications. Either or both may be of interest, depending on your desired level of participation.
Aarfupdate email list
The first is the Aarfupdate email list, aarfupdate. It is designed mostly as a one–way posting system: from AARF to the people subscribed to the list. It is set up essentially as a broadcasting mechanism. We use the aarfupdate email list (which we'll call "the list" from here on out) to inform list members about AARF happenings.
Facebook
Good news, though! We now have a way for list members to talk more freely; it's on Facebook. We have created an entity called "Aarf Anguilla" (we had to call it Aarf Anguilla because there are other AARFs around out there). We discuss our Facebook account a little more here.
Sign on to Facebook (you need a free account) and search for...
Aarf Anguilla
... and become its friend. If you have other people who may want to added as a friend, please pass this along. They should make a request to become a friend of Aarf Anguilla.
This group is the place for news, photos of your animals (hopefully AARF pets!), jokes, etc. Being Facebook, people will post about all sorts of subjects other than AARF!
The Aarf Anguilla entity is only monitored occasionally by an AARF List Mom. There may occasional postings, but our intent is to use the aarfupdate list for important postings, and leave the Facebook site for more casual chatting amongst the Facebook friends.
On a Lighter Note
We end with some humor; this time we have dog–themed cartoons, as well as (please forgive us) cat humor in the form of... Lolcat (Laugh Out Loud Cat) graphics. For those of you making faces at us (we can see you), we promise not to abuse this genre. If you want more of these things, though, here are links to lots and lots and lots of them (just scroll down to the bottom of the web page for hours of Lolviewing) of Lolcat and Loldog humor).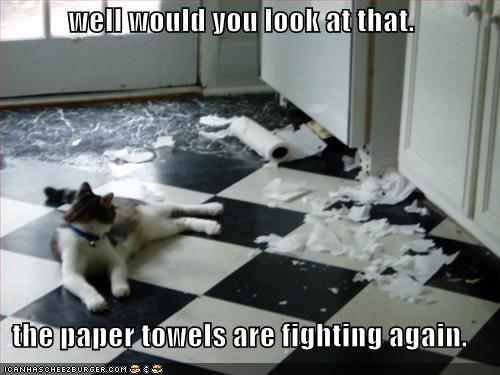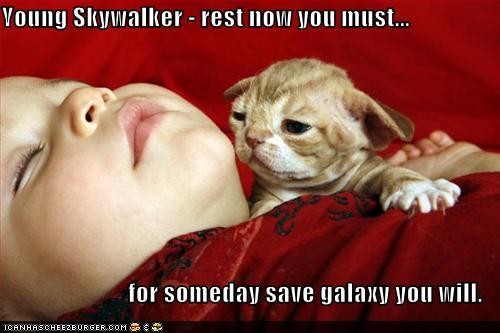 Click here if you want an excruciating definition of the term LOL Cat.