AARF Newsletter

Volume 8, Issue 4

Winter 2008
Until he extends his circle of compassion to include all living things, man will not himself find peace. 
--Albert Schweitzer
---
In this issue:
---
A few of 2008's adopted animals!
---
Introduction
This newsletter covers the winter quarter of 2008 and early 2009 happenings. It's in a slightly new format, and feedback to the Communications Chair is appreciated.
This has been a busy year with many great new happenings, as our President reports.
Adoptions and crucial spay/neuter programs continued on pace with last year. In 2008, we had 214 adoptions, which meant that needy or unwanted dogs and cats were given forever homes. Close to 200 spay/neuter surgeries were performed which on our small island is crucial to limiting the number of unwanted puppies and kittens. In addition, AARF continued with education programs.
Funding for all these activities comes largely from very generous donations and fund-raising events. One of our largest fundraisers (and one which serves Anguilla's needy as well as providing for some fun bargains) is the annual Yard Sale. We also have a Bingo night (great fun by the beach!) each year. Our latest Bingo night was this last November.
This year heralded the new AARF Shelter space in Morlens Veterinary Hospital. This new space is right by the front door and gives AARF personnel a working office space to meet potential adopters, centralize our files, and supplies, showcase adoptable animals and a way to centralize communications for the many volunteers who work at the shelter. Morlens continues its expansion and renovation; we look forward to more comfortable spaces for the animals and improved treatment areas for them.
---
President's Report
Anguilla Animal Rescue Foundation (AARF) Announces Successful 2008
AARF President, Suzie Donahue, reports that 2008 was another very successful year for the organization that is dedicated to finding homes for homeless dogs and cats, education and a flourishing spay & neuter project now beginning its 6th year.
AARF's spay & neuter program, which assists in controlling the unwanted births of puppies and kittens, has provided surgeries for almost 1050 dogs and cats since the program began in the summer of 2003. AARF sponsored 193 surgeries in 2008, which included animals adopted in late 2007 and 2008, as well as approximately 20% that were need based surgeries. The US$20 adoption fee that was introduced in November of 2005 and includes the spay/neuter of the animal once it reaches 4 – 6 months, the initial veterinary examination, the first set of vaccinations and a flea and tick bath – a value of up to US$150.00 depending on the animal that is adopted - has been supported well by the public.
One of AARF's principal activities is to accept unwanted puppies and kittens at least 6 weeks of age that are eating on their own, as well as older dogs and cats at no charge. If the animal is in good condition and people friendly, AARF will try to find a home for it. In early Spring of 08, working with Morlens Veterinary Hospital in Sandy Hill, AARF was finally able to open their long desired shelter at Morlens. Dr Patrick Vanterpool was generous enough to provide AARF a dedicated space in his newly modernized veterinary hospital allowing AARF an office area as well as room to board the unwanted animals that AARF has available for adoption. Once the homeless animal has 2 days of observation, & receives his /her veterinary exam, initial vaccinations, worming and a flea/tick bath then shelter volunteers have 10 business days to find a good home for the animals. Sadly, if no home can be found, the animal is humanely euthanized. The committed shelter volunteers are at the AARF shelter from 10 -1 Mon – Friday and can be reached at 476-2731 if you have any questions or concerns about adopting or surrendering an animal to AARF.
In 2008, 214 of the animals surrendered to AARF were adopted, mostly to on-island homes. Of the remaining that had to be euthanized, most were either too sick or wild to be adopted. 2008 also saw an outbreak of an airborne virus on Anguilla called Distemper and that along with Parvo (another highly contagious virus) were responsible for many of the puppies and older dogs that had to be humanely euthanized by the Foundation. Both of these usually fatal diseases can be prevented by making sure that your dog is protected through 3 sets of vaccinations given at 3 week intervals after he/she is 8 weeks old. In addition several feral (untamed) cats or kittens were trapped by residents who brought them in to be humanely euthanized.
Our two primary committees, Education and Fundraising were also extremely active during the past year. The Education committee continues its successful program of school visits and hopes to address service and school clubs in 2009. The fundraising committee has done a monumental job of raising the monies needed to continue our spay and neuter program through two yearly fundraising events – Fall Bingo and our upcoming Yard Sale Extravaganza on March 21 at the Agriculture Centre.
AARF would like to thank all of those who adopted animals throughout the year and we wish them much happiness with their very lucky pets. We would also like to thank Dr. Patrick Vanterpool at Morlens Veterinary Hospital for the use of his premises, equipment and unstinting support. In addition, AARF thanks Dr. Linda O'Brien, Amy Williams & Maria Forman for their many instances of support and assistance while they were employees of Morlens and the other staff members who worked diligently with AARF volunteers to care for and find homes for the animals that AARF cares for. Thanks must go as well to the volunteers who assist in our many projects. Finally AARF would like to thank you, the general public, for your incredible financial and moral support.
We look forward to working with Dr. Mary Allen Bradley and Dr. Rommel Umali who are the new veterinarians at Morlens Veterinary Hospital, and a year filled with much activity. We urge everyone to join us in our goal to make Anguilla a better place for the cats and dogs that live here.
If you are interested in adopting a puppy or kitten or know of puppies or kittens that need homes, or volunteering, please call AARF at 476-2731 or come visit the AARF Shelter at Morlens Veterinary Hospital in Sandy Hill.
---
Upcoming Yard Sale
AARF's yard sale will be held on Saturday March 21st at the Agriculture Centre in The Valley from 9 a.m. until noon. Mark your calendars!
All the sale's proceeds go to AARF, and this is one of our biggest events of the year, fundraising-wise. Goods have been coming in all year and have been sorted and prepared for the sale by a dedicated group of AARF volunteers.
All sorts of household goods are sold at great prices, including: clothing, jewelry, books, CDs, DVDs, electronics, games, linens, furniture, art and more.
We invite everyone who reads this in time to drop on by for the sale, and suggest that anyone interested in shopping to arrive early, as the good items go quickly. If you don't know where the Agriculture Centre is, here is a partial map (from the Anguilla Guide).
We are still looking for donated items! Any clean clothing and/or household items that aren't needed any more, would be greatly appreciated. Drop them off at Anguilla Techni-Sales Monday-Friday from 9-noon or 1-4 pm.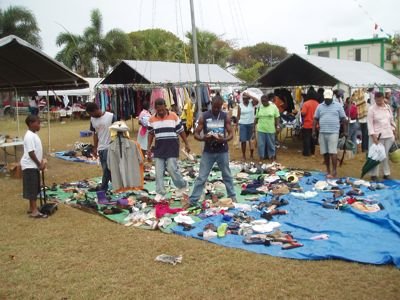 ---
Fall Bingo Night in November was a Success!
A large crowd came together at Roy's Bayside Grill to play Bingo, socialize and help raise money for The Anguilla Animal Rescue Foundation. The event included dinner, 20 games of Bingo and a raffle with many exciting prizes.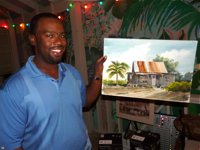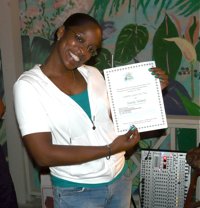 Bethany Riskin, Gayle Gurvey and Linda Gratton served as Bingo caller and judges, insuring that the games were lively paced yet easy to play.
Proceeds from this event will be used to help meet AARF's budget of approximately US$30,000 for the 2009 year. This includes expenses for spay/neuter surgeries, education projects and the care of the animals that are brought to the shelter for adoption. Our 2008 adoption and surgery numbers are covered in the President's report above.
The Anguilla Animal Rescue Foundation is most grateful to the following businesses and individuals that donated prizes to make this event a success:
Anguilla Tennis Academy, Anguilla Villas, Garve Beckham, Lynne Bernbaum, Keith Boyd, Simone Connor, Côté Mer, Diamonds International, Essential Stationery Store, Geraud's, Haskins Ltd., Irie Life, Kokoon Villas, Les Grands Vins de France, Mango's, Meads Bay Villa Resort, Merchant's Market, Ossia Massage & Esthetics, Play-A-Round Mini Golf, Pumphouse, Garfield Richardson, Alan and Susan Ruan, Kirk Russell, Savannah Gallery, Straw Hat, Althea and Bob Turner (Hurricane Cove Bungalows, Nevis), Zimzala Hair Salon and Boutique.
The Anguilla Animal Rescue Foundation would also like to take this opportunity to thank all those in the community who continually work with AARF to make Anguilla a better place for the animals.
Finally, a very special thank you and appreciation to Roy & Mandy of Roy's Bayside Grill for continuing their partnership with AARF and allowing us to use their restaurant and to those who volunteered for the event.
---
Shelter Update
Last spring, we opened the new AARF Shelter space in Morlens Veterinary Hospital (partial map here). Thank yous go to the generous members and supporters who donated file cabinets, pet collars, leashes and other supplies - and who helped set up the shelter office.
This new space is right by the entrance and has a workspace for AARF volunteers. Better yet, since all adoptions are now done at the shelter, it provides one stop shopping for prospective adopters.
A large cat playpen and puppy cage in the shelter area allows us to showcase animals for adoption, and many of our adoptions in the past several months were the result of meeting in the shelter office. AARF often has dogs and cats available; stop by or give us a call at 476-2731, Monday - Friday from 10 am to 1 pm to see if we have animals available. We also keep a list of people who are looking for pets.
A dedicated group of volunteers staff the office, facilitate adoptions, walk dogs, socialize the animals (many are scared and not used to friendly people when they first come in) and care for animals. The Shelter also provides a central location for lost and found animals.
---
Education Update
AARF and Hank visit primary schools
Representatives from AARF once again visited the island's primary schools to educate students on safety around dogs.
AARF education chairperson Linda Gratton, AARF Trustee Amy Williams and AARF's new Mascot Hank were enthusiastically received by the Grade One students at all of the island's public and private elementary schools. (In the photos, Hank studiously attends class at Valley Primary School (yellow shirts) and Orealia Kelly Primary School.)
The trio visited the eight schools during the months of December, January and February to talk about bite prevention, responsible pet ownership and the need for spay and neutering. The message was well received by the students and teachers alike.
In addition to the important information provided, everyone was entertained by Hank, a 130 lbs, two year old Newfoundland dog. Most had never seen or touched a dog of his size before.
Due to the overwhelming success of the visits, the group will be returning to speak to older students in the coming months.
---
Thank You to Supporting Donors and Visitors
Thank you to Donors
We recently had very generous donations and want to take the time for a public "Thank You": Sara S. B, Norton & Vivien B, Jane C, Louis E, Bruce & Anne F, Judith R. G, Susan & John G, Shirley S. M and Susie R. We are grateful for the support and your gifts will be highly appreciated by us and, we hope, the lucky animals who'll benefit!
Visitors With Gifts
Also recently, we had several visitors to the AARF Shelter who have given up precious vacation time to volunteer at the shelter or to drop off treats, toys, carriers and donations to help with the shelter dogs and cats here. A huge thank you goes to these generous people. We were able to put camera to some faces and can provide some back story:
Brent and Fiona do a lot of volunteering in Canada and were very happy to hold and cuddle puppies and kittens.

They even came back a second time during their vacation to deliver collars, leashes, toys, a soft sided carrier, treats - and alos a very generous donation.

Thank you both – it was indeed a pleasure spending time with you and sharing shelter stories!
Carol and Al (with Suzie), stopped by the shelter for a tour with a generous donation of toys and leashes for the shelter animals while on vacation here from New York City.

And then they gave up a few hours on another morning to help out at our weekly yard sale sorting!
Sandra arrived in August with a large duffle bag stuffed full of collars, leashes, treats and anything else you can imagine for our puppies and kittens at the shelter.

Sandra is no stranger to Anguilla or to AARF as her sister lives here and she has helped AARF as a foster parent - and she also adopted a puppy (Saba) a few years ago that happily lives with her in Florida.

Thank you for the large haul and support!
Bruce and Muf from Aiken, South Carolina stopped by with a generous donation this year as well as some expert advice from their own volunteering experiences.

Bruce and Muf donated a special cage to AARF last year to assist with feral cats when giving them anesthesia for surgery. We are grateful for their continued support.
The Pet Place
We also have to acknowledge an extremely kind act by The Pet Place in Menlo Park, California (on Santa Cruz Avenue). It's one of those small pet shops that immediately makes people and pets welcome upon entry. The shop and personnel simply radiate pet friendliness and fabulous products. Two volunteers went shopping for some goods for their cat and for the AARF shelter, and were pleased to find some dog and cat food samples in very small bags. These small bags of food are perfect for foster parents and for short term food needs of shelter animals – especially since, when a large bag of food is opened, the contents are immediately attacked by the tropical humidity, much less ants and other things. When the volunteers remarked on this, a huge box of various food samples was immediately offered, no questions asked. So to Lynn and Marc, please accept our heartmost thanks and gratitude!
AARF Shelter Volunteers are happy to have anyone interested stop by for a tour of our shelter, the veterinary hospital and to meet our shelter animals who always love extra pets and hugs. We have a guest book now – please sign in so we will all know you have visited and from where! There is normally a volunteer at the shelter Monday through Friday from 10 to 1.
---
If You'd Like to Help (Our Wish list!)
Wish List
We are always in need of the following items:
Collars - especially puppy and small dog sizes; it's important they are adjustable and are the kind that have snap buckles (they are sometimes called "side release buckles")
Soft-sided pet carriers that can fit under airplane seats (they aren't available in Anguilla)
Leashes - nylon or cloth, large and sturdier sizes - to provide for each adoptee
Retractable leashes for walking shelter dogs
Used towels for drying shelter animals after their baths
Toys for puppies, kittens, dogs and cats (they need to be washable)
Treats
Spare Change Drive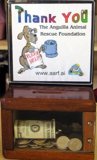 As always, we have our ongoing spare change collection boxes at: Anguilla Techni Sales, Ashley's Grocery Blowing Point, Ashley's Pet Shop, Barrel Stay Restaurant,Bartlett's Collections, Best Buy, Christine Fleming's Mini-Mart, Fat Cat, Foods 95, Geraud's, Irie Life, Lake's Grocery, Morlens Veterinary Hospital, Roy's Bayside Restaurant, Straw Hat, Tropical Flower, Un Amore and Wallblake Airport.
Proceeds go to our Lehigh Fund (established in memory of David Johnson, an AARF member and foster parent) that financially assists pet owners with medical treatment including spay/neuter surgery and other medical emergency needs.
Thank you to all the businesses for supporting our cause!
Members and Volunteers
AARF always needs members. Memberships are vital to the life of the organization and all fees go directly to support AARF programs including animal care, spay/neuter clinics and education.
Membership dues are:
| Membership | EC dollars | US dollars |
| --- | --- | --- |
| Student | 13 | 5 |
| Regular | 53 | 20 |
| Senior | 13 | 5 |
| Family | 80 | 30 |
| Corporate | 300 | 112 |
| Lifetime (one time fee) | 500 | 186 |
Volunteers are always welcome and needed in areas of education, fund raising, adoptions, fostering, membership drives and working at the shelter.
If you are interested in volunteering or have questions about volunteering or memberships, send an email to our Volunteers and Membership Chair.
If you are interested in becoming a member you can obtain a membership form from at the AARF Shelter located at Morlens Veterinary Hospital in Sandy Hill, Monday through Friday from 10:00 am to 1:00 pm. Or you can download (or open) a form in Microsoft Word or PDF format by going to our membership page.
Please end the completed membership forms to:
AARF
PO Box RI 4228
Anguilla, BWI AI-2640
If you would like more information on AARF please visit our web site at www.aarf.ai, send us an email at aarfinfo@aarf.ai or call us at (264) 476-2731.
---
Note as of September 2011:
For legacy purposes, we are leaving this section as it was written, but we have a newer web page on adopting an Anguillian pet and taking her/him home with you (with an emphasis on USA/Canadian adoptions, but it is suitable for everyone).

This new section, with checklists, other links and more is on our Adopting a Pet — the Basics page, and is updated regularly.
Yes, You Can Adopt Here and Take Home!
Adopting a dog or cat and taking it back to the United States from Anguilla is pretty easy, especially if you do it through AARF.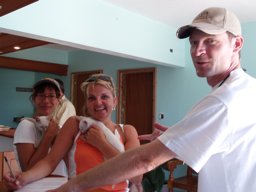 We have many successful & happy adoption stories. We are most familiar people with taking their new pets to the United States; therefore, that is mostly what this section covers. We did have a successful adoption of two kittens to Germany last year (see the photo at right of the lucky kittens going to Bavaria!), but European Union rules have to be consulted (for example, there appear to be requirements for pet passports and microchips). We also found a Canadian web site that talks about importing dogs and cats (see the end of this section).
What is involved?
Find a puppy, dog, cat or kitten that you would love to give a second chance and a forever home. Make an appointment with Morlens Veterinary Hospital (call 497-4600 between 9 & 1 Monday through Friday) and then take the animal in for an examination, vaccinations, de-worming, rabies shot (if it's a dog) and health certificate for travel from Anguilla.
At this writing, American Airlines is the only airline that we are sure of that will transport animals and the fee runs around US$100. Still, before making your adoption plans, it is very important that you contact American and any other airline to find out the present policy.
AARF recommends that if you plan to adopt you buy and bring a soft-sided carrier with you to transport your new pet back home. Pet carriers of any kind are extremely difficult to locate in Anguilla, which is why we advise you to bring one.
Where do I find a new pet?
AARF often has puppies/dogs/kittens/cats available for adoption at Morlens Veterinary Hospital. The location for Morlens and the AARF Shelter is in Sandy Hill on the Long Path Road near the Sandy Hill Roundabout.
To see our animals, visit the AARF Shelter or call 476-2731 between 10 am and 1 pm Monday through Friday. After hours, you can leave a message. A volunteer will return your call to coordinate your visit.
If you have a possible dog or cat candidate at your hotel or villa, ask if it is available for adoption and if so, call the Shelter phone.
Again, an appointment will be needed to bring the animal in for the exam, shots and health certificate.
What are the Costs?
An animal adopted through AARF costs very little, especially if you choose an AARF animal at the Shelter. For instance, to adopt the animal and get the first set of vaccinations (including de-worming) is only US$20. The exam and health certificate will run about $25. Dogs of a certain age will need a rabies shot as well.
An animal found at a hotel or villa might need more in-depth examinations and treatments.
(Prices are subject to change.)
Other Information:
For U.S. citizens, information about traveling with pets is available on this web page on the CDC web site. If the page moves, use the search box and look for the word pets.
This Canadian Food Inspection Agency has an importing dogs and cats web page. (If this link fails, try our Adoption Basics page or go to the top of the Canadian Food Inspection Agency site and go to their animals page. You should eventually find an "Importing or Travelling with Pets" page.)
If you have other questions please do not hesitate to ask. Thank you!
---
Happy Tails (by Suzie Donahue)
Here are some happy tales and updates for your enjoyment!
Jules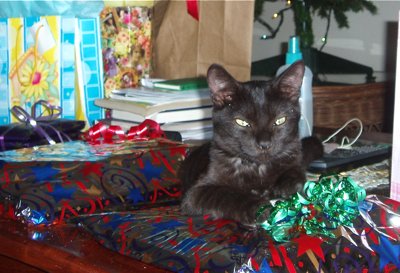 Remember Jules from the Fall 2008 newsletter?
Not only has Jules settled right in with Penny and Malcolm, but he celebrated this last Christmas with them.
As you can see from the photos at right, Jules has decided he really likes Christmas, what with the shiny packages, wrapping, ribbons, and perhaps best of all, those dangling ornaments!
---
Clara
Lynn and George who have visited Anguilla for many years from their home in upstate New York now have 3 Anguilla dogs. Lynn tells Clara's story ……
"Anguillian dogs are addictive and we can't seem to break the habit. Clara is our third. She was injured and ill when we found her last January and very frightened of people. At first we thought we might find a good home for her but no one could even come to see her because she would simply hide until they were gone.
What could we do? We had to keep her and we're so glad we did. She gets along beautifully with her new brother Pumphouse Fred and sister Annie and is much better about meeting people.
This picture, in fact, says it all. When our four year old grandson Nicholas came from Denver to spend some time with us, I was a little apprehensive. Clara had never been exposed to a child before and Nick claimed an interest in snakes and alligators only. Within hours she became his constant companion, sleeping in his bed at night and sitting beside him to supervise his naps in the daytime. She is very trustworthy and never gave us a moment of worry.
Clara has proven herself to be very adaptable, Nick recognizes that dogs can be almost as loveable as snakes and alligators and we think we have a very healthy addiction."
---
Martini, Margarita & Mimosa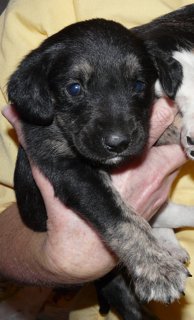 In January this year, Dr Vanterpool brought a litter of 8 puppies and their mother to the AARF Shelter after rescuing them from an abusive situation.
The Shelter Volunteers immediately set to work socializing the puppies (they are being held in the photos to the right) and taking care of Mommy who was extremely dedicated to keeping her crate clean while her puppies were nursing.
She was very sweet and as any good mother, made quick trips out for walks so as not to leave her little ones unattended.
As the puppies grew and started eating on their own, we separated Mommy so she could have some quiet time away from her brood.
All the Shelter Volunteers got extremely attached to this little family and we had several pre-adoptions before they were old enough for their vaccinations.
Finally "going home" day came for the puppies. But then, Maggie and Don not only adopted 2 of the puppies, but they generously took Mommy too! That was a huge relief for all of us who had grown to love her and worried about placing her since we knew how difficult it is to place adult dogs.
All 8 puppies and Mommy are now in forever homes and we are so grateful to everyone that adopted and gave this family another chance!
Maggie spends time with Mimosa (Mommy) Margarita and Martini in the right-most photo; as you can see they are growing. In fact, Maggie reports that both puppies have already grown out of their collars!
---
Chicklet
Three years ago 4 little kittens were found in the middle of the road by tourists returning from dinner at Altamer.
They were picked up and fostered for several weeks by an AARF Volunteer, Suzie Donahue who then found forever homes for them. Here are three of them in their foster days, chasing a mouse.
Tonia and Zoe adopted Chiclet, and as the photo on the right shows, Chiclet seems to have retained her old computer skills.
---
Christy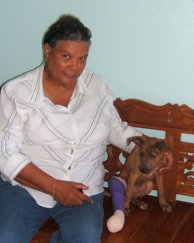 When Blondell looked out in her yard in early January and saw an adorable puppy with an injured leg, she knew she had to help. Dr. Bradley determined her leg was broken, put Christy in a soft cast and sent her home to heal. She has been under treatment since and we are happy to report that she will be "released" very soon.
Blondell and Barry, thank you for taking this little injured pup into your home and your heart and giving her the care that she needed – we are sure she will certainly never forget your kindness!
---
Lola & Tiny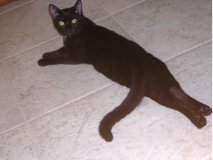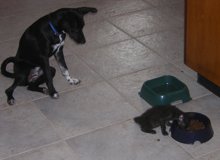 One day when Karen, one of our Shelter Volunteers, was on duty, someone brought in an itty-bitty kitty,that was about 2 weeks old.
Karen volunteered to foster her and learned quickly about bottle feeding and the other duties of "mothering" a young homeless kitten.
Karen had a dog Lola who was adopted from AARF and who also had received special care as a very sick baby thanks to another foster parent (thank you, Jacquie).
So how did it work out?
Well...at first, Lola the dog wasn't thrilled with the new arrival, but dog and kitten soon became good pals – and Karen who planned to give Tiny up fell in love with her instead!
Here you can see Tiny in the tiny stage, Lola in the early days with Tiny, perhaps unsure of the new arrival, followed by present time pictures of the two obviously cohabitating well as couch-mates, and finally, Tiny is...no long itty-bitty and frail.
---
Dog Biscuit Recipe - "Lola's Luscious Treats"
Ingredients:
1 cup all purpose flour
1/2 cup corn meal
1 egg
1/2 cup canned dog food
Chicken stock
Pinch of oregano
One or more dogs
Directions:
Combine all dry ingredients and egg, dog food and mix well, add enough chicken stock, about 1/2 - 1 cup, until mixture is the consistency of a batter
Bake at 375 degrees on a greased cookie sheet for 20-30 minutes or until golden brown
Cut into desired squares with pizza cutter
Refrigerate
Present to dog(s). Something tells us they'll be appreciated (LT sure likes them!)
---
Cat and Dog Haikus
We close with some excellent haikus:
Cat Haikus

Dog Haikus

You never feed me.
Perhaps I'll sleep on your face.
That will sure show you.


I love my master;
Thus I perfume myself with
This long-rotten rodent.


You *must* scratch me there!
Yes, above my tail!
Behold, elevator butt.


I lie belly-up
In the sunshine, happier than
You ever will be.


The rule for today:
Touch my tail, I shred your hand.
New rule tomorrow.


Today I sniffed
Many dog butts - I celebrate
By kissing your face.


Grace personified.
I leap into the window.
I meant to do that.

How do I love thee?
The ways are numberless as
My hairs on the rug.


Wanna go outside.
Oh, no! Help! I got outside!
Let me back inside!


My human is home!
I am so ecstatic I have
Made a puddle.


In deep sleep hear sound
Cat vomit hair ball somewhere
Will find in morning.


Sleeping here, my chin
On your foot - no greater bliss - well,
Maybe catching cats.


Humans are so strange.
Mine lies still in bed, then screams.
My claws are not THAT sharp.


I sound the alarm!
Meter reader - come to kill all -
Look! Look! Look! Look! Look!


You're always typing.
Well, let's see you ignore my
sitting on your hands.


Look in my eyes and
Deny it. No human could
Love you as much I do.


Small brave carnivores
Kill pine cones and mosquitoes
Fear vacuum cleaner.


Dig under fence - why?
Because it's there. Because it's
There. Because it's there.


Oh no! Big One
has been trapped by newspaper!
Cat to the rescue!

I am your best friend,
Now, always, and especially
When you are eating.