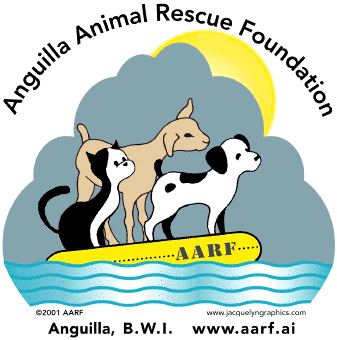 AARF Newsletter
---
Volume 8, Issue 1
May 2008
"Until he extends the circle of his compassion to all living things - man will not himself find peace"
Albert Sweitzer
---
IN THIS ISSUE:
| | |
| --- | --- |
| | AARF ANNUAL YARD SALE - BARGAINS FOR ALL!! |
| | FEBRUARY MEMBERSHIP DRIVE AT ANGUILLA PO |
| | AARF ADOPTION CENTER & SHELTER OPENS AT MORLENS |
| | CAP JULUCA PARTNERS WITH AARF ONCE AGAIN |
| | AARF REPRESENTATIVES ATTEND CARIBBEAN ANIMAL WELFARE CONFERENCE |
| | AARF SPOTLIGHT |
| | "HAPPY TAILS" |
| | 2008 SPAY & NEUTER FIGURES |
| | ADOPTION PROGRAM UPDATE |
| | EDUCATION CORNER |
| | JOIN US- WE NEED YOUR HELP! |
| | SPARE CHANGE DRIVE |
| | AARF MERCHANDISE MAKES FOR GREAT GIFTS |
| | AARF VISITORS ARRIVE BEARING GIFTS |
| | >ON A LIGHTER NOTE |
| | FINAL THOUGHTS |
---
COMMUNITY EFFORT RESULTS IN ANOTHER SUCCESSFUL YARD SALE!
The 5th Annual AARF Yard Sale at the Agriculture Department on Saturday April 26th was once again a great success thanks to a huge community effort to help raise money to meet the organization•s• 2008 budget. Collecting for the sale is ongoing and the sorting and pricing for the sale began weeks ago at the AARF container.
<![if !vml]>
<![endif]>
Group of Volunteers sort on Thursday mornings!
AARF was even fortunate enough to have visitors on vacation join us for sorting as well. We would like to thank the Donleavy Family for donating their valuable vacation time to help us sort! As well as other AARF family members who while visiting were "encouraged" to help out including Patty, Tamara, Janis, Doug, Terry, Judy, Rose (who brought friends and spouse) and our faithful snow bird members and "cheerleaders" Mike and Mary Ann!
<![if !vml]>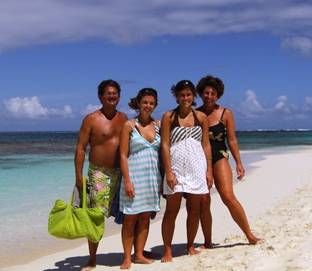 <![endif]>
John, Mary Ella, Cara & Jenna Donleavy of Dorset, Vermont
Viceroy gave a huge helping hand by supplying two trucks to transport the items for sale from the AARF container at Anguilla Techni Sales to the grounds of the Agriculture Department. Viceroy volunteers headed by George Malik along with Simon and his crew & AARF members met bright and early at 5:30 AM to load, transport, unload and set up for the sale that began at 9 AM. Viceroy also donated water, a cooler, hats, and returned at the end of the sale to help dispose of unsold items and trash. Two Viceroy employee's Aaron and Matthew also helped with sales throughout the day. We are grateful for their support of this annual event. In addition Karl T Smith donated his truck for use during the day.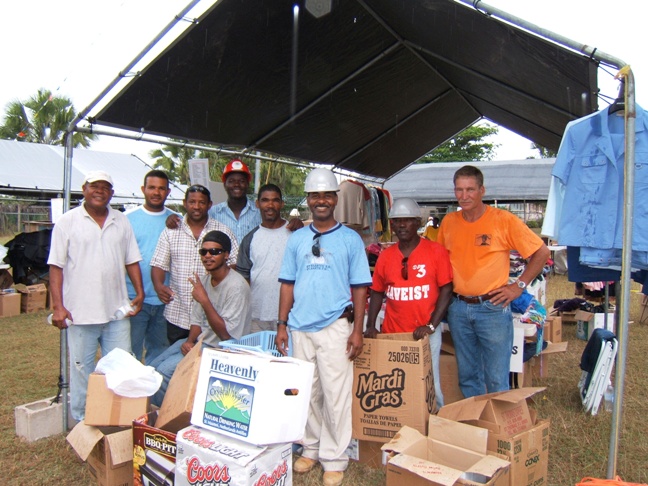 Viceroy Volunteers loaded, transported and unloaded trucks and assisted greatly with the yard sale.
The crowd at opening time rushed in to find bargains on everything from books and videos to clothes, furniture, small appliances, toys, sports equipment and so much more. The Anguilla National Creative Arts Association (ANCAA) accentuated the festive atmosphere by selling delicious home baked sweets, plants and other items to benefit their organization and donated some of their proceeds to AARF. The Anguilla Sailing School•s• instructor William Ferguson demonstrated one of the sail boats used in training and answered questions related to the courses taught at the school.
Many Books!
Shoppers look for bargains!
Tired Volunteers
The purpose of this annual event is to raise money for AARF•s• spay/neuter program and to meet other operating expenses that the organization expects to be well over $25,000 US for 2008. This spay/neuter program, which AARF has been sponsoring for the past 5 years, has provided surgeries for more than 900 island dogs and cats, and as a result helped immensely in controlling the unwanted births of puppies and kittens on the island. The 2008 program will focus, as it has for the past 3 years, on the puppies and kittens that are adopted from AARF. The AARF adoption fee of $20US includes a spay or neuter for the adopted puppy or kitten when it reaches approximately 4 –5 months of age, along with the pets first set of vaccinations, flea & tick bath and worming. If interested in adopting through AARF visit our new shelter that is located at Morlens Veterinary Hospital at Sandy Hill between 9 and 1 Monday – Saturday. AARF animals up for adoption change from week to week so contact AARF at 476-2731 for more information. Any unwanted puppies or kittens should be taken to the shelter if homes cannot be found for them. As in the past 3 years, AARF is depending solely on contributions from local residents and businesses as well as members and island visitors to support this program.
The Anguilla Animal Rescue Foundation would like to thank all that participated in this event – those that donated items, those that purchased great bargains, Viceroy for their huge support in providing transportation to the site, the Agriculture Department for letting us use their grounds and AARF members and volunteers who worked so diligently to make this annual community event a huge success. We are grateful for your support!
---
FEBRUARY MEMBERSHIP DRIVE AT ANGUILLA PO
Gayle Gurvey Membership Chairperson and a group of volunteers including Sally Baumwell, Mark Baumwell, Helen Richardson, MaryAnn Jarvis, Mai-Britt Rygg, Suzie Donahue & Rebecca Taillon enjoyed greeting interested members and the general public at a membership drive held on Tuesday February 26th from 9 - 3. Five new members were signed up and 11 persons renewed their memberships and several AARF t-shirts and other items were sold.
Since that time, Sally Baumwell has taken over as our Membership /Volunteer Chairman. Thank you Sally for stepping in when you were most needed to take over this very important committee! Write to Sally's email via our web site (use the Contact Us link) if you are interested in joining AARF or volunteering.
---
AARF SHELTER OPENS AT MORLENS
After months of anticipation - our space is organized, the sign is up and we have our first set of AARF volunteers helping at the AARF Shelter located at Morlens newly renovated Veterinary Hospital Monday - Saturday from 10 - 1. If you are interested in adopting a puppy or kitten then please stop in and meet our volunteers and our adoptees. Call the Shelter at 476-2731 to find out who is available for adoption as this changes daily.
If you are interested in volunteering at the shelter then contact our volunteer chairperson, Sally Baumwell using the web site Contact Us link or 497-5579. Volunteers are needed to help with adoptions, socialize puppies and kittens, walk dogs, clean crates, feed and water the animals in our care and offer general assistance to the Shelter Manager, Amy Williams.
---
RUBIN RAINBOW FUND ESTABLISHED
Suzie Donahue (left) accepts donation from Sue Rubin for the Rubin Rainbow Fund established to help animals in the West End.
Sue Rubin of Philadelphia, PA. USA has been visiting Anguilla for many years, always donating food, flea and tick preventative and other items to AARF on her trips down. This year she decided for a very important birthday to set up the Rubin Rainbow Fund and donate monies received as birthday gifts to help the animals of Anguilla - specifically in the West End where she vacations. The purpose of the fund is to offer financial assistance for dogs/cats in need. Working with AARF member and friend, Suzie Donahue it was decided that care given would include vaccinations, worming, and in partnership with AARF•s• spay/neuter program sterilization surgery. The fund will also supply additional needed help for puppies, dog, kittens or cats of families in the West End that may not be able to afford these additional needed expenses. Any remaining funds will be used to fund a feral cat project that would include the expenses involved in feeding and trapping for sterilization (also in partnership with AARF) of feral cats in the area. If you would like to donate to the Rubin Rainbow Fund please include that information on your donation.
---
CAP JULUCA CONTINUES PARTNERSHIP WITH AARF
Cap Juluca Manager, Hans Maissen, presents donated traps to Trap/Neuter/Release program manager Suzie Donahue
Cap Juluca has donated 6 cat traps to AARF for their feral cat Trap Neuter Release program that has been a success at the resort since 2004. That year, AARF approached Cap Juluca with the idea of a TNR program aimed at controlling the births of unwanted kittens on the property. Approximately 15 cats were trapped, sterilized and released back on the property where they are fed, watered and monitored by AARF member Suzie Donahue. Unfortunately, in the past 6 months it became apparent that there was a sudden resurgence of kitten births at the resort - it is suspected that cats had been brought to the property by well meaning owners who did not want them and knew they would be taken care of. The trapping has begun again where there are currently 6 feeding stations with food provided by the resort . The donated traps will be used on the property and are also available to other hotels or anyone that has a feral cat problem. For information on establishing your own feral cat colony and a Trap Neuter Release program contact Suzie Donahue at 497-8177.
Cap Juluca continued their partnership with AARF by once again donating numerous new items from the gift shoppe, as well as used items in good condition to the AARF Yard Sale & in addition made a large donation of used towels to the AARF Shelter. The AARF Shelter is always in need of towels for cleanup and drying the animals after their baths.
AARF would like to thank Cap Juluca for their continued support and their commitment to the Trap Neuter Release program that has become a model for the island.
---
AARF REPRESENTATIVES ATTEND
CARIBBEAN ANIMAL WELFARE CONFERENCE
The Anguilla Animal Rescue Foundation was one of 29 island nations or countries representing 70 organizations at the Caribbean Animal Welfare Conference held in Santo Domingo, Dominican Republic the week of April 21 -25th. Marie Forman (Adoption Chairman) and Suzie Donahue (Vice President & Spay/Neuter Project Manager) joined with 140 others to participate in workshops including organizational development, disaster preparedness, education, spay/neuter clinics, government's role in humane animal control, alternatives to surgical spay/neuter, and many other topics. There was also great networking and sharing which took place among the many members of the animal welfare groups attending.
The conference was sponsored by The Pegasus Foundation whose Caribbean Animal Welfare Initiative supports animal welfare programs throughout The Bahamas and the Caribbean with training, resources and funding. Since 1997, the Pegasus Foundation has supported animal welfare programs on islands in The Bahamas and the Caribbean. The Foundation•s• Caribbean Animal Welfare Initiative, launched in 2002, has three primary goals:
1) Provide resources, training and support to
animal welfare organizations;
2) Provide a communications network – especially
during disasters; and
3) Develop support for animal welfare from the
tourism industry through the Caribbean Animal
Tourism Support project.
Other sponsors included the World Society for Protection of Animals, Humane Society International, Pettus Crowe Foundation, Maria Norbury Foundation, Best Friends Animal Society, International Fund for Animal Welfare, PetSmart Charities, ASPCA, Petfinder.com & the American Humane Association.
<![if !vml]>
<![endif]>
Suzie and Maria at Conference
---
AARF SPOTLIGHT
Linda Gratton
The AARF Spotlight this issue shines on Linda Gratton AARF's Education Chairman. With funds donated by Flag Luxury Properties (Anguilla) LLC and Temenos Anguilla Resort and Residences to the education program, Linda has been busy visiting the schools accompanied by 2 assistance dogs, with the purpose of reaching out and enlightening the school- age children of Anguilla on proper pet ownership and care. Teacher Linda plans to visit every school on the island and will, and with the aid of colouring books, photos and age - appropriate information sheets, dispel myths and encourage healthy pet care habits. Her purpose in teaching children to be humane is to promote responsibility, kindness and commitment, as well as good citizenship and animal safety. We thank Linda for all that she has done and continues to do to help the children learn about the animals of Anguilla.
---
HAPPY TAILS
Apple was an AARF puppy that stayed several months in foster care as there was just no home available. She was adopted by the Johnson Family, Don, Shernaz & Kiana and joined them when they subsequently moved to Mexico. Pictured below is Apple with her new friend Princess. Shernaz reports that they have just celebrated Apple's first year with them. That she is a loving dog and is doing well and enjoys her little sister - Princess who will not leave her sight and will only go out if Apple goes out, and Apple has totally taken Princess under her wing.
Apple, Kiana & Princess
Spot actually is from the Turks & Caicos where they call the dogs Potcakes, but he came to Anguilla with his owners Michele and Roger where he made many friends. In January 08 after Roger's assignment regarding Hurricane Disaster ended they left Anguilla to return to Europe with Spot in tow. Michele says it didn't take Spot long to enjoy the snow in Switzerland or the pubs in the UK.
Spot enjoying the Switzerland snow in his new coat!
George AKA Georgina, Buddy, Busta, or Ginger was one of the first "participants" of the Cap Juluca Trap Neuter Release program that began in August 2004 to trap, neuter and then return the cats to the resort and control the births of unwanted kittens. He managed to make many friends over the years dropping in at Villa's 10, 11 or 12, working diligently at convincing the guests that he needed their care and enjoying the benefits of room service, air conditioning and frette linens! Since he was a smaller cat many questioned if he were a boy or girl - hence his series of names. I have met many very nice and caring people in the past several years who have been concerned about George, made donations to AARF in his name, called me if he seemed ill and all at some point considered taking him home with them. Robert who comes twice a year actually requested a specific room knowing that his "Ginger" would be there with him for two weeks each visit and even brought food with him. In the months when the resort was closed I fed him separately from the other ferals that I take care of on the property, although I did discover that he knew where a permanent feeding station was when I spotted him at one this past October. In January, Joanne a first time visitor from New Jersey came to Anguilla - and guess who was a part of her welcoming committee? George aka etc etc! As the staff at Cap knows the "crazy cat lady" (Suzie) I was contacted because JoAnne wanted to adopt "Cat Juluca". We took him to Morlens Veterinary Hospital where Dr. Linda O'Brien confirmed that he was a boy, got his shots and health certificate and off he went to his new home. All his "fans" were very happy to hear he had found a home, - but we will miss him! Joanne says he did fine on his the flight and he certainly looks happy! Thanks for giving him a forever home - he certainly worked very hard to get there!
"Buddy" with guests in 2005
Going home to New Jersey "Cat Juluca" in his new home!
Lexie was surrendered to AARF when her owner realized she had too many dogs and could not properly take care of her. She had already been spayed through AARF's Spay/Neuter Program the year before. We are grateful to Robin who agreed to take Lexie - who is no longer a cute little puppy into her home. Robin reports she has adjusted well and is a joy!
Robin & Lexie
Maggie & June
Maggie was rescued at the airport after having been hit by a car and fostered by an AARF volunteered, then adopted by Penny in 2005.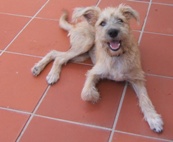 Penny adopted "June" in October of 07 and she and Maggie became fast friends. Don't they make a nice pair?? Thank you Penny for giving Maggie & June a caring wonderful home!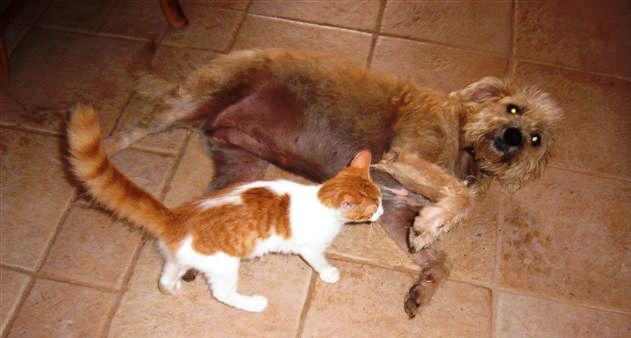 June & Maggie - Best Friends!
Whiskey who lives at Sandy Ground is a beach dog with a very special angel. Kari comes from Norway just about every year for a few months and gives special care to Whiskey. In 2005 she helped collect money from kind people on the beach so that he could be neutered. She was unable to come last year but her friend was still on the beach when she arrived this year and spent many hours making her latest trip to paradise fun!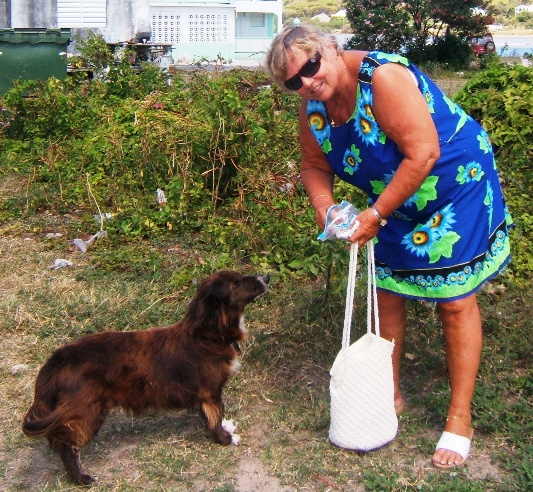 Kari and Whiskey in 2005 Whiskey and Kari 2008!
---
2008 SPAY & NEUTER FIGURES
Morlens Veterinary Hospital in Sandy Hill started off 2008 with a bang with the addition of Dr. Linda O'Brien to the staff and the newly installed x-ray machine. Because of major renovations at the hospital there were no surgeries done in December. Since mid- January when the new surgical ward was finished and in use 49 spays and 17 neuters have been done.
We are extremely grateful to Dr. Vanterpool, Dr. O'Brien, Amy Williams and Maria Forman of Morlens Veterinary Hospital for their continued cooperation - without their dedication it would be impossible for AARF to exist. Since the inception of our spay/neuter program in Anguilla in July of 2003 AARF has sponsored surgeries for 920 dogs and cats.
Did you know that one unspayed cat and her offspring can produce 420,000 kittens in 7 years? And one unspayed female dog and her offspring can produce 67,000 puppies in that same time span.
AARF is making a difference through your support and generosity at our fundraising events.
Thank you!
---
2008 ADOPTION PROGRAM UPDATE
AARF initiated a new adoption policy in November of 2005 that included a fee of $20 USD to adopt an animal and included free spay or neuter surgery when the puppy/kitten is old enough for the surgery (between 4 & 6 months), worming, flea/tick bath and the animals first set of vaccinations. Cats are also tested for feline aids/leukemia, which is an incurable disease transmitted from cat to cat and is common here on Anguilla. Dogs are tested for heartworm, a parasite transmitted by mosquitoes and erlichosis, a blood parasite transmitted by ticks. Both of these diseases are common on Anguilla and can be life threatening.
New owners are provided with information on the proper care of their pet and encouraged to call AARF if they need any other assistance.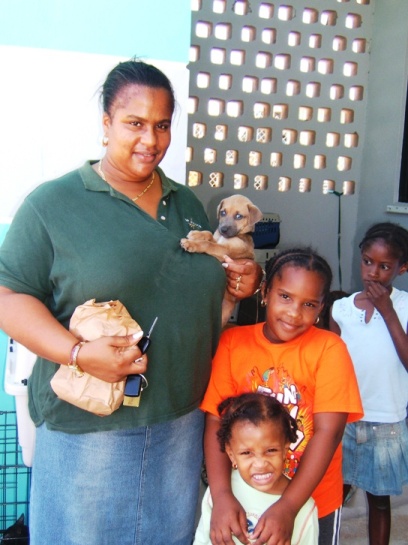 Lucky puppy "Rex" on adoption day!
Emilie Volunteers at Adoption Day
In addition, AARF has also developed a surrender form that allows the owner of an unwanted dog or cat to leave the animal at the AARF Shelter at no charge. This permits the animal to then be put up for adoption. These animals will be accepted free, but need to be eating on their own which is usually at 6 weeks of age or older. It is hoped that unwanted dogs and cats will be taken to the AARF Shelter at Morlens Veterinary Hospital instead of being left to fend for themselves and causing a nuisance in the areas where they are abandoned.
In 2007 AARF found forever homes for 220 puppies/dogs and kittens/cats - mostly in Anguilla. This year has already been a very busy one with over 70 adoptions in the first quarter of the year. Thank you to everyone that has welcomed these unfortunate animals into your hearts and homes and given them a second chance!
Very special thanks to our Adoption Chairman, Maria Forman and all her volunteers who work tirelessly to find homes for these unwanted animals.
If you would like to help at an adoption day please contact Sally using the Contact Us link on our web site. We are in desperate need of volunteers!
A huge thank you to those that agree to foster our animals and give their hearts away - even for a short time!
Madeline with some of her fosters!
AARF would like to also thank Lake's World, Best Buy, Foods 95 and Ashley's for allowing us to use their premises to hold our adoption days.
---
EDUCATION CORNER
The Thunder Phobic Pooch
Does he tremble? Chew up the carpet? Urinate inside and run and hide whenever there is a storm outside? Your dog may be suffering from a common phobia of thunderstorms.
What's a Phobia?
A phobia is a severe fear of something. Phobias can cause so much anxiety that a dog will refuse to go outside, eat or even sleep. If not treated, a phobia can continue to escalate over time.
What Happens During a Storm?
Research shows that during a thunderstorm, a dog with thunder anxiety has an increase in his cortisol level. Cortisol is the hormone that's tied to stress.
During a storm a dog can become quite scared. In mild cases of thunderstorm phobia a dog will pace, quiver, and hide. In more severe cases, a dog may urinate in the home, chew and scratch on furniture, or even break walls and windows.
How Can You Help?
It's important to get to the core of your dog's phobia immediately. The more you prolong dealing with his fear, the worse it can get. The following are some suggested ways to help your dog lose his fear of storms.
Conditioning/Desensitization: This form of 'treatment' involves allowing your dog to slowly become comfortable with the sound of thunder. One suggestion is to use a CD or tape of thunderstorms. Put the CD on low volume and encourage your dog to relax. Once he does, reward him and turn the CD a bit higher. Continue to do this until your dog is able to remain relaxed when the CD is loud.
Music Therapy: Animal behaviorists have found a connection between music and a calming effect in dogs. Perhaps putting on soothing harp music during a storm will calm your dog down and prevent him from reacting in such an extreme way.
Prescribed Medication: In some cases a phobia is so severe that prescription medication such as sedatives are needed to get the dog to relax. This is necessary only in extreme cases and must be discussed thoroughly with your veterinarian or a veterinary behaviorist.
Crate Training: Dogs with noise phobias will often look for a place to hide. A crate provides a comforting "den" for the dog to retreat to. Consider placing the crate in an interior room where the thunder is not as loud.
---
JOIN US!!
AARF always needs members and joining us can be very rewarding! Memberships are vital to the life of the organization and all fees go directly to support AARF programs including animal care, spay/neuter clinics and education.
Membership dues are:
Student (Under age 18) $13.00 EC / $5.00 US
Regular $53.00 EC /$20.00US
Senior (65 and over) $13.00EC/ $5.00US
Family $ 80.00 EC/$30.00 US
Corporate $300.00 EC /$112.00US.
Lifetime memberships (one time fee) $500.00EC / $186.00US.
Volunteers are needed in areas of education, fundraising, adoption days, shelter volunteer and fostering those animals awaiting their permanent home. If you can volunteer or want to adopt a puppy or kitten (adult animals as well), or know of ones that need homes, please call AARF at 476-2731.
If you are interested in becoming a member you can obtain a membership form by going to our Membership page. The form is available in Word or PDF format.
at the AARF Shelter located at Morlens Veterinary Hospital in Sandy Hill, Monday through Saturday from 9:00 am to 1:00 pm.
---
SPARE CHANGE DRIVE
Our "Spare Change Drive" is on-going so don't forget to drop those extra coins and cash at one of our locations! We really appreciate your donations and the proceeds go to our LeHigh Fund, (established in memory of David Johnson, an AARF member and foster parent), that assists financially with medical treatment for pet owners including spay and neuter surgery. In 2007 funds from the collection boxes/Lehigh fund provided free surgery for 61 dogs and cats, as well as heartworm treatments and other medical needs. Thank you Bob Turner for creating these permanent donation boxes for AARF and to the WISE project for their donation of 6 more boxes. The donation boxes are located at the following establishments - Straw Hat, Bartlett•s• Collections, Wallblake Airport, Christine Fleming's Mini-Mart, Ashley's Pet Shop, Un Amore, Lake's Grocery, Morlens Veterinary Hospital, Tropical Flower, Sophie's Hair Design, Anguilla Fencing, Fat Cat, Anguilla Techni Sales, Ashley's Grocery Blowing Point, Roy's Bayside Restaurant, Irie Life, Barrel Stay Restaurant, Foods 95 & Jeroud's.
Thank you to all the businesses that have agreed to support our cause.
---
AARF MERCHANDISE MAKE GREAT GIFTS
Most of you know that AARF has some great t-shirts, hats and other merchandise for sale at Bartlett's Collections at the Sandy Ground Roundabout. Lynn & Calvin Bartlett have been huge supporters of AARF over the years and we are most grateful for their help in merchandising our products.
We are also grateful to long time visitor Steve Stanczyk of Wisconsin who has designed two of our long dog t-shirts for us, as well as a bumper sticker and along with his wife Angela, adopted their dog Maggie when they found her on the beach at Rendezvous Bay a few years ago. (To see examples of his great work see the Kramer Printing website.) Steve's latest contribution to AARF is the long dog t-shirt shown below and modeled by Jennifer at Bartlett's.
Jennifer models the newest AARF T-shirt.

Just this week in the Wisconsin State Journal this article appeared about the dog that Steve and Angela adopted - Maggie and her "story" which is COMING SOON! We will keep you posted on the books progress!

Moe: A sweet storybook ending for real dog

Back in 2004, Todd and Liz Tiefenthaler, who own Kramer Printing in Waunakee, were trying to fact-check a book they were publishing about Anguilla, an island in the British West Indies.

This necessitated one last pre-publication trip to the island, which had cast a spell over Todd and Liz several years earlier with its stunning beaches and laid-back ambiance.

The Tiefenthalers had brought along their book's designer, Kramer art director Steve Stanczyk, and Steve's wife, Angela Baldwin-Stanczyk. The plan was for a little work and a lot of time spent rifling the sand with their toes while relaxing with a cold beverage, which is the national pastime of Anguilla.

Funny about trips, though. You never know what might happen. You could, for instance, fall in love with a stray Anguilla Long Dog, and after a series of adventures, including a daring escape from an airplane's cargo hold and a limo ride from O'Hare airport, wind up back in Madison with a new tenant and an idea for a second book before your first book is even in print.

Now, four years later, the Tiefenthalers' second book, "Sweet Pea, the Island Dog," written by Melita Schuessler and illustrated by Jason Briesch, is approaching publication. It is a lovely book, aimed at children, and the reader's interest level may well be stoked by the following on the title page: "Based on a true story."

In the new book, a little girl named Maggie is vacationing on a tropical island with her father when she falls in love with a stray dog named Sweet Pea. A storm hits the island and Maggie realizes how risky life as a stray is for Sweet Pea. She talks her dad into bringing the dog home with them. To avoid having to issue a spoiler alert, I will simply say it does not come off without complications.

But back to those words on the title page: "Based on a true story."

In the real story, back in 2004, it was not a little girl who fell in love with a stray island dog. It was instead two grown-up girls, Liz Tiefenthaler and Angela Baldwin-Stanczyk, who succumbed.

The business part of the trip had gone well. They had brought along a proof of their manuscript, "Anguilla: A Shorter-Sleeved Way of Life," and it was greeted with enthusiasm by the island's tourism authorities.

Liz and Angela were sitting at a beach snack bar when they first spotted the dog. It was an obvious stray, one of a variety of dogs on the island referred to as Anguilla Long Dogs, for the sensible reason that their common characteristic is they are long. The legend is they arrived with pirates.

The dog was thin, so in the manner of soft-hearted humans everywhere, they bought it a sandwich at the snack bar.

The dog, which they named Maggie, was also young, not much more than a puppy -- but not stupid. It kept showing up at meal times. The women kept feeding it.

The night before the Madison foursome's departure, inquiries were made. Could a dog from Anguilla be brought back to the United States? Steve and Angela had decided to adopt Maggie. The answer was that they would have to get the dog to the vet the next morning for shots and paperwork, but it was possible.

The next morning, for the first time all week, Maggie did not appear for breakfast. Everyone felt terrible. But then they spotted a black spec in the distance. It was Maggie. They rushed her to the vet, and made it to the airport in time.

Shortly before departure, Steve gave Maggie a sedative and put her in the crate in which she would fly. A short time later, they were settled into their seats, preparing for take-off, when a voice on the plane's public address requested that Steve report to the front of the aircraft.

A flight attendant said: "Your dog has escaped!"

Maggie had been last spotted racing across the tarmac. Steve jumped in a golf cart with security personnel. They finally found her on the other side of the airport, but it had taken so long Steve was convinced the plane must have left. It hadn't. Angela told him later the pilot was giving passengers a running account of the effort to find Maggie. Steve got an ovation when he got back in the plane.

The journey ended with Todd Tiefenthaler deciding the only proper way for Maggie-the-stray to get from the airport in Chicago to Madison was in a limousine, so he hired one.

On Tuesday, Steve Stanczyk was saying Maggie has adjusted well to Wisconsin. "She has been the perfect little dog," he said. "She loves the snow. She's a gentle, loving dog."

Liz Tiefenthaler said a portion of the proceeds from the new book, which will be out in early June, will be donated to the Anguilla Animal Rescue Foundation.

The dog in the book, Sweet Pea, does not get a limo ride at the end, but Maggie really did.

"She just jumped in the back and curled up in Todd's lap," Liz said.

Printed with permission Doug Moe of the Wisconsin State Journal

Thank you Steve & Angela,

Todd & Liz

for sharing your talent, your love of Anguilla and your continued support of AARF!

We would also like to recognize AARF supporters, Cindy & Jeff Wolfe who are frequent visitors & came up with a great idea for Christmas gifts this past holiday - AARF Hats - with each hat Cindy enclosed the following note.

Proceeds from the sale of this hat

directly benefit the mission of the

Anguilla Animal Rescue Foundation.

To learn more about AARF, visit them at

Merry Christmas!

Cindy, Jeff, Pat and Jack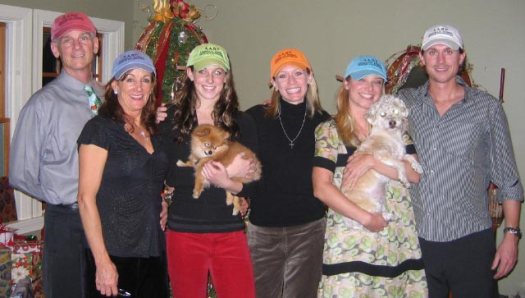 Mike, Phyllis, Cassidy, Jaime, Tiffany and Matt
Thank you to the Wolfe Family for their support!
---
AARF VISITORS ARRIVE WITH DONATIONS & SUPPORT!
AARF'S request for visitors to bring collars and leashes was heard! Thank you to everyone that went that extra mile to stop by and deliver collars and leashes that they had brought for our adoptees! Of course, we always need more - specifically the very small puppy collars (6 - 10 inches) for our little ones and we also need washable toys to keep them busy while awaiting adoption!
Special thanks Susie Malignon

(pictured above with AARF member Suzie Donahue) who along with her friends collected several bags of collars and leashes and brought them down on her visit in January.

Sue and Ray Heinemann contacted AARF by email and along with collars/leashes also brought down a soft sided carrier to help facilitate adoptions of puppies or kittens to the US. It was just in time as it was promptly used by Andy who adopted two cats he had befriended at Sirena and transported them back to Rochester NY! He has since returned the carrier back to AARF.

Bruce and Muff Fuller donated a restraint module to help AARF with feral cat surgeries. Thank you for your generosity and for Roy and Mandy Bossom's help in setting up this donation and Sue and Lee Burtman for helping with the transportation of the donation.

Deborah Clarkson Miller of Michigan, held a jewelry trunk show on the weekend of March 15 & 16th at Sophie's and donated a percentage of her sales to AARF. Thank you Deborah for your wonderful donation!

Other visitors gave generously in support of our foundation and goal to make Anguilla a better place for the animals. Thank you to everyone! We couldn't do it without your help!
---
ON A LIGHTER NOTE ..........
Contributed by Althea Turner
---
FINAL THOUGHTS:
"People are born so that they can learn how to live a good life -like loving everybody all the time and being nice, right?" The six-year-old continued, '"Well, dogs already know how to do that, so they don't have to stay as long'.
Contributed by Chris Carty

---
Dear AARF Members and Friends - the goal of our newsletter is to keep you up to date on events and plans of the foundation. Please don't hesitate to send an email to aarfinfo@aarf.ai, if there is any topic you would like to see addressed .
Thank you, Suzie
---