---
Volume 7, Issue 3
September 2007
---
IN THIS ISSUE:
| | |
| --- | --- |
| | ANNUAL GENERAL MEETING HELD AUGUST 23 |
| | COMING SOON! AARF'S NEW SHELTER |
| | BINGO NOVEMBER 24TH AT ROY'S |
| | AARF SPOTLIGHT |
| | "HAPPY TAILS" |
| | 2007 SPAY & NEUTER FIGURES |
| | ADOPTION PROGRAM UPDATE |
| | EDUCATION CORNER |
| | JOIN US! WE NEED YOUR HELP! |
| | SPARE CHANGE DRIVE |
| | ON A LIGHTER NOTE |
---
ANNUAL GENERAL MEETING HELD AUGUST 23
The 2007 Annual General Meeting was held on Thursday, August 23rd at Roy•s• Bayside Grill. The meeting began at 5:30 PM and was attended by 23 AARF members and supporters. Following are the minutes OF that meeting.
The sixth annual general meeting of the Anguilla Animal Rescue Foundation was held at Roy's Bayside Restaurant on Thursday August 23, 2007 at 5:30 PM.
AARF President, Chris Carty, welcomed everyone to the meeting and led the audience in the AARF official prayer.
"Almighty God, we come together this evening to thank you for the beauty and glory of your creation. Help us as members of this organization to protect the animals that we shelter. Help us to make wise decisions, always keeping their welfare our true priority and while they are in our care help us to show them our compassion and love. " Amen
The agenda was approved by Maggie Mitchell and seconded by Amy Williams.
There were 22 members in attendance.
Alex Ballin Lynn Bartlett Mark Baumwell
Sally Baumwell Roger Bellers Christine Carty
Simone Connor Reggie Daniels Kim Fleming
Maria Forman Jeanette Giemza John Giemza
Gayle Gurvey Joan Hill Madeline Kelly - Perez
Margaret Mitchell Michele Morland Jackie Pascher
Muriel Richardson Estelle Slade Amy Williams
Suzie Donahue
In lieu of reading the minutes of the fifth Annual General Meeting of August 30, 2006, the minutes were circulated to the membership to be read prior to the meeting. A correction was made in the spelling of member Roger Bellers' last name that was misspelled as Bellows. There were no other corrections or amendments and the minutes were approved by Amy Williams and seconded by Lynn Bartlett.
There were no other matters arising from the 2006 minutes.
President Chris Carty then introduced Jackie Pascher who gave the following Treasurer•s• report.
"For purposes of this financial statement all figures are expressed in U.S. Dollars. All EC Transactions have been converted using an exchange rate of $2.68.
For 2006 we had:
Income $41,174.27
Expenses $30,524.98
Surplus $10,649.30
Our bank balances as of 12/31/06 were:
Checking Accounts: $1,217.15
Savings Account: $27,920.36
Our Income includes merchandise sales, general donations, drop box donations, fund raising activities, membership dues, and adoption fees.
Our Expenses include payments to Morlens Veterinary Clinic for spay and neuters, room & board, medical care for animals brought in for adoption, printing of T shirts, expenses for fund-raising events and marketing and office expenses.
In March 2006 we moved our savings account from Scotia Bank to National Bank of Anguilla where we now get 3% interest rather than 1%. For 2006 we received a total of $578.22 in interest.
With the successful fund raising events of 2006 and the generous donations from our friends and visitors we have had a successful year resulting in more animals being spayed & neutered than in previous years. We thank all of you for your continued support and for volunteering at our events."
President Carty informed the attendees that each committee chairman was more knowledgeable than the president to report on the year•s• activities and they would make presentations to the audience instead of herself. She also announced that if anyone had any questions to ask them after the committee report.
Education Committee:
Lynn Bartlett, chairman of the Education Committee, reported - this past year her committee succeeded in accomplishing the Kathy Melby Education Project of the Year. The memorial program was established as a way to honor Kathy and her love for the animals on Anguilla. The project takes place at Road Elementary and the focus was on the 4th grade class of Teacher Juanita. The children selected their choice of medium-paint, markers, crayons and the activity of posters, stories or puppet show. The 12, one hour sessions a week were prompted with information, discussions and the creating of the projects. Most of the 22 students painted pictures with the theme of Animal care or Preventing Animal Cruelty. Three young boys decided to put on a puppet show and they made up the puppets, script and props. The story centered on taking good care of pets and what they needed for proper care. Each student shared their project and the highlight was the puppet show. Many thanks to the Kathy Melby family for their continued support.
The education committee has also been responsible for the kid•s• activity page in the Anguillian Newspaper, designed by Diane Sheehan. The page has some information about animals, and several different kinds of activities including cross word puzzles, word searches, coloring page, etc. Although it hasn't been in the paper on a regular basis, we have been reassured that it will continue.
The environmental group at Campus B requested some information from the AARF committee so a meeting with them was set up in the Spring. I went and talked to a group of about 35 students and told them about AARF and what the organization does. We had great questions and discussions afterwards. The group wanted to participate in a joint project so a proposal was given to the president, Clarissa, and she is suppose to present it to the club and respond once school s back in session.
The education committee needs some more volunteers to go into the schools and clubs. I am willing to share my lessons and materials and assist wherever necessary. So if you're interested, please sign up. Thank-you.
Communications Committee:
Suzie Donahue gave the following report regarding the Communications Committee: "This year has been a busy one for AARF and the website had been a focal point for those interested in learning more about our organization. Our quarterly newsletter has expanded to include several different features including the member spotlight, education corner and happy tales.
We continue to solicit donations through our emails and our recent project to collect collars and leashes for our adoptee program has generated a very good response. We would especially like to thank those of you that participated in this donation program!
Our adoptees are often featured in emails, as well as other AARF related news concerning adoption days, lost animals, hurricane tips, fundraising and other AARF projects and meeting notices.
Communications has also been responsible for writing thank you notes for donations to our fundraising projects such as bingo, yard sales, the Lehigh fund and for other general donations to AARF and this past year over 100 thank you letters were sent out. We really appreciate those of you that are happy to accept acknowledgment of a donation via email!
AARF continues to contribute articles to Anguilla Life Magazine and subjects have included dogs, cats, adoptions and even goats as topics! We value the opportunity to be a part of this publication and thank member, Claire Devener for her continuing efforts to showcase AARF.
The radio stations have presented adverts concerning lost animals, adoption days and other pertinent information for us from time to time.
Finally we have also had several articles printed in both The Anguillian and The Daily Herald and thank Nat Hodge and Brenda Carty for their assistance in sharing the news of our fundraising, membership drives, education efforts and other news with their readers."
Fundraising Committee:
Fundraising was headed by Althea Turner who has recently resigned and is no longer on island. Her report was presented by Jackie Pascher …. "Good evening,
Althea Turner was our Fund Raising Chairman for 2006 and along with her many volunteers did a fantastic job with our fund raising events. In 2006 we had 3 major fund raisers which were 2 Bingo nights, one in January and one in June and then of course our Annual Yard Sale held in March.
We are pleased to report the following profit realized from each of these events:
Jan '06 Bingo US $5908
June '06 Bingo US $4037
March Yard Sale US $4613
Total US $ 14,558
I believe you will agree that this is a significant amount of money raised for our animals and it could not be done without the assistance of the many volunteers who helped at these events.
In addition to the 3 events we have donation boxes in many stores and outlets around the island and the money deposited in 2006 amounted to close to $3000 USD. That•s• a lot of coins! The Airport, Albert Lake, Christine Flemings Grocery store in Long Bay and Barrel Stay Restaurant continue to be the leaders in money collected.
The revenue from these events funded our spaying/neutering program which helps to decrease the over population of unwanted dogs/cats on the island. The funds are also used to take care of unwanted animals while AARF finds them new homes.
Thanks again to Althea Turner and to all of you who volunteered and made it possible for us to help our animals."
Membership Committee:
Gayle Gurvey reported that AARF currently has 147 members with a total of 167 the difference being those that still owe dues. Gayle set up an online computerized membership listing this year that automatically reminds people when there dues are due. Gayle has also been working on a new AARF brochure that is being produced by Jo-Anne Mason and should be ready by end of October.
As the new Fundraising cochairman for 2007 - 08 Gayle also reminded everyone that the next bingo will be on Nov 24th Bingo at Roy•s•, as although no date has been set we will be having our annual garage sale in the Spring.
Spay & Neuter Committee:
Suzie Donahue chairman of the Spay & Neuter Committee gave the following information on this project. "In early 2003 I was asked by our then, President Mr. Norris Payne to assist in the development and to manage a spay/neuter program here on Anguilla. Our first clinic was in July of 2003 and included veterinarians and technicians from the United States who joined AARF members in an exhaustive 3 day clinic held at Morlens Veterinary Hospital. This first attempt was successful in many ways, but most importantly in educating the public to the need and the positive results of sterilizing their dogs and cats. We continued the specific time and place clinic another year and then realized that we could do a better job if we offered this free clinic as an ongoing project instead of a once a year event. Dr Vanterpool readily agreed to continue to assist us and in 2005 we began our ongoing clinics.
Our continued concern about our adoptions found us developing an adoption contract and charging a small fee to those that adopted in hopes that the owner - by paying for his new pet would have a bigger stake in his welfare. This new program began in November of 2005 and included the first set of vaccinations and the sterilization surgery and although the $20 fee we charge helps to pay for the vaccinations, AARF pays all the expenses for the actual surgery. We also have many animals that come for surgery that are based on need and our Lehigh Fund – established in memory of David Johnson and the monies from our collection boxes throughout the island contribute to those surgeries. Almost 28% of the surgeries performed so far this year have been need based. You may question how a decision is made if an animal•s• surgery should be based on need and we usually defer to Dr. Vanterpool or Amy to make those decisions, although if you are aware of an animal that you feel needs the surgery and know the owner isn't able or willing to bring the animal in AARF will certainly entertain any requests – our purpose is after all stopping the births of unwanted puppies and kittens here in Anguilla.
This year has been another successful one! Since January Dr. Vanterpool assisted by Dr. Valerie Thomas of the Agriculture Department and Veterinary Technician, Amy Williams has performed 166 surgeries including 72 dog spays, 33 dog neuters, 39 cat spays and 22 cat neuters for a total spent of $8415.00. Of those numbers 18 dog spays, 7 dog neuters, 15 cat spays and 9 cat neuters were need based. My job is keeping up with the adoptions and providing an updated list to Morlens of those adoptions and need based animals, contact information and surgery dates, as well as the monies spent on this project and the number of completed surgeries follow up calls to the owners after surgery and other costs at the clinic.
In 2007 AARF estimates we will spend approximately $22,000 dollars on our spay/neuter project plus the daily care of boarding, bathing, feeding and treating the homeless dog/puppies, cat and kittens that are brought to our shelter for adoption.
We wish to thank Morlens for their continued support of our program and all of our members and advocates for their continued donations to our fundraising events.
I am pleased to announce that after 4 years AARF has sponsored 809 spay & neuter surgeries for the animals of Anguilla. That total includes 131 Cat Spays, 344 Dog Spays, 114 Cat Neuters and 181 Dog Neuters.
Considering that in 7 years one unspayed female cat and her offspring could produce 420,000 kittens and one unspayed female dog and her offspring could produce 4,372 puppies - we do indeed have much to be proud of! Thank you. "
Adoption /Volunteer Committee:
Maria Forman as chairman of the Adoption /Volunteer committee presented the following report. "The Adoption Committee holds an average of 2 adoption days per month, based on the number of animals in AARF•s• care at the time. So far this year, AARF has found homes for 144 animals. 29 male dogs, 68 female dogs, 15 male cats, and 32 female cats, most of whom have also been spayed or neutered.
Adoption days are usually held in front of supermarkets, and we want to thank Albert Lake•s• Supermarket, Best Buy and Ashley & Sons for their cooperation in letting us use their premises.
Currently we have about 15 active volunteers who help with adoption days, most of whom do a two hour shift about once a month. A BIG thank you to all those who have helped out at adoption days in the past! We are always in need of more volunteers!
Volunteers are primarily responsible for helping with animal care at the adoption days, and with talking to prospective adopters. We always screen potential adopters, asking questions about where the animal will be kept. We also advise of future shot requirements, mandatory spay/neuter surgery requirements, and proper pet care & nutrition.
Every new adopter is given a handout detailing proper pet care, and advising of next shot date & contact numbers if they have questions. They are also given a collar & leash (for puppies).
The second part of our adoption program is Foster care. Since AARF•s• policy is that we will house animals at Morlens Vet Hospital for a maximum of 10 days, we do have situations where a suitable home cannot be found within that time frame. In these cases, we rely on foster parents to care for these animals until the next adoption day, or until a home is found. Foster parents also assist with caring for animals that need special attention, like animals too young for adoption, or needing some extra socialization before they become adoptable.
AARF is ALWAYS in need of more foster care parents. If you are interested in providing temporary care (even if it is only for a few days), please sign up to be a foster parent, and we will call you with more details. I would like to say a special thank you to all those people who have fostered animals within the past year. You have all truly "saved a life"!
We would now like to recognize a special couple who has fostered more animals than we can count. They are always willing to come to the aid of AARF, even taking on Momma dogs with litters, and many special socialization cases. They have gone above & beyond in helping care for these special animals, and we thank them from the bottom of our hearts! I would like to present this award for Foster Parents of the Year to Madeline & Reggie. "
Following the Committee Reports President Carty asked if there were any other business. One question was asked in regard to how many animals AARF had to euthanize. Maria responded that it was a very small amount and that only sick or unsocialized animals would be put down and since the success of the fostering program very few healthy adoptable animals had been euthanized.
Volunteer of the Year Award:
President Carty began the presentation of the Volunteer of the Year award by saying that when thinking of how to describe this person the first word that came to mind was "gracious". She continued to say that this person never said NO to any requests for help whether it is fostering, adoption days, and yard sale sorting or working at the actual event, bingo nights or any other events that AARF worked.
She presented the award to Michele Morland.
New Officers:
Finally President Carty announced that as there were no volunteers to run for office this year an election was not necessary. The following agreed to serve on the board of AARF for the 2007 -2008 term.
President Christine Carty
Vice President Suzie Donahue
Secretary Kim Fleming
Treasurer Jackie Pascher
Elected Ordinary Member Linda Gratton
Elected Ordinary Member Gayle Gurvey
She also recognized and welcomed Simone Connor who will serve on the board with Gayle Gurvey as the Fundraising co chairmen and announced that Linda Gratton will be the new Education Chairman.
President•s• Closing Remarks:
President Carty announced that AARF has donated to Morlens Veterinary Hospital, which is undergoing major renovations and improvements, US $20,000 dollars to be used for the purchase of an x-ray machine which will benefit all the animals of Anguilla, not just AARF animals. This important piece of medical equipment will make it much easier to facilitate the care of an injured animal here in Anguilla. Chris also announced that AARF will now have our own space – an AARF Shelter – at the newly renovated Morlens Hospital when it is completed that will include office space and a boarding area dedicated to AARF animals. In addition the AARF Board has agreed to pay a small stipend to Amy Williams for all that she does for AARF and has appointed her as the Shelter Manager for the new AARF shelter.
Chris thanked everyone for attending and everyone for their help, donations and other support this past year.
There being no other business the President called for the meeting to be adjourned and Maggie Mitchell made the motion, seconded by Amy Williams. The members attending were invited to have a drink after the meeting and several members stayed for dinner as well.
Pictures below were taken at the AGM.
Board Members from left - Jackie Pascher, Treasurer, Suzie Donahue, Vice President & Chris Carty, President
AARF Supporter, 7 year old Halimah shares a poster she made for the AGM! She recently helped her
Grandmother Carolyn foster two kittens while she was visiting Anguilla.
Meeting Attendees
Madeline & Reggie receive the Foster Parent of the Year Award from Maria Forman
AARF Adoption Day Chairman
Michele Morland receives Volunteer of the Year Award from President Chris Carty
Newly elected Recording Secretary, Kimberly Fleming
---
COMING SOON ..... AARF'S NEW SHELTER
Chris Carty, AARF President, announced at the AGM that AARF had donated to Morlens Veterinary Hospital the sum of US$20,000 for the purchase of a new x-ray machine. Dr. Patrick Vanterpool is busily constructing a huge new addition to his existing veterinary facility at Sandy Hill and will be updating most of the premises. One of the many items on Dr. Vanterpool's wish list was an xray machine. In return for this donation, Morlens will continue to house the unwanted puppies and kittens, dogs and cats that are brought to AARF. However, with the new addition AARF will have our own designated area including office and boarding space - essentially our own shelter! We are extremely pleased with this arrangement and most grateful to Dr. Vanterpool for his continuing support of AARF and all that he and Amy have done to make our work possible. Once the building is completed there will be an open house for all to visit the new facility. We look forward with much anticipation to its completion and to at last having a shelter!
---
IT'S BINGO TIME - SATURDAY - NOVEMBER 24TH AT ROY'S
Mark those calendars now for another exciting night of Bingo at Roy's. We are busily gathering prizes at this time so if you are interested in donating please contact our Fund Raising co-chairman Gayle Gurvey at 497-5445 or US toll free 877-471-2733 or
Simone Connor at 476 - 6534 or 584 - 6534.
See you on the November 24th!
---
AARF SPOTLIGHT
AARF 2007 VOLUNTEER OF THE YEAR
MICHELE MORLAND with SPOT
AARF's Volunteer of the Year is Michele Morland. In the time that Michele has been in Anguilla and a member of AARF she has never said no to any requests to assist on AARF projects! She has helped at every one of AARF's many activities including the Bingo and Yard Sale Fundraisers, as well as Membership Drives, Soroptomist Fairs, even baking dog biscuits!! She and her husband Roger and dog Spot are fantastic Foster Parents too! Michele was born in Kenya and lived there, as well as in Lebanon, and Greece before ending up in an English boarding school. On leaving school she moved to London where she met Roger and stayed for the next 20 years. Whilst in London she worked for 10 years with a real estate agency and then shifted careers to the voluntary sector where she first worked for an AIDS organisation followed by 8 years with a small NGO managing development projects in Africa which focused on poverty alleviation for women. Roger and Michele moved to the Caribbean in 2001. Prior to moving to Anguilla, they lived in the British Virgin Islands (where they adopted Spot), followed by Turks and Caicos Islands. AARF congratulates and thanks Michele for all that she has done over the past few years to help make Anguilla a better place for the animals.
---
HAPPY TAILS
TAR DOG
The Bolger Family adopted Tar Dog in March after he was found covered in sticky tar and spent many hours being cleaned up by AARF members, He is now doing very well! Carrie tells us that Tar-Dog is still submissive, but no long cowers in fear. He still lies down when given his food and has trouble relaxing if anyone is nearby when he is eating. "Tar-Doggie" as he is affectionately called comes out to greet his owners Jerry and Carrie who own and manage Veya Restaurant near Sandy Ground, each night when they return home. He waits patiently for Apple their yellow lab to calm down and greet them first. "Tar-Doggie" says hello, gives licks and then walks beside Carrie back to the house. He sleeps inside at night by the front door. Carrie says that at their house they don't like to pick favorites with their pets but,
"Tar-Doggie is probably everyone's favorite!!"
Tar-Doggie - September 2007
Tar- Dog February 2007
Stompy's Great Adventure!

Stompy was rescued from the middle of the road in West End, along with her siblings one rainy night back in August of 2003 and was later adopted by Charles and Lynn Blankenship and their dog Torque. Originally Charles and Lynn felt that Torque, a Jack Russell ,with a lot of energy, needed a playmate and they were correct! Stompy and Torque took a few days to adjust, but have become the very best of friends.

Adoption Day for Stompy

Stompy seemed to always remember her rescuer

and greeted her with lots of kisses whenever she came to visit!

In October of 2005 the Blankenship's decided to move back to Tennessee after several years in Anguilla. Stompy had a fairly rough time getting accustomed to the cooler weather and the snow and sleet was especially traumatic. However, soon she was back to her old self and actually seems to enjoy the cooler weather along with her adopted older brother, Torque. She and Torque have a large fenced in wooded area where they chase squirrels, rabbits and chipmunks and occasionally visit with their next door neighbor, Sassy, a Labrador Retriever. For a while Stompy was really confused and somewhat intimidated by the "gigantic goats" that grazed in her next door neighbor•s• pasture. She was very relieved to find out they were only horses! So it has been a major transition for her but she is adapting well and continues to be a wonderful and cherished addition to the Blankenship family!

Stompy & Torque in Tennessee
Apple Goes to Cancun!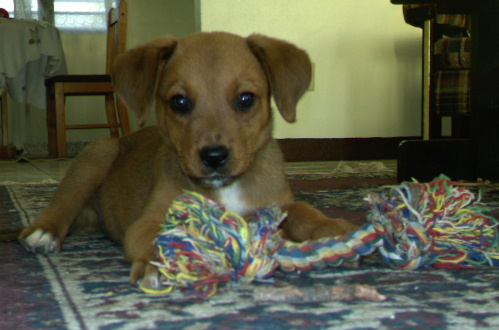 Apple at 8 weeks
Apple in September 2007
Apple was adopted after being in foster care in Anguilla in March of 2007. In June her family Don, Shernaz and Kiana Johnson moved to Cancun Mexico. Here is their story ......
"Traveling during the summer with a dog that is to big for the cabin is not too easy. We started out with American on the first flight out in the morning to San Juan, since the temperature there will still be below 85 they
agreed to take Apple, but we must claim her once we land and they will no be longer be responsible. So I had Continental Airlines lined up to take her as cargo, they are the only U.S. airline that will take dogs during the
summer months. We did know that we could not check her in at the counter, but had to take her to the cargo area on the other side of the airport, so a 10 minute cab ride and we found it. The only problem was we were too early
as our flight did not leave until 4:00pm and it was only 10:00am. So we told the cab to leave and come back at 1:00pm. The Continental Cargo people were very nice, and we were able to sit in there small waiting room. Good thing we had lots of time, because the paper work took over 45 minutes to complete.
The flight from San Juan was direct to Houston, where we had to spend the night to catch the first flight out in the morning to Cancun. We arranged for Apple to spend the night in the kennel at the airport. Again the
Continental Cargo people were great - we asked them to confirm that Apple was ok and with them. We talked to the person at the kennel and all was good.
The next morning as we sat on the plane we saw the special van from the kennel pull up and watched as they boarded Apple at the very last minute, as to reduce stress to her.
When we arrived in Cancun, Apple was sent over to the cargo area, where we had to collect the paper work and drive out of the airport to a customs broker to clear Apple. The paper work took over 3 hours to complete. Once
finished we drove back to the cargo area at the airport where we picked her up. She had a long trip, but was totally fine.
The Continental cost was around $250, and the Mexico customs charges were over $600. We were not expecting such high cost, but it was worth every penny and would pay again, to have Apple as part of our family. She is a great dog!
MARCH 07 Kiana, Shernaz and Apple - SEPTEMBER 07
SABA
Saba with Sandra on her adoption day!
When Pam Miller, owner of Iced n Easy a smoothie stand near the Sandy Ground Roundabout, animal lover and ardent supporter of AARF, has visitors she always tells them about AARF and encourages their support. When her sister Sandra visited Anguilla almost 2 years ago, Pam suggested she visit Morlens to check out the puppies AARF was trying to find homes for. One of the homeless who was about seven weeks old, had been found by a couple on their morning walk and brought into AARF. For Sandra, it was love at first sight and she visited the puppy several times during her vacation. As her departure time neared she definitely knew she could not leave her "Saba" behind - today Saba lives in Boca Raton FL and is healthy, happy and quiet the celebrity as she was recently featured in a magazine called Pet Planet!
Saba Today!
---
2007 SPAY & NEUTER FIGURES
Dr. Vanterpool assisted by veterinary assistant, Amy Williams, have had a busy 9 months! As of September 23 they had already performed 181 spay or neuter surgeries. Of those surgeries 74 were dog spays, 36 were dog neuters, were 46 cat spays and 25 were cat neuters.
We are extremely grateful to Dr. Vanterpool, Dr. Valerie Thomas of the Agriculture Department and Amy for all that they do - without their dedication it would be impossible for AARF to exist. Since the inception of our spay/neuter program in Anguilla in July of 2003 AARF has sponsored surgeries for 824 dogs and cats.
Did you know that one unspayed cat and her offspring can produce 420,000 kittens in 7 years? And one unspayed female dog and her offspring can produce 4,372 puppies in that same time span.
AARF is making a difference through your support and generosity at our fundraising events.
Thank you!
Samoi and his pals greet Lucky who has just returned home after his neuter surgery.
All 4 of Samoi's dogs have been sterilized.
---
2007 ADOPTION PROGRAM UPDATE

Almost two years ago in November 2005, AARF initiated a new adoption policy that included a fee of $20 US to adopt an animal from AARF. This small fee includes a free spay or neuter when the puppy/kitten is old enough for the surgery (between 4 & 6 months), worming, flea/tick bath and the animals first set of vaccinations. Cats are also tested for feline aids/leukemia, which is an incurable disease transmitted from cat to cat and is common here on Anguilla. Dogs are tested for heartworm, a parasite transmitted by mosquitoes and erlichosis,a blood parasite transmitted by ticks. Both of these diseases are common on Anguilla and can be life threatening.

New owners are provided with information on the proper care of their pet and encouraged to call AARF if they need any other assistance.

In addition, AARF has also developed a surrender form that allows the owner of an unwanted dog or cat to leave the animal at Morlens at no charge. This permits the animal to then be put up for adoption. These animals will be accepted free, but need to be eating on their own which is usually at 6 weeks of age or older. It is hoped that unwanted dogs and cats will be taken to the AARF Shelter at Morlens Veterinary Hospital instead of being left to fend for themselves and causing a nuisance in the areas where they are abandoned.

We are pleased to report that since January of this year AARF has found homes, mostly in Anguilla, for 170 puppies/dogs and kittens/cats. Thank you to everyone that has welcomed these unfortunate animals into your hearts and homes and given them a second chance!

>

The Smith Family Adopts TWO at Best Buy - both have already been spayed!

Particular thanks to our Adoption Chairman, Maria Forman and all her volunteers who work tirelessly to find homes for these unwanted animals.

A special thank you to those that agree to foster our animals and give their hearts away - even for a short time!

AARF would like to also thank Lake's and Best Buy for allowing us to use their premises to hold our adoption days. Without their cooperation we would not be as successful.
---
EDUCATION CORNER
First aid for your dog .....
Just as it•s• a good idea to know what to do in a human medical emergency, you should also know what to do if your dog needs first aid assistance. In this article, we'll cover some of the ways you can provide first aid help for your dog.
If your dog is …
Bleeding. If your dog has been bleeding for more than 5 minutes and it hasn't stopped, you must try to stop the bloodflow. Using a clean cloth or whatever you have available (your hand will also work), apply direct pressure to the wound. If the blood is seeping through, apply more cloths or bandages on top of the first bandage. Try and find the nearest pressure point and press on the artery against its underlying bone. Do this using the flat part of your fingers, not your thumb or finger tips.
Having trouble breathing. There are a number of things that can cause a dog to have difficulty breathing. There could be something caught in his throat, blocking the air passage to the lungs. He could be experiencing strangulation by his collar, or perhaps has experienced an electrocution, drowning, heart attack or chest injuries. As soon as you notice that your dog is having difficulty breathing, try to clear his airway. If necessary, use artificial respiration (not recommended if you suspect poisoning is involved).
Stopped breathing. First, open the dog's mouth, grasp his tongue and pull it forward, away from the back of the throat. Remove any obstruction that might be in the mouth, including mucous or blood. If the dog is wearing a collar, remove it. If the dog has fluid in its throat (for example, if it has drowned), hold it upside down by its rear legs for 15-30 seconds. If the dog is still not breathing after these procedures, begin artificial respiration. Follow these steps carefully:

Close the dog's mouth, then place your mouth over the dog's nose and exhale to force air through its nose to the lungs.
Watch the dog's chest for the lungs to inflate.
Remove your mouth, and repeat the cycle about six times a minute. You may need to carry on for 30-60 minutes, until the dog is breathing by itself.

Shock. If your dog has suffered an accident or has been ill for a long time, he can go into shock. The signs of shock include: weakness, collapse, coma, unconsciousness, pale mouth, lips and eyelids, coolness of skin and legs, rapid but weak pulse (may be over 140 per minute), rapid respiration (over 40 a minute), staring eyes and dilated pupils. To treat shock, first wrap the dog in a thick cloth or towel to conserve body heat. Do not pick the dog up in case any bones have been broken or if you suspect there are internal injuries. Keep all airways open. If the dog is unconscious, keep its head as low as, or lower than, the rest of the body. Keep the dog's circulation moving by massaging his legs, unless again, you suspect that they may be injured or broken. Get a veterinarian's help immediately.
Experiencing heat exhaustion. If your dog shows any of these symptoms, he may be experiencing heat exhaustion: heavy panting, gasping for air, unsteady walking due to dizziness, laying down or collapsing, unable get up, or becomes unconscious. If you think your dog is experiencing heat exhaustion, move him out of the sun immediately and into the shade or into an air-conditioned building. Give him some water to drink and, if possible, rinse him off either in the bathtub or with a garden hose. Instead of drying him off, place him in front of a fan. Finally, place some ice packs around the head and neck. Only after your dog has cooled down should you take him to the veterinarian to ensure he's all right.
Convulsing. Dogs can either experience a single convulsion (usually lasting for a minute or two, and doesn't happen again for at least 24 hours) or multiple, continuous convulsions. The latter is most serious and requires immediate veterinary attention. In the case of continuous convulsions, you should gently restrain the dog so it can't injure itself by placing a towel over it. Don't put your hand on the dog or in or near its mouth – you may get bitten. Once you've restrained the dog, get to the vet immediately. Single convulsions also require veterinary attention but are usually not so serious.
It•s• important to note that even if your dog seems fine after you've administered a first aid procedure, you should still follow up with your veterinarian to ensure that your dog is indeed fully recovered.
A first-aid kit for your dog
It•s• a good idea to have a special first-aid kit just for your dog. If you're not sure what needs to go in the kit, here are some suggestions:
Cotton balls Gauze pads Gauze tape Hydrogen peroxide Hydrocortisone ointment
Scissors Eyewash Silver nitrate Tweezers Oral syringes
Pediolyte® or other balanced electrolyte fluid Baby food – meat flavors work best
Large towel Exam gloves 1 inch white tape (in addition to gauze tape)
Rolls of elastic wrap Emergency ice pack Thermometer (both oral and rectal thermometers can be used rectally)
PLEASE NOTE THAT THESE ARE EMERGENCY MEASURES ONLY AND SHOULD NOT TAKE THE PLACE OF THE CARE OF THE VETERINARIAN.
---
JOIN US!!
AARF always needs members and joining us can be very rewarding! Memberships are vital to the life of the organization and all fees go directly to support AARF programs including animal care, spay/neuter clinics and education.
Membership dues are:
Student (Under age 18) $13.00 EC / $5.00 US
Regular $53.00 EC /$20.00US
Senior (65 and over) $13.00EC/ $5.00US
Family $ 80.00 EC/$30.00 US
Corporate $300.00 EC /$112.00US.
Lifetime memberships (one time fee) $500.00EC / $186.00US.
Volunteers are needed in areas of education, fundraising, adoption days, helping Amy at the AARF Shelter and fostering those animals awaiting their permanent home. If you can volunteer or want to adopt a puppy or kitten (adult animals as well), or know of ones that need homes, please call AARF at 476-2731.
If you would like more information on AARF please visit our website at www.aarf.ai, send us an email at aarfinfo@aarf.ai or contact our Membership Chairman Gayle Gurvey at 264 - 497-5445 or US toll free 877-471-2733.
Or call AARF at 476-2371.
If you are interested in becoming a member you can obtain a membership form via our Membership page. Or you can get one
at the AARF Shelter located at Morlens Veterinary Hospital in Sandy Hill during out open hours.
---
SPARE CHANGE DRIVE
Our "Spare Change Drive" is on-going so don't forget to drop those extra coins and cash at one of our locations! We really appreciate your donations and the proceeds go to our LeHigh Fund which is set up to assist financially with medical treatment for pet owners including spay and neuter surgery. This year funds from the collection boxes/Lehigh fund have provided free surgery for 53 dogs and cats. Thank you Bob Turner for creating these permanent donation boxes for AARF. The donation boxes are located at the following establishments - Straw Hat, Caribbean Cable Communications, Bartlett•s• Collections, Wallblake Airport, Christine Fleming's Mini-Mart, Ashley's Pet Shop, Best Buy, Lake's Grocery, Morlens Veterinary Hospital, Tropical Flower, Sophie's Hair Design, Anguilla Fencing, Fat Cat, Anguilla Techni Sales, Ace Hardware, Roy's Bayside Restaurant, Irie Life, Barrel Stay Restaurant and Foods 95.
Thank you to all the businesses that have agreed to support our cause.
---
ON A LIGHTER NOTE ..........
Dog Logic
The reason a dog has so many friends is that he wags his tail instead of his tongue.
-Anonymous
There is no psychiatrist in the world like a puppy licking your face.
-Ben Williams

A dog is the only thing on earth that loves you more than he loves himself.
-Josh Billings
The average dog is a nicer person than the average person.
-Andy Rooney
Dogs love their friends and bite their enemies, quite unlike people, who are incapable of pure love and always have to mix love and hate.

Anybody who doesn't know what soap tastes like never washed a dog.
-Franklin P. Jones
If your dog is fat, you aren't getting enough exercise.
-Unknown

My dog is worried about the economy because Alpo is up to $3.00 a can. That's almost $21.00 in dog money.
-Joe Weinstein

Women and cats will do as they please, and men and dogs should relax and get used to the idea.
-Robert A. Heinlein
If you pick up a starving dog and make him prosperous, he will not bite you; that is the principal difference between a dog and a man.
-Mark Twain

Dogs are not our whole life, but they make our lives whole.
-Roger Caras

If you think dogs can't count, try putting three dog biscuits in your pocket and then give him only two of them.
-Phil Pastoret
C
ontributed by Jacquie Ruan
---
FINAL THOUGHT
The Kiss
She is pregnant..... he had just saved her from a fire in her
house, rescuing her by carrying her out of the house into
her front yard, while he continued to fight the fire.
When he finally finished putting the fire out, he sat
down to catch his breath and rest.
A photographer from the Charlotte, North Carolina
newspaper, noticed her in the distance looking at the
fireman.
He saw her walking straight toward the fireman and
wondered what she was going to do.
As he raised his camera, she came up to the tired man
who had saved her life, and the lives of her babies and
kissed him just as the photographer snapped this photograph.
THE KISS!
This reminds me of the answer to the question:
What do you want to be when you grow up?
I want to be the kind of person my dog thinks I am!
Dear AARF Members and Friends - the goal of our newsletter is to keep you up to date on events and plans of the foundation. Please don't hesitate to send an email to aarfinfo@aarf.ai, if there is any topic you would like to see addressed . Thank you, Suzie Donahue
---