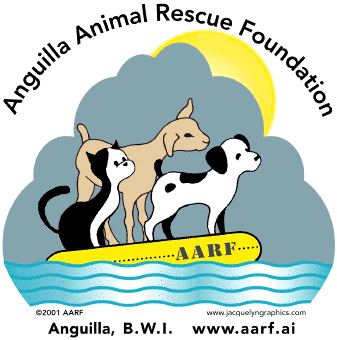 AARF Newsletter
---
Volume 7, Issue 1 March 2007
---
Dear AARF Members and Friends - the goal of our newsletter is to keep you up to date on events and plans of the foundation. Please don't hesitate to send an email to aarfinfo@aarf.ai if there is any topic you would like to see addressed in our newsletter. In this issue - read about our accomplishments of 2006, the success of the first two fundraisers of 2007 and take a moment to learn more about human foods that can be poisonous to your pet.
Thanks to all of you that have contributed to this issue!
IN THIS ISSUE:
| | |
| --- | --- |
| | PRESIDENT CARTY REPORTS 2006 A SUCCESSFUL YEAR |
| | SELL OUT CROWD WINS BIG AT BINGO |
| | FOURTH |
| | AARF SPOTLIGHT |
| | "HAPPY TAILS" |
| | THE SAGA OF TAR DOG |
| | A TALE OF A RELUCTANT CAT LOVER |
| | 2007 SPAY & NEUTER FIGURES |
| | ADOPTION PROGRAM UPDATE |
| | EDUCATION CORNER |
| | JOIN US! WE NEED YOUR HELP! |
| | SPARE CHANGE DRIVE |
| | ON A LIGHTER NOTE |
---
2006 PRESIDENT'S REPORT
AARF•s• President, Chris Carty, announced in January that 2006 was another successful year for the organization. The main project of the foundation, the spay & neuter program, which assists in controlling the unwanted births of puppies and kittens, continued throughout the year. Since the program started in the summer of 2003, sterilization surgery has now been provided for almost 650 dogs and cats. In 2006, AARF sponsored 171 spay & neuter surgeries, which included animals adopted from AARF, as well as several need-based cases. The US$20 adoption fee that was introduced in November of 2005 has been very well accepted by the public and 148 adoptions took place during the year. The adoption fee includes the spay/neuter of the animal once it reaches 4 – 6 months, the initial veterinary examination, the first set of vaccinations and a flea and tick bath. Depending on the animal adopted, these services could be worth up to US$150.00.
Another of AARF•s• principal activities is to accept, at no charge, unwanted puppies and kittens of at least 6 weeks of age that are eating on their own, as well as older dogs and cats. If the animal is friendly, in good health and condition, AARF will try to find a home for it. The animals stay at Morlens Veterinary Hospital at Sandy Hill for 10 days and after that time, if no home can be found, the animal is humanely euthanized. In 2006, of the 208 animals taken in by AARF, 148 were adopted, mostly by on-island homes. Of the remaining sixty, approximately three-quarters of that number were either too sick or wild to be adopted. With the help of dedicated volunteers, AARF sponsors adoption days and does its utmost to find homes for as many animals as possible.
Our two primary committees, Education and Fundraising have been extremely active during the past year. The Education committee has continued its program of school visits and hopes to address service and school clubs in 2007. We are very pleased to report that the Fundraising committee has again done a monumental job of raising all the capital needed to keep the foundation running smoothly through three fundraising events, twice yearly bingo games and the very popular yard sale in March.
AARF is now recognized both regionally and globally as an organization dedicated to the welfare of animals; it is completely voluntary, and receives no governmental assistance and very little support from organizations overseas, so we can be truly proud of our achievements thus far. We have many far-reaching goals and ambitions and realize that effective animal control can only enhance our fast developing island, both for the benefit of ourselves and our visitors alike.
We would like to thank all of those that adopted animals throughout the year and we wish them much happiness with their very lucky pets. Our affiliation with Morlens Veterinary Hospital continues to grow from strength to strength and we cannot thank
Dr. Patrick Vanterpool and Amy Williams enough for the use of their premises, equipment and unstinting support. Thanks must go as well to the volunteers who assist in our many projects and last, but most importantly we would like to thank you, the general public, for your incredible financial and moral support, and we look forward to our continuing good relationship in 2007.
---
The first quarter of 2007 was a busy time for Althea Turner, AARF's Fundraising Chairman and her committee. Two events - Bingo at Roy's and the 4th Annual Yard Sale were held to raise money to meet the expenses of the on going spay and neuter program and to help defray many additional expenses the foundation has including sheltering the unwanted animals that are housed at Morlens Clinic.
Kudos to Althea for a wonderful job!
SELL OUT CROWD WINS BIG AT AARF BINGO NIGHT!
Roy•s• Bayside – Sandy Ground, Anguilla was once again an exciting place to be Saturday January 13th as the Anguilla Animal Rescue Foundation sponsored the first of their planned bi-annual bingo games in 2007 to raise money for their spay/neuter program - the main focus of the foundation.
Chairman of the fund raising committee, Althea Turner noted that the proceeds from the bingo night would be used to meet the $12,000 budget for 2007, which greatly subsidizes surgeries to all puppies and kittens that are adopted from AARF. This on going program, which has reached almost 725 dogs and cats since it began in the summer of 2003 has helped immensely in controlling the unwanted births of puppies and kittens on the island.
The bingo night, which included 25 games with fantastic prizes that were donated by the businesses on Anguilla and a cruise on EasyCruise donated by Roy and Mandy Bossons plus hotel and air transportation to Hurricane Cove in Nevis, was very exciting and enjoyed by a sell out crowd of around 200 people.
The prizes included dinners, wine, boat and horseback rides, beauty treatments, and many other items. Chris Carty, President of AARF would like to thank Roy and Mandy Bossons for all of their assistance as well as the use of their restaurant and the following for their donations which made this night a success:
Amy•s• Bakery Anguilla Tennis Academy Barrel Stay
Cote de Mer Couleurs du Monde Cuisinart Spa
English Rose Flavours Hair by Design
Jane Thye Jo-Art Cakes John & Susie Graff
Le Bistro/Malliouhana Lin Bordenet
Mangos Overlook Picante
Pizzazz Nail Studio Sandy Island Barbeque Seaside Stables
Sprocka•s• Temenos Golf Club Veya Restaurant
Hurricane Cove Bungalows Bob & Althea Turner
Gayle Gurvey, Membership Chairman and Mistress of Ceremony for the event also thanked all those that joined AARF for a wonderful evening of fun and camaraderie and those that volunteered to make this event a success.
Some of our many happy BINGO WINNERS!
Lucky Raffle Winners!
LARGEST CROWD EVER AT AARF'S 4th ANNUAL YARD SALE!
The skies cleared on March 17th and the gates opened at 9 am to enable hundreds of eager shoppers to once again get great deals at the AARF•s• 4th Annual Yard Sale at the Agriculture Grounds. It turned out to be a great social event with a wonderful mix of shoppers including Anguillians, residents & workers from different islands, as well as many visiting tourists.
Many customers wanted to know when the next sale would be, but were disappointed to find out it is only an annual event due to the great amount of work involved. All year long volunteers have sorted, priced, bagged & boxed goods that have been generously brought into Anguilla Techni-Sales and stored in the AARF container on their property.
There were five truck loads transported over to the event filled with bags of clothes and boxes of hardware, house wares, linen, furniture, electronics, books, toys and much more.
The "check-out" tent enabled shoppers to quickly add up their purchases and pay at the cashier table, while standing in the shade of the tent; along with many shoppers who had huge boxes full of things. The sale ended at 2 pm and the remaining clothes were picked up by the Spanish Church of Prophecy of God for those in need.
Althea Turner, head of AARF•s• Fundraising Committee, would like to thank the 50 volunteers that helped to make this event a success by their hauling, unpacking, setting up and organizing and selling during the day. This annual community event would not have happened without the many donations and the eager shoppers. The Agriculture Dept. was again gracious in providing the venue for the sale. Chris Carty, President of AARF, and her loyal and helpful staff at Anguilla Techni-Sales, received the donated items all during the year. Transporting the goods was made easier this year by trucks supplied by Chris Lawrence, Bob Turner, Lenny Carty of Anguilla Techni-Sales, Frank Faranda of Viceroy, who even sent along 6 energetic workers to help with the backbreaking work.
JoAnne Mason again supplied our poster, and along with her mother, Joan Hill, treated the volunteers with cookies and drinks. Muriel Richardson made her delicious fudge and donated the proceeds to AARF. The police department was out on the road governing the traffic, as the area got busy. We appreciated the free promotion from Kool FM and the Anguilla Radio station.
AARF not only raised a great amount of money for their spay/neuter program, but also showed the public how important and worthwhile re-cycling can be! The revenue from this event will be used for our spay/neuter program in order to decrease the over population of unwanted dogs/cats on the island and also to take care of unwanted animals while AARF finds them new homes.
Now the AARF container is empty and is ready for more donations for the next yard sale in 2008 so don't forget to save those unwanted, saleable items!
Opening the Gates!!
Scenes from the fourth annual yard sale - March 17th!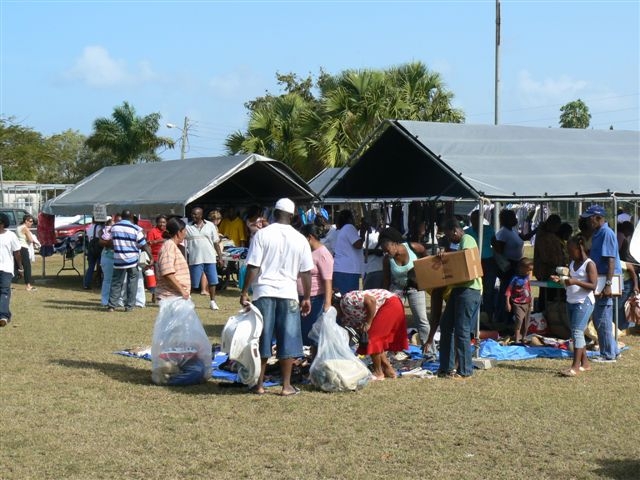 ---
AARF SPOTLIGHT
by Althea Turner
I looked at all the unwanted animals...the cast-offs of our human society.
I saw in their eyes love and hope, fear and dread, sadness and betrayal.
And I was angry.
"God," I said, "this is terrible! Why don't you do something?"
God was silent for a moment and then He spoke softly.
"I have done something," He replied.
"I created You."
The AARF Spotlight this issue shines on Suzie Donahue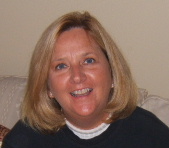 Long, long over due, we insisted that this newsletter•s• spotlight should be Suzie Donahue. Suzie is our Vice President, Head of AARF•s• Communications Committee, [which includes the maintenance of this web-site and the quarterly newsletter] and also since 2003 is the Project Coordinator of AARF's Spay and Neuter Project.
Suzie•s• middle name should probably be changed to "AARF"! as every day she can be seen out and about in the community, or working at her computer to help improve the quality of life for Anguilla•s• homeless and companion animals. Her home abounds with 8 cats, most of them taken in at one time or another to be fostered, but fortunately for those lucky animals, Suzie fell in love, and they got to stay and her chocolate lab Nora, another adoption! Suzie also established and monitors the feral cat, trap/neuter/release program at Cap Juluca Hotel, and more recently at Cove Castles Hotel.
Behind the scenes, she sends out e-mails to help find homes for AARF•s• animals, as well as to promote memberships, fundraising and education. She has also written many interesting 'Anguilla Life' and newspaper articles to support AARF•s• message, and her diligence at sending out thank-you letters to our donors is legendary.
Suzie has also spent much time volunteering at Morlen•s• Veterinary Hospital where AARF•s• animals are kept. Helping in the office, organizing adoptions, spay & neuter appointments, and generally caring for AARF•s• animals.
Suzie and her husband Steve are very community minded and social people, they are active in their Church and have many, many friends throughout the island, but wherever they go we can be sure that AARF is being championed by Suzie!
---
HAPPY TAILS
The focus of our two "Happy Tails" this issue is on two dogs and the people who gave these animals a second chance. Unfortunately AARF is unable to keep animals after 10 days at the clinic. In both these stories the foster parents - Madeline & Reggie and Lew & Bridget gave Ginger Girl and her 6 puppies and Apple another chance at finding a home.
If you love and care about animals and want to help them enjoy the lives they deserve please consider fostering. By providing temporary foster care to a pet in need, you're helping to ensure their future. You don't have to be an "expert" about animals, you just need to give love, care and time in a safe and nurturing environment!
If you are interested in finding out more about fostering please call AARF at 476-2731
Ginger Girl and her Puppies arrive at Madeline's
In early January AARF received a call from a gentleman about a dog that had come into his yard and had puppies. He wasn't the owner and didn't know who was. Dr. Vanterpool dropped a crate off at his home and the un-owner brought the Mama dog and her pups to the clinic a few days later. A cry went out for a long term foster home for these poor unfortunate puppies and their mother. Madeline Kelly-Perez and Reggie of Sur La Plage in West End responded with open arms and took Mama dog - who they call "Ginger Girl" and her 6 pups. The puppies grew and thrived, as did Ginger Girl under great foster care from Madeline and Reggie.
During the last week of February, Dr. Jack Civic and his wife Sarah of the Newport Animal Hospital in Newport Rhode Island came to Anguilla on vacation. While vacationing, the Civics were hosted by Madeline Kelly, a dear friend and of course they met her foster family! After much discussion and planning, Dr. Civic decided to take the 6 pups back to Rhode Island to find forever homes.

After an arduous journey that included a 4 hour flight from San Juan, Puerto Rico, to Boston, Massachusetts; a train ride from the airport to South Station, and finally an hour long train ride from Boston to Kingston, RI, the puppies found themselves in chilly, wintry Rhode Island.

The staff at the Newport Animal Hospital dedicated numerous hours to feeding, socialization, and house training. After 3 weeks of love and affection, Dr. Civic began to find forever homes for each of the pups.

As of March 16th, all of the puppies had found their new families. One family met Dr. Civic and his wife on the train ride from the airport, several long time clients welcomed a pup into their home, and two of the pups went to Newport Animal Hospital families, 1 including Dr. Civic!!!





Dr. Civic, his wife Sarah, and their friend Madeline Kelly waiting for their flight to San Juan from Anguilla.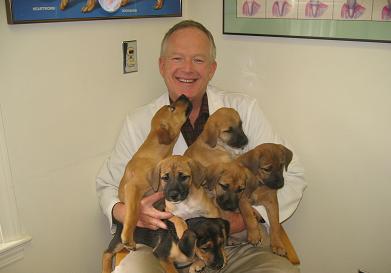 Dr. Jack Civic of Newport Animal Hospital with his rescues!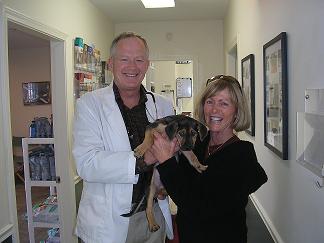 Forever Homes!
Kenji with her new mom Trice!!







One of the pups "Marley", with his new dad Will!!

Sweet Soph
Sweet Sophia going home with her new mom Pheobe and her dad Ed!!!


Dr. Civic handing off "Fin" to his new mom Lindsey!! Lindsey is also a tech at the Newport Animal Hospital!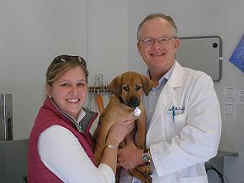 Kona with her new mom Sandra!


And what about Ginger Girl?? As we all hoped, Madeline and Reggie fell in love with her and couldn't let her be put up for adoption. She has made herself the "housemother" and recently welcomed another adopted puppy, Pandora, two kittens and 4 foster kittens to her forever home.

Reggie & Madeline with Ginger Girl and Pandora

Thank you to everyone that made this story one with a very happy ending!

---

APPLE

When Apple was passed over for adoption she was placed in foster care with Lew and Bridget Hamilton, by our adoption chairman Maria Forman. They fostered her for several weeks with a lot of love, patience and "peer training" from their two dogs! We are happy to report that Apple went to her forever home this week. She is now a member of the Johnson Family - Kiana, Shernaz and Don. We are grateful to Apple's foster parents Lew & Briget who gave their time and their hearts to this little one and kept her until she found the wonderful home she deserves.

Apple at 8 weeks in February

Shernaz & Kiana welcome Apple to her forever home!
---
THE SAGA OF "TAR DOG"


In mid February, Jason, a tourist reported to AARF that a dog covered with tar had been seen near the Straw Hat Restaurant.
Tar Dog is rescued
President Chris Carty contacted AARF lifetime members and generous supporter's Peter and Anne Parles, owners of the Straw Hat, for help in locating this unfortunate animal. Peter was able to find the dog and brought it into Morlens Clinic where veterinary assistant Amy Williams and AARF volunteer Maria Forman worked for several days with mayonnaise and peanut butter to remove the tar from the appropriately named "Tar Dog". The next hurdle was to find a home for Tar Dog - he certainly wasn't a cute puppy anymore and historically older dogs are difficult to place.
Tar Dog is brought to Morlens Clinic for cleanup.
With encouragement from Anne and Peter Parles, the Boger family stepped forward to give "Tar Dog" the forever home he deserved.
Carrie & Jerry Boger are the owner's of a new restaurant in Anguilla on the Sandy Ground Road right before the rum factory called Veya - the carib word for "ray of sunlight"! They moved here from Pennsylvania last July with their 3 children Scout, Pierson & Parker, 2 dogs (an elderly Weimerainer and a young Yellow Lab), 1 cat (an elderly tabby) and 5 suitcases. They had a restaurant in the States for 12 years which they sold in order to fulfill their dream of moving to Anguilla. Carrie notes they have since adopted 2 chickens, 1 tortoise and now .... Tar Dog. Carrie said she and her husband Jerry both felt the need to adopt Tar Dog when they read Peter's post about him. She reports that " Tar Dog is a sweet dog and is getting more and more accustomed to life with his new family. He plays well with Apple, our Lab and gives her some competition with stick-chasing. He now knows that we won't hurt him (he flinched and cowered whenever we would go to pet him before). We had planned on him being strictly an "outdoor" dog, but he is so comfortable lying on our ottoman or bed, that we leave him alone. We figure he deserves a little tenderness after his tar ordeal. "
Thank you to the Boger Family for making "Tar Dog" a part of their family!!
Tar Dog arrives at his new forever home after treatment. Tar Dog relaxing at his new home!
Tar Dog with his new family - Parker, Scout, Pierson & Jerry Boger.
---
A Tale of a Reluctant Cat Lover
Once upon a time, there was a woman who was very fearful around cats which was often a problem as many of her friends and her husband•s• family loved cats and she was continually having them jump on her lap, into her car, into her bed and generally made her wonder how any of these intelligent people became attached to these narcisstic and unaffectionate pets. Growing up in a small community in Saskatchewan, her family pet had been the loveable and friendly Lassie-- a Golden Retriever, who despite his tendency to chew shoes, steal rubbers, meat and what other delicacies neighbours had put out to thaw managed to claim the hearts of neighbours and friends. In her middle years, she and her family were the proud owners of two other dogs.
Who would believe (certainly not her family who thought she had lost it or her friends) that in her advancing years, she would become the proud but reluctant owner of two kittens. The precipitating factor in this change was not altruistic but living in a small Caribbean island where rodents rule the day plus a husband who wanted a pet, adopting a kitten seemed possible. They can roam around the garden---no kitty litter---they would be outside cats.
So on a historic Halloween night --- Bridget a partly black and orange kitten arrived on our doorstep followed a couple of weeks later by another homeless kitten. The kittens bonded quickly and just as our friends (the cat lovers) told us two were so much more fun than one. The two kittens were spayed and fitted into the household--although it wasn't always clear whether they were outside or inside cats. Things were in a bit of a transition as they matured and became as most Anguillian cats are fierce hunters. No longer were they plagued with rodents, moths, or lizards. Coping with dead sugar birds was a downside of the other benefits but the kittens were entertaining and added a new dimension to retirement. The woman was amazed and came to appreciate all of the metaphors that cats have spawned---sly, curious, but it was the cats on the prowl that finally led to the full acceptance of Bridget and Bea--no longer were they simply working cats.
On a cat-astrophic evening, the two adolescent cats--at the time about 6 months old took a runner. A quick trip to the Ferry to retrieve her husband and mother-in-law led the woman to inadvertently lock them out of the house and out of their usual entrance to their food bowls.
Several hours later B & B had not returned. Sure that they had been poisoned, killed by traffic or whatever---a sleepless night incurred. No sign of either kitten in the morning. By mid day they were home----undoubtedly this will happen again. But it is a happy tale--for the thought of losing these delightful kittens was a sure sign that the woman fearful of cats had become a cat lover!
Contributed by Carol Baines
---
2007 SPAY & NEUTER FIGURES
Dr. Vanterpool assisted by veterinary assistant, Amy Williams, have begun the 2007 spay/neuter year with a bang! As of March 30th they had already performed 79 spay or neuter surgeries. Of those surgeries 30 were dog spays, 17 were dog neuters, 22 were cat spays and 10 were cat neuters.
We are extremely grateful to Dr. Vanterpool and Amy for all that they do - without their dedication it would be impossible for AARF to exist. Since the inception of our spay/neuter program in Anguilla, AARF has sponsored surgeries for almost 725 animals.
Did you know that one unspayed cat and her offspring can produce 420,000 kittens in 7 years? And one unspayed female dog and her offspring can produce 4,372 puppies in that same time span.
AARF is making a difference through your support and generosity at our fundraising events. Thank you!
---
2007 ADOPTION PROGRAM UPDATE
Over a year ago in November 2005, AARF initiated a new adoption policy that included a fee of $20 US to adopt an animal from AARF. This small fee includes a free spay or neuter when the puppy/kitten is old enough for the surgery (between 4 & 6 months), worming, flea/tick bath and the animals first set of vaccinations. Cats are also tested for feline aids/leukemia, which is an incurable disease transmitted from cat to cat and is common here on Anguilla. Dogs are tested for heartworm, a parasite transmitted by mosquitoes and erlichosis,a blood parasite transmitted by ticks. Both of these diseases are common on Anguilla and can be life threatening.
New owners are provided with information on the proper care of their pet and encouraged to call AARF if they need any other assistance.
In addition, AARF has also developed a surrender form that allows the owner of an unwanted dog or cat to leave the animal at Morlens at no charge. This permits the animal to then be put up for adoption. These animals will be accepted free, but need to be eating on their own which is usually at 6 weeks of age or older. It is hoped that unwanted dogs and cats will be taken to Morlens instead of being left to fend for themselves and causing a nuisance in the areas where they are abandoned.
We are pleased to report that since January of this year AARF has found homes mostly in Anguilla for 71 puppies/dogs and kittens/cats. Thank you to everyone that has welcomed these unfortunate animals into your hearts and homes and given them a second chance!
Particular thanks to our Adoption Chairman Maria Forman and all her volunteers who work tirelessly to find homes for these unwanted animals.
A special thank you to those that agree to foster our animals and give their hearts away - even for a short time!
AARF would like to also thank Lake's and Ashley's for allowing us to use their premises to hold our adoption days. Without their cooperation we would not be as successful.
---
EDUCATION CORNER
Pets and "People" Food
We are all aware of the recent and numerous recalls concerning pet food that can cause serious damage or even death to our pets. While natural, fresh food is far healthier than byproducts and preservatives, keep in mind that the foods listed below are known to be toxic to cats and dogs because of the different ways animals metabolize them.
Chocolate: Although many people are aware that chocolate is toxic to cats and dogs, it is something that is commonly left on a table or counter top. Dogs may tear into a box of candy when the opportunity presents itself. In large quantities, chocolate causes coma and death. In lesser quantities, it will cause gastrointestinal problems including diarrhea. The degree of toxicity depends on the weight of the animal and the amount and type of chocolate consumed. Semi-sweet and bakers chocolate, for instance, contain more theobromine than regular chocolate, making them even more toxic to animals. Dogs love chocolate, so don't let taste be a test of what is healthy. Anything containing cocoa or chocolate should be avoided.
Grapes & Raisins: Though it isn't clear to scientists just what makes grapes and raisins toxic to both cats and dogs, even a relatively small amount can damage the kidneys. Poison control reports that as few as 7 raisins or grapes could be toxic. For this reason it's unwise to feed these to your pet, even if small amounts are tolerated. Also avoid giving bits of cookie or other foods that contain raisins.
Garlic, Onions, and Powders: Whether fresh, cooked or powdered, garlic and/or onions can be found among the ingredients of many prepared meals, including baby food. Garlic and onions are toxic to cats and dogs because sulfoxides and disulfides found in them can damage red blood cells and lead to anemia. Onions are more problematic than garlic, but both should be avoided.
Macadamia Nuts: Macadamia nuts are soft, light-colored nuts often used in cookie recipes. They are considered toxic to dogs because they tend to cause gastrointestinal upsets,lethargy, vomiting and muscle tremors or stiffness.
Mushrooms: Various species of mushrooms are toxic to dogs, and can cause shock and death. Effects will differ depending on the type ingested, but avoid feeding any type. Pluck "backyard mushrooms" that might sprout on the lawn, as these are known to be toxic to canines.
Tomatoes and tomato plants: Tomatoes of all kinds are toxic to cats, as are parts of the tomato plant. Ingesting as little as a cherry tomato can cause severe gastrointestinal upset.
Chicken Bones: Though not toxic, chicken bones can get stuck in the roof of the mouth, throat and intestines, and should be avoided, according to many veterinarians. Splinters of chicken bones can also become lodged internally.
Other foods to avoid include raw potatoes, especially those containing green spots; turkey skin; nutmeg; and anything with caffeine, including tea. Alcohol and hops should also be avoided as alcohol poisoning can lead to coma and death. Do not allow your pet to rummage through the trash, as moldy food contains toxins that can cause serious illness.
In addition, a sugar substitute found in a variety of sugar-free and dietetic cookies, mints and chewing gum is proving highly toxic, even fatal, to snack-snatching dogs. Xylitol, a relative newcomer to the alternative-sweeteners market, can be "very, very serious" to dogs when ingested. Within 30 minutes of consuming a small amount of a xylitol-sweetened product, dogs can experience a dramatic drop in blood sugar, and they usually begin vomiting, become lethargic and can have difficulty standing or walking. Some have seizures, develop internal hemorrhaging and lesions and suffer liver failure. Xylitol is an all-natural sugar substitute derived from beets, birch tree bark, corncobs and other natural sources. It's as sweet as sugar but has 40% fewer calories. Unlike sugar, xylitol does not require insulin to be metabolized. Right now, xylitol is used mostly in cookies, candies, cupcakes and other sweets developed for people who have diabetes. It's also sold in bags of crystals for baking. Because of its bacteria-killing properties, it is put into some oral care products, including Tom's All Natural and Biotene toothpastes. It also is beginning to be used in a broad assortment of products intended for the general public. Among them: Jello sugar-free puddings and a wide variety of sugar-free gums, including Trident, Orbit, Stride, Icebreakers and Altoids. There is no indication that any of the other sweeteners on the market adversely affect dogs. And there is no evidence so far that xylitol is toxic to pets other than dogs. But cats, for example, don't scavenge for sweets as dogs do, so it's possible there are risks that have not yet been discovered.
Since many of the signs of toxicity are similar, call your veterinarian immediately if your pet appears distressed, lethargic or in pain. Bloody stools or vomiting are also possible signs of toxic poisoning. Gastrointestinal problems can lead to gas build-up until the stomach becomes distended or bloated and hard to the touch. This is a painful condition that can cause the stomach to burst if not treated. The good news is that, in most cases, treatment for toxic poisoning can be successful if administered in time.
By following a few simple rules, you can ensure that pets or animal companions can potentially lead longer, healthier and happier lives.
Thanks to Judy Carmichael for providing information for this topic.
---
JOIN US!!
AARF always needs members and joining us isn't expensive and can be very rewarding! Memberships are vital to the life of the organization and all fees go directly to support AARF programs including animal care, free spay/neuter clinics and education.
Membership dues are:
Student (Under age 18) $13.00 EC / $5.00 US
Regular $53.00 EC /$20.00US
Senior (65 and over) $13.00EC/ $5.00US
Family $ 80.00 EC/$30.00 US
Corporate $300.00 EC /$112.00US.
Lifetime memberships (one time fee) $500.00EC / $186.00US.
Volunteers are needed in areas of education, fundraising, adoption days, helping Amy at the Morlen•s• Veterinary Clinic and fostering those animals awaiting their permanent home. If you can volunteer or want to adopt a puppy or kitten (adult animals as well), or know of ones that need homes, please call AARF at 476-2731.
If you would like more information on AARF please visit our website at www.aarf.ai, send us an email at aarfinfo@aarf.ai or contact our Membership Chairman Gayle Gurvey at 264 - 497-5445 or US toll free 877-471-2733. Or call AARF at 476-2371.
If you are interested in becoming a member you can obtain a membership form via our Membership page. Or you can get one at
Morlens Veterinary Hospital in Sandy Hill, Monday through Friday from 9:00 am to 1:00 pm.
Completed membership forms may be sent to:
AARF
PO Box RI 4228
Anguilla,BWI
---
SPARE CHANGE DRIVE
Our "Spare Change Drive" is on-going so don't forget to drop those extra coins and cash at one of our locations! We really appreciate your donations and the proceeds go to our LeHigh Fund which is set up to assist financially with medical treatment for pet owners. Thank you Bob for creating these permanent donation boxes for AARF. Althea, Bob's wife, is our fundraising chairman and as you can see she has made this a family activity! The donation boxes are located at the following establishments - Straw Hat, Caribbean Cable Communications, Bartlett•s• Collections, Wallblake Airport, Christine Fleming's Mini-Mart, Ashley's Pet Shop, Best Buy, Lake's Grocery, Morlens Veterinary Clinic, Tropical Flower, Fat Cat, Anguilla Techni Sales, Ace Hardware, Roy's Bayside Restaurant, Rendezvous Bay Hotel, Smokey's at the Cove, Irie Life, Barrel Stay Restaurant and Foods 95.
Thank you to all the business's that have agreed to support our cause.
---
ON A LIGHTER NOTE ..........
To be posted VERY LOW on the refrigerator door - nose height.
Dear Dogs and Cats,
The dishes with the paw print are yours and those dishes contain your food. The other dishes are mine and contain my food. Please note, placing a paw print in the middle of my plate and food does not stake a claim for it becoming your food and dish, nor do I find that aesthetically pleasing in the slightest.
The stairway was not designed by NASCAR and is not a racetrack. Beating me to the bottom is not the object. Tripping me doesn't help because I fall faster than you can run.
I cannot buy anything bigger than a king sized bed. I am very sorry about this. Do not think I will continue sleeping on the couch to ensure your comfort. Dogs and cats can actually curl up in a ball when they sleep. It is not necessary to sleep perpendicular to each other stretched out to the fullest extent possible. I also know that sticking tails straight out and having tongues hanging out the other end to maximize space is nothing but sarcasm.
For the last time, there is not a secret exit from the bathroom. If, by some miracle, I beat you there and manage to get the door shut, it is not necessary to claw, whine, meow, bark, try to turn the knob or get your paw under the edge and try to pull the door open. I must exit through the same door I entered. Also, I have been using the bathroom for years -- canine or feline attendance is not required.
The proper order is kiss me; then go smell the other dog or cat's behind. I cannot stress this enough!
---