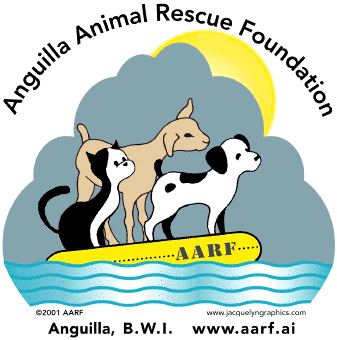 AARF Newsletter
---
Volume 7, Issue 2 June 2007
---
Dear AARF Members and Friends - the goal of our newsletter is to keep you up to date on events and plans of the foundation. Please don't hesitate to send an email to aarfinfo@aarf.ai if there is any topic you would like to see addressed in our newsletter. Suzie Donahue
IN THIS ISSUE:
| | |
| --- | --- |
| | ANNUAL GENERAL MEETING AUGUST 23 |
| | KATHY MELBY MEMORIAL PROJECT AT ROAD SCHOOL |
| | ROTARY CLUB HONORS AMY WILLIAMS |
| | AARF SPOTLIGHT |
| | "HAPPY TAILS" |
| | 2007 SPAY & NEUTER FIGURES |
| | ADOPTION PROGRAM UPDATE |
| | EDUCATION CORNER |
| | JOIN US! WE NEED YOUR HELP! |
| | SPARE CHANGE DRIVE |
| | ON A LIGHTER NOTE |
---
ANNUAL GENERAL MEETING SCHEDULED FOR AUGUST 23
AARF President, Chris Carty, has announced that the 2007 Annual General Meeting will be held on Thursday,August 23rd at Roy•s• Bayside Grill. The meeting will begin at 5:30 PM and all AARF members and interested individuals are invited to attend. The slate of officers will be announced to the membership on July 23 – thirty days prior to the Annual General Meeting as stated in the bylaws of the organization. If you are interested in serving on the board or nominating someone for a position (with their consent) please contact Suzie Donahue at 497-8177 or by email at aarfinfo@aarf.ai. The following positions are open and will be voted on by secret ballot at the AGM.
President
Vice President
Recording Secretary
Treasurer
2 Members at Large
Only members in good standing (paid dues) will be allowed to vote. Dues may be paid prior to the beginning of the meeting. If you are not sure if your dues are due or would like to join please contact Gayle at gayle@askgayle.com. If you are not on island, but a member in good standing votes will be accepted by email to aarfinfo@aarf.ai until 5 PM on August 22nd.
The duties of the executive members are as follows:
President: The President shall preside at all meetings of the Executive Committee and at all General and Special Meetings of the Society. He/she shall execute all documents of the Society except documents related to the property of the Society vested in the Trustees, and shall exercise general supervision of the affairs of the Society, subject to the approval of the Executive Committee. Except as otherwise specified, the President appoints all the chairs of all committees with the approval of the Executive Committee. He/she shall be an ex-officio member of all committees and shall perform all usual duties incidental to his/her office.
Vice President: The Vice President shall serve as Chairman of one of the standing committees as appointed by the President and assume all duties and responsibilities of that committee, assist the President in his/her duties and shall act in his/her place upon the President•s• designation and in his/her absence.
Recording Secretary: The Recording Secretary shall prepare the agenda as directed by the President for all meetings of the Society, sending a copy of the agenda to all members at least three (3) days before the meeting. Record, prepare and distribute minutes of all meetings and keep a record of the attendance of members at meetings. Keep an official copy of the constitution and rules with amendments as made from time to time. Secure permission and reserve if needed, a meeting place; and execute all documents dealing with the Friendly Societies Act and other official business as needed.
Treasurer: The Treasurer shall: Receive and be responsible for all the funds of the Society, collect all membership dues and keep a financial account of all funds collected. Keep an itemized account of all receipts and disbursements and present a written report to the Society at the Annual General Meeting. Submit all books of accounts for audit. Account to the Executive Committee on demand. Prepare and propose an annual budget. Review proposals/recommendations fro other committees with regard to financial feasibility and every five years arrange for a revaluation of the assets of the society. Deliver to the newly elected Treasurer all money, vouchers, books and papers of the Society in his/her custody with a supplementary report covering all transactions to date.
Member at Large (2): Members at large will chair one of the standing committees as appointed by the President and assume all duties and responsibilities of that committee. The standing committees include Fund Raising, Education, Communications, Membership & Adoption Day/Volunteers.
Please consider volunteering for one of these positions. Your help is needed to continue the accomplishments AARF has made in the past 6 years.
---
KATHY MELBY MEMORIAL EDUCATION PROJECT FOR 2007
On Wednesday June 13th at Road School, AARF Education Chairman, Lynn Bartlett, announced the winners of the 2007 Kathy Melby Memorial Education Project of the Year. The 4th grade class of Teacher Juanita presented their posters and a puppet show about animal care and/or preventing animal cruelty to the other 4th grade classes at the school. Of the 22 students in Teacher Juanita•s• class there were 6 outstanding winners who were awarded with certificates and a t-shirt from the Anguilla Animal Rescue Foundation (AARF).
The students selected their choice of medium - paints, markers, story telling or puppet show. Saleem Greaves, Mmelona Hughes, and Paige Tavernier created winning posters.
Hennis Hasani, Glendon Hughes and Jovin Paul presented a wonderful puppet show about animal care. The boys made their own puppets and scenery for the show.
Honorable mentions were: Alicia Connor, Kenesha Connor, Davernel Isles, Donilia Reid, Gineidy Connor, Vanessa Connor, Temani Hawley and Shaunkecia Stephens.

This program in its fourth year at Road School is sponsored in memory of Kathy Melby by her family. Kathy was a long time resident of Anguilla, who passed away unexpectedly in November of 2003. The memorial program was established as a way to honor Kathy•s• kindness and love for the animals here in Anguilla. The Anguilla Animal Rescue Foundation (AARF) in partnership with Road School conducts the program each year. Chairman Bartlett expressed appreciation to the Melby family for continuing to support the program and to the students and staff at Road School for their participation.
---
Amy Williams honored by Rotary Club of Anguilla
At the First Annual Rotary Foundation Dinner held at Roy's Bayside Grill on Saturday, March 31, 2007, three members of the Anguillian community were honored for their outstanding service to the community and one of them was AARF Trustee and Veterinary Assistant at Morlens Veterinary Hospital - Amy Williams.

The Rotary Foundation is a not-for-profit corporation that is supported solely by voluntary contributions from Rotarians and friends of the Foundation who share its vision of a better world.
Amy moved to Anguilla from Maine in 1992 after vacationing here. Two years after her arrival in Anguilla, she was offered the chance to help Dr. Vanterpool at Morlens Veterinary Hospital. Her dream was short-lived when she returned to the States where she worked for two veterinary hospitals and enrolled at St. Petersburg College in their veterinary technician program. A few years later, she returned to Anguilla, and to her position at Morlens Veterinary Hospital, continuing her goal to work with animals. In her years working in Anguilla, Amy has seen much positive change in the way people take care of their animals.

In September 2000, Amy became a Founding Member and a Trustee of the Anguilla Animal Rescue Foundation (AARF). Presently, she continues to work at Morlens with Dr. Vanterpool, supporting the animals and helping to further educate the people of Anguilla in proper care of their domestic pets.

Congratulations Amy!

---
AARF SPOTLIGHT
Maria Forman with Rolex
Maria came to Anguilla in November of 2005 from the Cayman Island, with her husband, Lester, who is VP of Sales and Mobile for Cable and Wireless and her Black Lab Rolex. After "sleeping off" the stress of a year's worth of hurricane recovery work in Grand Cayman, Maria joined AARF in March of 06. Maria has volunteered in many areas including fundraising, but her biggest endeavor was taking over the responsibility of AARF Adoption Days - a huge job with mostly heartwarming results. She is committed to finding good quality homes for Anguilla's homeless animals and trying to educate the new owners in the proper pet care via the adoption process. She has been successful in organizing a dedicated group of volunteers for adoption days and is grateful for their involvement. Maria has also been responsible for following up with the adoptee's family and encouraging them to bring their new pet in for his/her additional vaccinations. The adoption fee of $20 US includes the first set of vaccinations and two more are needed to insure that the pet gets a good start on his future. Maria has also been very successful in getting people to volunteer as foster parents. As AARF's policy only allows homeless animals to stay at the shelter for 10 days, Maria has worked tirelessly to extend the unadopted animal's life by encouraging many AARF supporters to be foster parents. In addition, Maria also works at Morlens Veterinary Hospital and helps with the AARF animals that come in. She and Amy recently spent hours successfully removing the tar from the "Tar Dog" who now resides happily as a member of the Bogar family. This year we have already had close to 120 adoptions - a testament to Maria's hard work and dedication! We thank you Maria for all that you do for AARF.
---
HAPPY TAILS
This issue it's time to catch up with some of our former adoptees and see how they are getting along!
KEENA
One of the first adoptions that I had the pleasure to facilitate was delivering an adorable puppy to an adorable little boy. His name was Tobie and he named his dog Keena. That was in March of 2004!
March 2004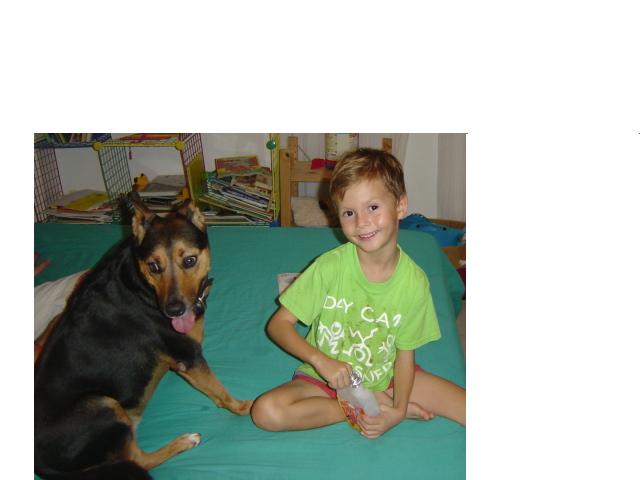 Tobie & Keena in 2007!
Tobie continues to support AARF and recently donated a large container of change that he had collected from "around the house" which probably included the contents of Dad's pockets and Mom's purse!
Thank you Tobie for the wonderful home you have given Keena and for being a great supporter of AARF!!
Airport Dog Maggie!
Maggie was first spotted as a tiny puppy living at the airport and although several people wanted to adopt her the personel at the airport wanted her there! But one afternoon, after being hit by a car in the parking lot, she was brought to Morlens Veterinary Hospital by two good samaritens. She was relinquished to AARF, treated for her injuries and fostered by AARF member, Melissa Richardson, until her injuries healed and was then adopted by Penny Hope-Ross where she now happily resides!
Maggie recuperating from her injuries - November 05.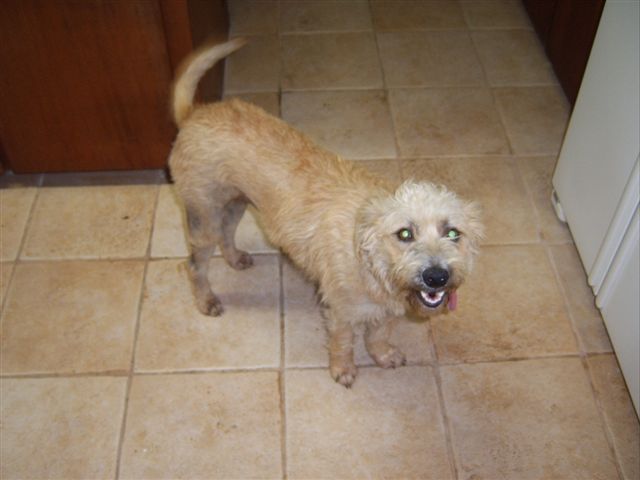 Maggie Today!

GUILLA

In November 06, Guilla was passed over at an AARF adoption day, but luckily Stacia arrived a few days later, fell in love with and adopted her and took her back to Maine for her son and daughter in law. Guilla has made friends with their cat Bruce, goes to work with her new Mommy every day and enjoyed the snow in February! Thanks Stacia for giving her the wonderful home she deserves!

Nov - 06 Left Behind at Adoption Day.

Feb 07 At home in Maine with the toy she brought with her from Anguilla.
Guilla loves the Maine snow!!
LILY
Lily was found in a plastic bag on the side of the road with her 3 siblings in August of 03. All survived and were adopted, except for Lily, whose foster Mom couldn't part with her and became her forever Mom!! She has certainly changed!!
Baby Lily
Lily at 5 weeks
Lily 2007
Stella
Jim and Maria Mulligan - homeowners and frequent visitors and supporters of AARF sent this story about their recent visit in March.
"We just returned from a quick 6 day trip to Anguilla. On about day 2, this cute 5-6 month old puppy appeared on our outside patio, quite a feat since we have walls on all 3 sides and are only open on the sea (and it's all rocks in that direction). It was pretty timid, but I succeeded in getting it to come over to me and noticed that she was very thin. I gave her a turkey sandwich, 4 small cans of wet cat food (non-tainted) that we had, plus the remains of my scrambled eggs, all of which she wolfed down. From that point on we were hooked and kept feeding her, to include treats purchased at Ashley's. I was very concerned about what to do with her on a permanent basis. On Thursday I stopped at Morlen's and spoke with Amy and she reviewed the adoption procedures. To make this short, we met a young American couple who had just moved down to Anguilla and they were looking for a dog. We brought them over to the house, introduced them to our new friend, and it was love at first sight on both ends. We brought the dog to Amy on Friday, she got her shots and spaying surgery, and Chris/Alexis picked her up on Sunday. They named her Stella and she's doing very well. For us, we're absolutely thrilled at this great ending. I know it doesn't always work out like this, but from time to time really good things do happen!!"
Stella on arrival!
The story continues with Chris and Alexis who report that Stella is doing very well - she loves the beach, but is not sure yet about the water (she jumped in for the first time just a few weeks ago), is still a bit nervous around strangers, especially kids, has almost mastered a few tricks (i.e. she can shake, sit, etc) and thinks both of their couches belong to her!!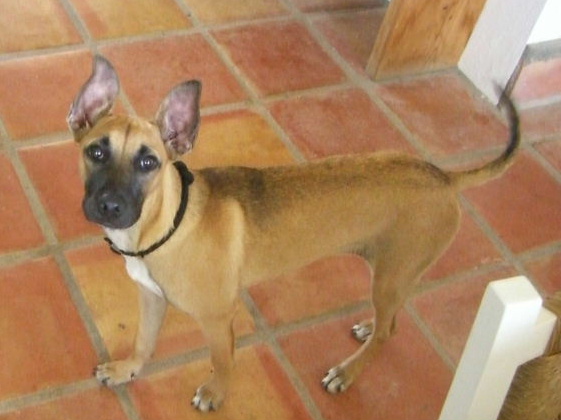 Stella now!
What a difference a few months of love and care can make!!
Fin
Fin was one of the puppies we focused on in last quarter's newsletter. He belonged to Ginger, a homeless dog with puppies, who was fostered by Madeline Kelly until her house guest Dr. Jack Civic of Rhode Island took him and his 5 siblings back to the States and found homes for them.
Fin in March with his new owner Lindsey and rescuer Dr. Civic.
Lindsey and Joe adopted Fin and just sent a note saying that Fin is making himself right at home, helps with the gardening and enjoys the beach. He is also learning tricks. Lindsey wrote that she is so happy that they were able to give Fin the home he deserved and we couldn't agree with her more! Thank you Lindsey and Joe.
Fin in "his" Garden
Ellie
Remember Ellie? She was 14 year old dog with a lot of medical problems that needed a home because her owners couldn't take her back with them to the US. Mark and Sally Baumwell kindly took her into their home and recently sent this note .... "Ellie the Ancient Wonder Dog" is doing fine! She is happy, very affectionate (has bonded with me and literally follows me around), sleeps several hours a day, but is otherwise in decent shape (can walk, has decent vision and hearing for her age). We take her to Gwen•s• every few Sundays to share my burger or chicken. We babysat Merle (the other dog the previous owners had left) so they are kind of like sisters. They had a great time being reunited. They actually briefly touch noses in the morning (too cute) when Ellie comes in and we let Merle out. Ellie usually sleeps a lot, but when Merle is here, they chase the tennis ball like crazy, and it seems to be good exercise for Ellie."

Ellie (upper right) and her "sister" Merle.
---
2007 SPAY & NEUTER FIGURES
Dr. Vanterpool assisted by veterinary assistant, Amy Williams, have had a busy 6 months! As of June 30 they had already performed 127 spay or neuter surgeries. Of those surgeries 57 were dog spays, 25 were dog neuters, were 28 cat spays and 17 were cat neuters.
We are extremely grateful to Dr. Vanterpool and Amy for all that they do - without their dedication it would be impossible for AARF to exist. Since the inception of our spay/neuter program in Anguilla in July of 2003 AARF has sponsored surgeries for 770 dogs and cats.
Did you know that one unspayed cat and her offspring can produce 420,000 kittens in 7 years? And one unspayed female dog and her offspring can produce 4,372 puppies in that same time span.
AARF is making a difference through your support and generosity at our fundraising events. Thank you!
---
2007 ADOPTION PROGRAM UPDATE
Over a year ago in November 2005, AARF initiated a new adoption policy that included a fee of $20 US to adopt an animal from AARF. This small fee includes a free spay or neuter when the puppy/kitten is old enough for the surgery (between 4 & 6 months), worming, flea/tick bath and the animals first set of vaccinations. Cats are also tested for feline aids/leukemia, which is an incurable disease transmitted from cat to cat and is common here on Anguilla. Dogs are tested for heartworm, a parasite transmitted by mosquitoes and erlichosis,a blood parasite transmitted by ticks. Both of these diseases are common on Anguilla and can be life threatening.
New owners are provided with information on the proper care of their pet and encouraged to call AARF if they need any other assistance.
In addition, AARF has also developed a surrender form that allows the owner of an unwanted dog or cat to leave the animal at Morlens at no charge. This permits the animal to then be put up for adoption. These animals will be accepted free, but need to be eating on their own which is usually at 6 weeks of age or older. It is hoped that unwanted dogs and cats will be taken to Morlens instead of being left to fend for themselves and causing a nuisance in the areas where they are abandoned.
We are pleased to report that since January of this year AARF has found homes mostly in Anguilla for 119 puppies/dogs and kittens/cats. Thank you to everyone that has welcomed these unfortunate animals into your hearts and homes and given them a second chance!
Particular thanks to our Adoption Chairman, Maria Forman and all her volunteers who work tirelessly to find homes for these unwanted animals.
A special thank you to those that agree to foster our animals and give their hearts away - even for a short time!
AARF would like to also thank Lake's and Ashley's for allowing us to use their premises to hold our adoption days. Without their cooperation we would not be as successful.
---
EDUCATION CORNER
Easy Tick Removal
This information came from a pediatrician who believes this the best way to remove a
tick. It works in those places where it's some times difficult to get to with tweezers:
between toes, in the middle of a headfull of dark hair, etc.
Apply a glob of liquid soap to a cotton ball. Cover the tick with the
soap-soaked cotton ball and swab it for a few seconds (15-20), the tick will
come out on it's own and be stuck to the cotton ball when you lift it away.
Dog Best Friend for Seniors

A study shows that lonely seniors prefer playing with a dog than visiting with other humans.

Dr. William A. Banks, professor of geriatrics at St. Louis University School of Medicine, said his findings, which were published in the March 2006 issue of Anthrozoos, show there is some truth in the cliché of a dog as "man's best friend."

Banks found that nursing home residents felt much less lonely after spending time alone with a dog than they did when they visited with a dog and other people.

"It was a strange finding," said Banks. "We had thought that the dog acts as a social lubricant and increases the interaction between the residents. We expected the group dog visits were going to work better, but they didn't."

He said the residents preferred spending a little quiet time with the dog than spending time with a dog and other people.
---
JOIN US!!
AARF always needs members and joining us isn't expensive and can be very rewarding! Memberships are vital to the life of the organization and all fees go directly to support AARF programs including animal care, free spay/neuter clinics and education.
Membership dues are:
Student (Under age 18) $13.00 EC / $5.00 US
Regular $53.00 EC /$20.00US
Senior (65 and over) $13.00EC/ $5.00US
Family $ 80.00 EC/$30.00 US
Corporate $300.00 EC /$112.00US.
Lifetime memberships (one time fee) $500.00EC / $186.00US.
Volunteers are needed in areas of education, fundraising, adoption days, helping Amy at the Morlen•s• Veterinary Clinic and fostering those animals awaiting their permanent home. If you can volunteer or want to adopt a puppy or kitten (adult animals as well), or know of ones that need homes, please call AARF at 476-2731.
If you would like more information on AARF please visit our website at www.aarf.ai, send us an email at aarfinfo@aarf.ai or contact our Membership Chairman Gayle Gurvey at 264 - 497-5445 or US toll free 877-471-2733. Or call AARF at 476-2371.
If you are interested in becoming a member you can obtain a membership form via our Membership page. Or you can get one Or you can get one at Morlens Veterinary Hospital in Sandy Hill, Monday through Friday during our open hours. 
---
SPARE CHANGE DRIVE
Our "Spare Change Drive" is on-going so don't forget to drop those extra coins and cash at one of our locations! We really appreciate your donations and the proceeds go to our LeHigh Fund which is set up to assist financially with medical treatment for pet owners. Thank you Bob Turner for creating these permanent donation boxes for AARF. The donation boxes are located at the following establishments - Straw Hat, Caribbean Cable Communications, Bartlett•s• Collections, Wallblake Airport, Christine Fleming's Mini-Mart, Ashley's Pet Shop, Best Buy, Lake's Grocery, Morlens Veterinary Clinic, Tropical Flower, Sophie's Hair Design, Anguilla Fencing, Fat Cat, Anguilla Techni Sales, Ace Hardware, Roy's Bayside Restaurant, Irie Life, Barrel Stay Restaurant and Foods 95.
Thank you to all the business's that have agreed to support our cause.
---
ON A LIGHTER NOTE ..........
If you can start the day without caffeine,

If you can always be cheerful, ignoring aches and pains,

If you can resist complaining and boring people with your troubles,

If you can eat the same food every day and be grateful for it,

If you can understand when your loved ones are too busy to give you any time,

If you can take criticism and blame without resentment

If you can ignore a friend's limited education and never correct him,
If you can resist treating a rich friend better than a poor friend,

If you can conquer tension without medical help,

If you can relax without liquor,

If you can sleep without the aid of drugs,

Then You Are Probably ..........
The Family Dog
---