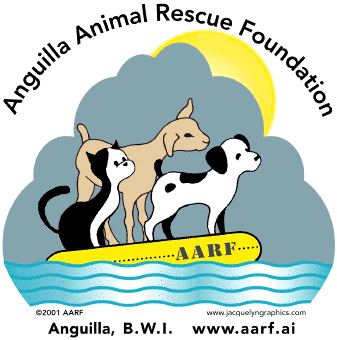 Newsletter
---
Volume 5, Issue 4 September 2005
---
The goal of our newsletter is to keep members and friends up to date on events and plans of the foundation. If there is any particular topic you would like to see addressed in the newsletter, please send email to
aarfinfo@aarf.ai
---
---
AARF•s• Bonanza Bingo Night a Success!
Roy•s• at Crocus Bay was the place to be Saturday July 9th. More than 150 people converged on the restaurant to participate in AARF•s• Bingo Night that included dinner and 20 games of bingo with many exciting prizes.
Crowd of players at AARF Bingo
The Grand Prize a trip to Saba for 2 via "Edge" with a 2 nights at the Gate House, was won by first time bingo player, His Excellency, The Governor, Alan Huckle
His Excellency, Governor Huckle surprised at winning grand prize!
Chris Carty, President of AARF noted that the organization was most grateful to the following businesses that donated prizes to this successful event - Anguilla Garden Centre, Anguilla Techni-Sales, Caribbean Cable Communications, Essentials Stationery Store, Funtime Charters, Expan, Ltd., Hurricane Cove Bungalows in Nevis, Irie Life, Keene Enterprises, Kim•s• Baskets, Micasa, MyCaribbean.com, Roy•s• Bayside Grill, Seaside Stables, Straw Hat, The Turner Family, Video Dynesty, Vinissimo, World Art & Antiques and Mr. Peter Billington who donated the raffle prizes.
Heather Wallace, Vice President and Mistress of Ceremony for the event also thanked all those that joined AARF for a wonderful evening of fun and camaraderie, Roy & Mandy for allowing AARF to use their restaurant and to those that volunteered to make this event a success.
AARF Volunteers Rumple and family enjoy bingo!
Chairman of the fund raising committee, Althea Turner noted that the proceeds from the bingo night would be used for AARF•s• spay/neuter project for 2005, which offers free surgeries to all puppies and kittens that are adopted from AARF.
---
The Lehigh Fund in Memory of David Johnson
Lehigh
David Johnson was a kind and generous man, who with his partner Frank Costin were wonderful "Foster Dads" to many of AARF•s• puppies awaiting adoption.
David passed away in July of 2005 and Frank requested that anyone wishing to send a gift in David•s• memory do so via a contribution to AARF in the name of David•s• Lehigh.
Lehigh, David•s• beloved cocker spaniel pictured above, was diagnosed with an inoperable cancer about two years ago when she was eleven. David brought her down to Anguilla from Canada where she had lived part of the year, so she could be warm and they could give her constant care until the end of her life.
AARF has made a bequest in David•s• memory and established "The Lehigh Fund in Memory of David Johnson". This fund has been set up as a tribute to his and Frank's love of all creatures, great and small and especially Lehigh.
The purpose of The Lehigh Memorial Fund will be to assist pet owners in paying for either emergency care or other medical treatment for their pets that they may not be able to afford. The decision to assist will be initially made by the examining veterinarian Dr. Patrick Vanterpool and /or veterinary technician Amy Williams at Morlens Veterinary Clinic.
In addition to donations made in David•s• name the fund will also include donations to the "spare change drive" collection bottles placed around the island, as well as any other contributions that people make and designate to the program.
We hope that this fund will continue to grow in the years to come, not only to help the many needy dogs and cats of Anguilla, but also as a continuing tribute to David and to his love for animals and all that he has done for AARF.
David and two foster pups he helped to socialize so that forever homes could be found for them.
---
2005 - 06 Executive Committee Announced
The Annual General Meeting of the Anguilla Animal Rescue Foundation was held on Wednesday June 29th and the following slate of officers were elected: President - Chris Carty, Vice President - Heather Wallace, Secretary - Suzie Donahue, Treasurer - Jimmy Carter, Members at Large - Jackie Pascher and Althea Turner.
President Carty has also announced the appointment of chairpersons for the following committees:
Education - Tamara Capes, Membership - Barbara Owen, Fund Raising - Althea Turner, Communications - Suzie Donahue and Policies & Procedures - Heather Wallace.
If you are interested in serving on any of these committee's please contact the committee chair or Chris Carty or send us an email at aarfinfo@aarf.ai. We always need volunteers!
---
AARF Offers Humane Traps available for Public Use
The Anguilla Animal Rescue Foundation offers the use of humane traps for undomesticated dogs or cats on the owner•s• property for a small rental fee. Please contact Amy at 497-4600 for information on how to rent these traps. We have three sizes - small for cats and small dogs, medium and large as shown below.
The renter of the trap agrees to the following:
To check the trap frequently to be certain that the animal is not in the trap for more than 6

- 8 hours. If the trap is set in the evening it should be checked in the morning as soon as possible.

The trapped animal must be taken to Morlens Veterinary Clinic between 9 & 12 Monday – Friday on the day it is trapped.

Trapping should not be done on Friday or Saturday evenings, as the clinic will not be able to receive the animal until Monday.

Care should be taken to make certain the trapped animal is not in danger of injuring itself or anyone around him.

Expenses involved in euthanizing and disposing of the trapped animal – depending on the size of the animal are approximately $20.00 and must be paid at the time the animal is delivered to Morlens.

If anesthesia is required to euthanize the animal an additional fee will be charged depending on the size of the animal.
If you are in need of a trap contact Amy for information at Morlens 497- 4600.
Large Dog Trap
---
Saturday, August 20th was an exciting day for one of our executive board members Jimmy Carter, AARF's treasurer, he was married at St. Augustine's Anglican Church, East End. The ceremony was witnessed by many of the couples family and friends.
AARF wishes Jimmy and Davida many years of happiness! Congratulations!!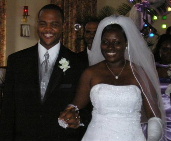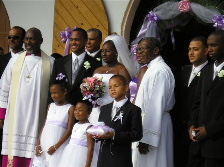 ---
There are many times when AARF has an abundance of puppies and/or kittens at Morlens Clinic and we have been fortunate to find members of the community willing to offer loving forever homes to these innocent, unwanted puppies or kittens. The rewards to those that take these animals into their homes are immeasurable and we thank all of you that have done so in the past.
Each adoption from AARF either at the clinic or at our Adoption Days entitles the animal to a free spay or neuter once they reach the appropriate age. The new owner is contacted when it is time to schedule the surgery usually before the animal is 6 months or goes into heat.
If you or someone you know is interested in adopting a dog or cat please contact Amy at Morlens between 9 & 1 Mon - Fri at 497-4600. If we do not have any available adoptions Amy will take your name and phone number and call you when one becomes available. And usually the wait isn't very long.
AARF has recently purchased a Puppy Playpen and a Cat Playpen to "showcase" these animals while they are at the clinic, as well as give them some extra room for play and exercise. Pictured below is the Cat Playpen whose occupants were all adopted on Saturday September 24th at our Adoption Day at Lake's along with 3 puppies. We thank Lake's for allowing us to use their location to find homes for these puppies and kittens and to Melissa Richardson, AARF member, who managed the adoption day.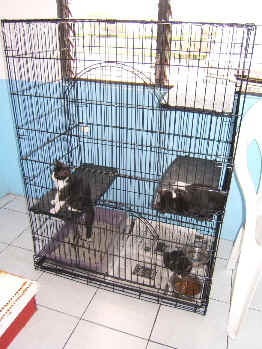 Kittens enjoy new playpen!
---
2005 Spay and Neuter Program Update
AARF's main project is our spay and neuter program. Since we began in the summer of 2003 we have spayed or neutered over 450 animals at no charge to their owners. As previously noted our focus this year is on the puppies and kittens that are adopted thru AARF. At this time, we have had over 100 adoptions since September of 2004 and of course, with each adoption we have more. This year all funds for the program are coming from the donations of residents and visitors as well as our fund raising projects. We thank all of you for your support of this very important program.
September 21 - 23 and Sept 28th mini spay and neuter clinics were held at Morlens. Dr. Patrick Vanterpool assisted by veterinary technician Amy Williams and AARF members Melissa Richardson and Suzie Donahue completed surgeries on 34 dogs and cats.
Dr. Patrick Vanterpool during clinic surgery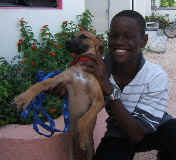 Cindy & Scrappy, two pups that were adopted thru AARF on their way home after surgery.
Return to Top
---
Past Newsletter Updates:
Pepper - July's newsletter featured Pepper a 6-year-old spayed Chihuahua looking for someone to share her sunny disposition We are pleased to report that Pepper has happily adjusted to her new home.
---
We are often asked what exactly does fostering an animal entail. Fostering gives an often frightened or abused or shy puppy or kitten an opportunity to be socialized and affords him/her a chance at a forever home that would not be available without the opportunity. Fostering is normally done at your home unless in the example below you are able to have access to a litter of puppies or kittens to spend time with them when needed.
If you are interested in fostering please let Amy know at 497-4600. AARF is willing to provide funds to help offset the cost of food - so don't let that deter you from giving a puppy or kitten the extra love they so desperately need and you can supply!
Fostering on location: This month Suzie Donahue was notified that several pups had been born on Cap Juluca's property to two wild female dogs that had been in the area since last August. Since she is on the property feeding the cats (see news on Cap Juluca and AARF partnership below) she located the pups and started visiting them twice a day with food and a lot of attention. She was having success with the 5 there when a week after she began 6 more puppies appeared from the bush when she put down the food. Thinking she was dreaming she quickly realized that BOTH dogs must have had litters at the same time. At this time 9 of the puppies have been adopted and she is still working to socialize the remaining 3 so they can find homes as well. Many of the staff at Cap Juluca have given these adorable puppies homes. Plans are also in place to humanely trap the mothers to stop the cycle of continual births of unwanted puppies. Pictured below are 10 of the 12 enjoying dinner!
Everette from Cap Juluca takes home CJ after she had a bath and her shots. She reported that she adapted very well to her new home.
Theo (pictured below) adopted one puppy and the next day called to say he would take another one for his daughter! At this times both pups are still with Theo!
In July, The Turner Family took home 2 puppies to foster before they were adopted. These two lucky pups got to spend time swimming and lazing around the pool before they were adopted.
Update: Coco, the one with the pink collar & Princess have grown into beautiful young "ladies" and both were spayed at our clinic last week.
---
Cap Juluca and AARF Partner in Spay Neuter Release Program
Excerpt from article printed in Fall 2005 Anguilla Life Magazine
by Suzie Donahue
In August of last year a couple from Pennsylvania staying at Cap Juluca fell in love with two male cats that visited with them on their veranda each evening. They named them Bankie Banx and Bob Marley and after speaking with one of the staff at Cap Juluca were told they should contact me, as I lived near the resort and they knew I was an AARF member. They met with me and expressed their concerns about the cats at the resort. When they returned home they sent an email and donation telling me of their attachment to these two cats. I forwarded the letter to the manager at Cap Juluca, Eustace Guishard with the suggestion of a pilot program for the resort. Lloyd Gumbs, the grounds manager was appointed to work with me and AARF•s• Pilot Trap Neuter Release program was born. The program has several phases and with the hotel being closed for maintenance in September and no guests to feed the cats I felt it was a perfect time to start. After speaking with many of the staff to find out where the cats were most often seen, four feeding stations were set up and daily feedings with extra toppings of sardines were offered.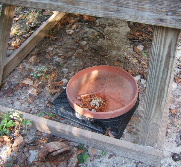 One of the feeding stations
The cats were a bit fussy and at first only ate the sardines off the top of the dry food. Several days of torrential rains from Tropical Storm Jeanne followed and gradually the cats began to visit the feeding stations. The food began to disappear each night and after almost 3 weeks two traps were set on the night of September 27th. Once the traps were set they had to be checked in the morning and then if no one was trapped they had to be cleaned, new food added and reset at feeding time in the evenings. There were a few mishaps - one of the traps disappeared and was found buried under some construction materials & several times the food was gone but the trap was still set. Finally on the morning of October 1, I found "Felix" a big black and white angry male cat in one of the traps. At last – the project was on its way!
The next step of the project involved the transportation of the hissing cat to Morlens Veterinary Clinic at Sandy Hill where Dr. Patrick Vanterpool assisted by veterinary technician Amy Williams spayed or neutered the cat and clipped its right ear for easy visual proof of the surgery. The cat spent a day recuperating and then I transported it back to Cap Juluca and released it in the same area where it had been captured. Two days later "Bankie Banx" was trapped / neutered and released back at Cap Juluca.
The program continued through February with a total of 13 cats being caught and spayed or neutered. Actually, several of the cats were caught more than once which made the slit in the ear even more essential as it eliminated the time in the trap and the stressful drive to & from Morlens Veterinary Clinic. After the same cats continued to be caught I stopped the trappings in March and went to maintenance only – feeding the cats daily. During the times when I was off island, Christine Cutler was a huge help by feeding the cats for me. Now I see several of the cats on occasion and some even come running when they hear me call them. Two that live at the generator feeding station "Nina and Nate" actually come very close but can't be touched - these two are my favorites because they meow and seem so happy to see me, plus they are a beautiful crème color and Lloyd has told me that a lot of the staff like them and wanted to make sure they were ok when they were trapped. Nina was one of the ones that I caught several times and she seems to know that I won't hurt her.
Nate and Nina at feeding station.
Maintenance of the colony at Cap Juluca is on going. I continue the daily feedings and Nina and Nate are always there to be fed! For the project to be a success approximately 70% of the colony should be spayed or neutered with the other 30% allowed to reproduce. At this time no kittens have been seen on the property, but that does not necessarily mean they have not been born. I have been extremely pleased with the support for this project from the management and staff at Cap Juluca. My daily visits have afforded me the chance to share my experiences with some of the employees and answer their questions. I often find that someone has left tidbits of their lunches for the cats at the feeding stations which lets me know that even though some refer to me as the "crazy cat lady" others do understand that even cats have needs and should be treated with care and dignity!
---
Our "Spare Change Drive" is on-going so don't forget to place those "heavy" coins and that extra cash at one of our locations! We would really appreciate your donations! The donation bottles, as well as our older boxes are located at the following establishments. Vinissimo, La Sirena, Straw Hat, Caribbean Cable Communications, Bartlett•s• Collections, Wallblake Airport, Christine Fleming's Mini-Mart, Ashley's Pet Shop, Best Buy, Anguilla Trading - South Hill, Lake's Grocery, MacDonna's & Sophie Dehove Hair Design.
---
We acknowledge and thank with much gratitude the following businesses for their contributions to AARF in 2005. We urge you to support them!
| | | |
| --- | --- | --- |
| Anguilla Garden Centre | Anguilla Techni-Sales | Ashley's Grocery & Pet Stores |
| Caribbean Cable Communications | Essentials | Expan, Ltd. |
| Funtime Charters | Harney's | Haskins LTD |
| Hurricane Cove / Nevis | Irie Life | Keene Enterprises |
| Kim's Baskets | Lake's World | Mango's |
| Micasa | MyCaribbean.com | Roy's Bayside Grill |
| Seaside Stables | Shaken Not Stirred | Straw Hat |
| The Pumphouse | Video Dynesty | Vinissimo |
| World Art & Antiques | KPMG | |
---
The Anguilla Animal Rescue Foundation (AARF) always needs members and joining us is not expensive and very rewarding! Memberships are vital to the life of the organization and all fees go directly to support AARF programs including animal care, free spay/neuter clinics and education.
Membership dues are:
Student (Under age 18) $10.00 EC / $3.72 US
Regular $25.00 EC /$9.30US
Senior (65 and over) $10.00EC/ $3.72US
Family $ 40.00 EC/$14.88 US,
Corporate $300.00 EC /$11.60US.
Lifetime memberships (one time fee) $500.00EC / $186.00US.
We are always looking for new members to support AARF fundraising events, assist at Morlens Veterinary Clinic or to help us with our ongoing spay and neuter project. If you would like more information on AARF please visit our website at www.aarf.ai, send us an email at aarfinfo@aarf.ai or call Amy at 497- 4600 or Suzie at 497-8177.
If you are interested in becoming a member you can obtain membership forms via our Membership page. Or you can get one at Morlens Veterinary Hospital in Sandy Hill, Monday through Friday from 9:00 am to 1:00 pm.
Completed membership forms may be sent to:
AARF
PO Box RI 4228
Anguilla,BWI
---
v Maxwell & Maisie
Reg & Alice Lake have been coming "home" to Anguilla in the winter months - spending part of the year here and the other part traveling or at their home in California. They have always traveled with their pets, but this year they found themselves "petless" in Anguilla! That didn't last long as Maxwell found Reg one day when he was getting his car repaired and not too long after that Maisie was found at Well Road. Reg and Alice attempted to foster Maisie, but finally admitted failure and when they returned to California two very lucky Anguilla kitties became "jetsetters"!
Maxwell Maisie
It didn't take Maxwell long to get the hang of life in California - he made a new friend right away! Certainly Maxwell never heard of a deer while he was in Anguilla. We can't wait to hear all about their adventures when they return home to Anguilla!
Maxwell with his new pal!
v Juluca & Speckles
When AARF member Kathy Melby passed away unexpectedly almost 2 years ago she left behind her beloved dog Speckles. Fortunately for Speckles, Nancy and Howard Felsher, part time residents in Anguilla and dear friends of Kathy agreed to take Speckles home with them to California when they returned in December of 2003. The question was would she adjust to her new life with Juluca - Howard and Nancy's cat?? This recent picture below looks like these two seem to have made the adjustment very well!
v Ningee's Story

Ningee and her 3 siblings were born sometime in December of 2002 in the bush near Cap Juluca, after her mom had been abandoned by her caregivers and left to fend for herself. When Kim and Jeff David, the food and beverage manager & his wife at Cap Juluca moved into a nearby home the cat family "decided" this would be a great place to be. As luck would have it this changed Ningee•s• life and her adventure began! Kim fed and cared for Ningee and siblings and even had them spayed or neutered, as they got older. When Kim and Jeff had to leave Anguilla in February of 2004 because of Kim•s• health, they were forced to leave Ningee and her colony. They already had two inside cats and could not take any more back with them to Massachusetts. Kim left food and money for their care with the person who rented the house and all went well until two dogs moved in with the new renter in May. Obviously threatened by the dogs, the other cats disappeared, but Ningee stayed. Unfortunately in June the new renter moved out which meant that Ningee would not have a caretaker. Kim contacted Suzie Donahue who began feeding Ningee in the bush behind the house every day. Ningee became more and more friendly and Suzie would have loved to take her home, but she already had 5 cats. So she built Ningee a little shed in the bush to keep her food dry and visited with her every day.

In February of 2005 – a year after she had moved back to the states, Kim was able to come back to Anguilla to take Ningee with her to the Cape. Unfortunately when having Ninbee checked for travel it was found that she had feline leukemia, which is highly contagious between cats. As she was literally spreading the disease to all cats that she encountered, Kim could not take her back to her home as one of her two older cats had diabetes. And Ningee couldn't be released back to the wild to infect other cats – she needed a home where she would be the "only" cat! Kim•s• boss Kevin, who had never had a cat before, reluctantly consented to give it a try with Ningee. Finally 3 days off schedule because of a huge snowstorm that hit the East Coast, Ningee and Kim returned to Boston and Ningee•s• new home with Kevin! Kevin is the owner of a very large & successful construction business – a "man•s• man" – so the concern was – how would he adjust to a cat in his house?? Secondly - how would Ningee adjust to being an inside cat??

Well, as you can see from the picture below – both have adjusted very well. Kevin "says" he did it for Kim, but something about that smile shows a whole lot more!!

Ningee & Kevin

Ningee now lives in Boston on the 23rd floor of a very tall high-rise and continues to be healthy! Because of the love of many people she has been given several chances at life – and it seems like she has made the very best of each one!!
---
Something to Think About ......
"If you have men who will exclude any of God's creatures from the shelter of compassion and pity, you will have men who will deal likewise with their fellow man."
Saint Francis of Assisi
---