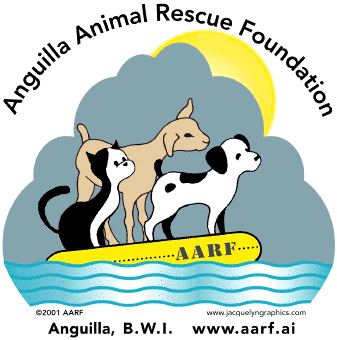 Newsletter
---
Volume 5, Issue 3 June 2005
---
The goal of our newsletter is to keep members and friends up to date on events and plans of the foundation. If there is any particular topic you would like to see addressed in the newsletter, please send email to
aarfinfo@aarf.ai
| | |
| --- | --- |
| | |
| | Annual General Meeting held June 29th |
| | Upcoming Bonanza Bingo Night at Roy's - July 9th |
| | Information on Puppy and Kitten Adoption Days |
| | 2005 Spay & Neuter Program Update |
| | Kathy Melby Memorial Education Project of the Year |
| | Other Notes |
| | Join Us! |
| | |
| | Something to Think About |
---
---
AARF's Second Annual Yard Sale
The 2nd Annual AARF Yard Sale at the Agriculture Department on Saturday April 30th was a huge success! The crowd at opening time rushed in to find bargains on everything from books and videos to clothes, furniture, small appliances, toys, sports equipment and so much more. The Anguilla Homecoming Association accentuated the festive atmosphere by selling delicious home baked sweets and other items to benefit their organization.
AARF Members set up for sale.
We are pleased to report that over $5000 US was raised for AARF•s• 2005 free spay/neuter program. This program, which AARF has been sponsoring for the past 2 years, has provided free surgeries for more than 400 island dogs and cats, and as a result helped immensely in controlling the unwanted births of puppies and kittens on the island. The 2005 program will focus on the puppies and kittens that are adopted from AARF. An AARF adoption includes a spay or neuter for the adopted puppy or kitten when it reaches approximately 4 –5 months of age. If interested in adopting through AARF contact Morlens Veterinary Clinic at 497-4600 between 9 and 1 Monday – Friday. AARF animals up for adoption change from week to week. Any unwanted puppies or kittens should be taken to Morlens if homes cannot be found for them. This year AARF is depending solely on contributions from local residents and businesses, as well as members and island visitors to support this program.
On Yard Sale Saturday 2 puppies were adopted. We thank those that took these puppies into their homes and hearts and gave them a chance at life.
We would like to thank all that participated in this event – those that donated items, those that shopped with us and AARF members and volunteers who worked so diligently to make this annual community event a huge success especially Althea Turner, Gayle Enzel, Suzie Donahue and Chris Carty. Thank you also to Jill Walker for organizing our volunteers and June Solvean, Judy Carmichael, Tamara Capes & Tracey Hodge for assisting with sales and extra kudos to Heather Wallace who allowed us to use her storage area at Essential Office Products.
We are continually collecting for next year's event so don't throw away those unwanted items that we might be able to use for our sale - if you don't have room to store then please call Althea at 497-6493 or Suzie at 497-8177 and we can arrange to pick up your donations.
---
Annual General Meeting - June 29th
The Annual General Meeting of the Anguilla Animal Rescue Foundation was held on Wednesday June 29th at 5:30 PM at the auditorium of the Teacher Resource Center. Acting President Chris Carty called the meeting to order and welcomed the members. Trustee and Past President Mr. Joseph Norris Payne gave the opening prayer and conducted the meeting. Suzie Donahue presented the minutes of the last meeting and Jimmy Carter gave the treasurer's reports. Chris Carty presented the annual report of the foundations activities for the past year. The annual report is attached below. The slate of officers for the year 2005 - 06 were presented to the membership and approved. They are: President - Chris Carty, Vice President - Heather Wallace, Secretary - Suzie Donahue, Treasurer - Jimmy Carter, Members at Large - Jackie Pascher and Althea Turner. Members were asked to volunteer for the Fund Raising, Communications, Policies & Procedures, Membership and Education Committees and sign up sheets were available.
Mr. Payne, Mrs. Cutler and Ms. Pascher discuss AARF activities.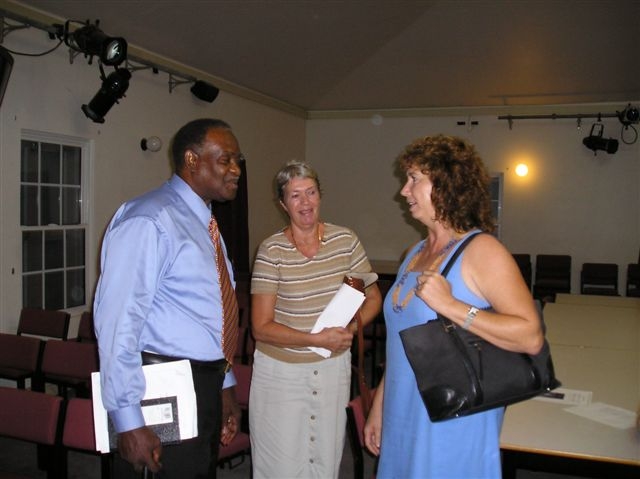 Jimmy Carter and Suzie Donahue encourage members to sign up.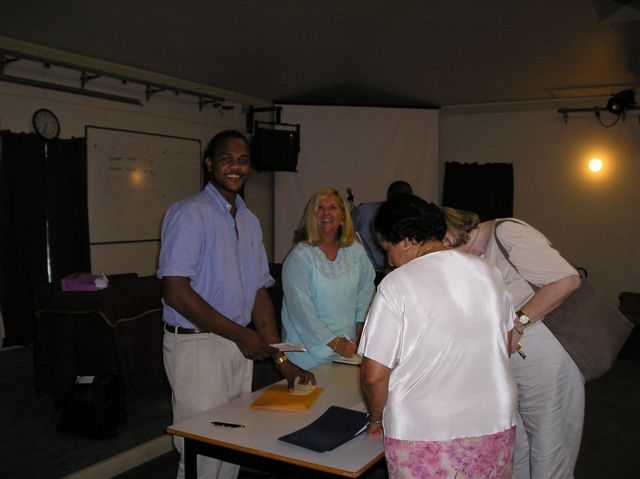 The Volunteer of the Year Award was presented to The Cutler Family in gratitude for all that they do for AARF including donations, adoptions and assistance with many of our projects.
President Chris Carty presents Volunteer of the Year Award to Christine Cutler representing The Cutler Family.
The members were thanked for attending and urged to join the many AARF activities that help to make Anguilla a better place for the animals.
---
Bonanza Bingo Night - July 9th
Our next fundraiser of 2005 promises to be a fantastic night of bingo. The time and venue have changed since our last newsletter ...................
Roy and Mandy Bosson's have turned over their restaurant at Crocus Bay to AARF for an evening of fun-filled and always exciting Bingo. We have many wonderful prizes including a 2 night get away at the Gate House in Saba that includes transportation on The Edge from St. Martin, a 3 night romantic stay at Hurricane Cove in Nevis donated by Bob and Althea Turner, a microwave donated by Haskins, a stereo system from MyCaribbean.com, 2 prizes from Caribbean Cable Communications - one is 3 months free cable and the other is three months free internet, a desk chair from Essentials Office Supply, a sunset cruise donated by FunTime Charters and a one way trip to St. Martin also donated by FunTime Charters, a lamp from World Art, a Sunset Beach Ride from Seaside Stables plus many more exciting prizes.
The evening begins with "Happy Half-Hour" at 5:30 with inexpensive drinks and continues with dinner served at 6 PM. Dinner is available for $15 US with your choice of either Shepherd's Pie or Mandy's Chicken Special. Bingo begins promptly at 7 PM. Each Bingo ticket at $20US will provide you with 3 bingo cards. We only have 100 tickets for the Dinner and/or Bingo so purchase your tickets ASAP. You are not obligated to have dinner but at that price why miss out, however only bingo players will be allowed to dine! If you have any questions or need tickets please call our Fundraising Chairman for this event Althea Turner at 497-6493 or Suzie Donahue at 497-8177. Tickets may also be purchased from Anguilla Techni-Sales, Morlens Veterinary Clinic, Bartlett's Collections and Barbara Owen at Caribbean Cable Communications.
---
Puppy and Kitten Adoption Days
There are many times that AARF finds we have an abundance of puppies and/or kittens at Morlens Clinic and we have been fortunate to find members of the community willing to offer loving forever homes to these poor innocent and unwanted puppies or kittens. The rewards to those that take these animals into their homes are immeasurable and we thank all of you that have done so in the past.
We have been gratified by the willingness of local businesses that allow us to use their property to have Adoption Days when we bring the homeless animals, introduce them to the public and try to find homes for them. Ashley's and Lake's World have both let us use their facilities in the past and we have been very successful.
Each adoption from AARF either at the clinic or at our Adoption Days entitles the animal to a free spay or neuter once they reach the appropriate age. Amy Williams at Morlens contacts the new owner when it is time to schedule the surgery usually before the animal is 6 months or goes into heat.
If you or someone you know is interested in adopting a dog or cat please contact Amy at Morlens between 9 & 1 Mon - Fri at 497-4600.
---
2005 Spay and Neuter Program Update
Our main project at AARF is our spay and neuter program. Since we began in the summer of 2003 we have spayed or neutered over 400 animals at no charge to their owners. As previously noted our focus this year will be on the puppies and kittens that are adopted thru AARF. At this time we have had over 100 adoptions since September of 2004 and of course with each week we have more. This year all funds for the program our coming from the donations of locals and visitors as well as our fund raising projects. We thank all of you for your support of this very important program.
---
Kathy Melby Memorial "Education Project of the Year" Winners Announced
On Monday, June 6th at Road School's morning assembly AARF Education Chairman Michelle Owen-Vasilis announced the winners of the 2005 Kathy Melby Memorial Education Project of the Year.
This competition is sponsored by family and friends in memory of Kathy Melby a long time resident of Anguilla, who passed away unexpectedly in November of 2003. The memorial competition was established as a way to honor Kathy•s• kindness and love for the animals here in Anguilla. The Anguilla Animal Rescue Foundation (AARF) in partnership with Teacher Shelagh Richardson conducts the competition each year at Road School. The students are asked to draw a poster and write a short description illustrating the correct way to treat animals with food, fresh water, shelter and love. There were 7 winners this year with each child receiving prizes from the memorial fund and AARF that included cash & beanie bear for all winners. The class winners also received an AARF t-shirt. The overall winner in addition to the previous prizes also received a copy of the book Paddy the Goat that Saved Rainbow Island by Jo-Anne Mason.
Overall Winner: Keri Richardson - Grade 3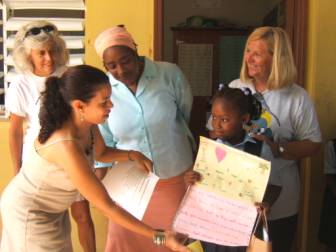 Keri Richardson receives her prize as overall winner of the Kathy Melby Memorial competition from Michelle Owen-Vasilis assisted by Suzie Donahue and Althea Turner.
Winners from participating classes were:
Trish Richardson - Grade 1, Samelia Connor - Grade 2. Dionne Laing - Grade 3 Jamesha Hodge - Grade 5 and TeMani Hawley and TeMarcus Hawley both received honorable mentions for their presentations.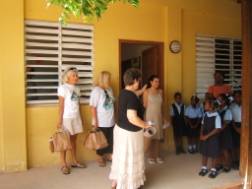 Teacher Shelia Richardson introduces AARF members to the Road School Students at assembly.
---
Can you help Little Pepper??
Pepper•s• owner has been notified that she can no longer have an animal in the apartment where she lives and she is desperately looking for a home for her. Pepper is a 6-year-old spayed Chihuahua who is playful, spirited, loyal, comforting, housebroken, quiet and loving. She is looking for someone to share her sunny disposition and give her a forever home. If you would like to meet Pepper please call Pat at 497 – 0138. Thank you
Updates on Teensie & Georgie Girl
April's newsletter featured two lovely adult dogs who were looking for news homes. We are pleased to report that Teensie has been given a second chance with her family Bethany and Jerry Riskin who are keeping close tabs on her "cat behavior"! We wish this the best and know Teensie is a lucky girl!
Georgie Girl and her "brother" a black cat named Ali were both placed in caring homes by their owners Graham and Delores Lowe who have returned to the UK. We thank those families that gave these two very deserving and well - loved animals a new forever home and wish the best to The Lowe's.
Foster Homes Needed:
Fostering gives an often frightened or abused or shy puppy or kitten an opportunity to be socialized and affords him/her a chance at a forever home that would not be available without the opportunity. If you are interested in fostering please let Amy know at 497-4600.
Harney's donates computer:
Heather Wallace office manager at HWS located in the Hansa Bank Building presented a computer and printer to AARF on Wednesday June 9th. The much needed computer will be used at Morlens Veterinary Clinic and will assist AARF in their record keeping. We thank Harney's for their generosity.
Spare Change Drive:
Our "Spare Change Drive" is on-going so don't forget to place those "heavy" coins and that extra cash at one of our locations! We would really appreciate your donations! The donation bottles, as well as our older boxes are located at the following establishments. Vinissimo, La Sirena, Straw Hat, Caribbean Cable Communications, Bartlett•s• Collections, Wallblake Airport, Christine Fleming's Mini-Mart, Ashley's Pet Shop, Best Buy, Anguilla Trading - South Hill, Lake's Grocery, MacDonna's & Sophie Dehove Hair Design.
Support our Sponsors:
We acknowledge and thank with much gratitude the following businesses for their contributions to AARF in 2005. We urge you to support them!
Funtime Charters Vinissimo Shaken Not Stirred Caribbean Cable Communications
Mango•s• The Pumphouse Lake's World Haskins LTD
Ashley's Grocery & Pet Stores Essentials Harney's
---
The Anguilla Animal Rescue Foundation (AARF) always needs members and joining us is not expensive and very rewarding! Memberships are vital to the life of the organization and all fees go directly to support AARF programs including animal care, free spay/neuter clinics and education.
Membership dues are:
Student (Under age 18) $10.00 EC / $3.72 US
Regular $25.00 EC /$9.30US
Senior (65 and over) $10.00EC/ $3.72US
Family $ 40.00 EC/$14.88 US,
Corporate $300.00 EC /$11.60US.
Lifetime memberships (one time fee) $500.00EC / $186.00US.
We are always looking for new members to support AARF fundraising events, assist at Morlens Veterinary Clinic or to help us with our ongoing spay and neuter project. If you would like more information on AARF please visit our website at www.aarf.ai, send us an email at aarfinfo@aarf.ai or call Amy at 497- 4600 or Suzie at 497-8177.
If you are interested in becoming a member you can obtain membership forms via our Membership page. Or you can get one at Morlens Veterinary Hospital in Sandy Hill, Monday through Friday from 9:00 am to 1:00 pm. Completed membership forms may be sent to: AARF, PO BOX RI 4228 Anguilla, BWI
---
This month we received a wonderful story from one of our frequent supporters Michael & Cynthia Raso who live in Virginia. Thanks Mike for all that you do for AARF!
Michael writes:
A little over two years ago I planned a surprise wedding for my wife-to-be, Cynthia. She knew we were going to an island, but had no idea I was going to propose, let alone get married. Luckily, she said yes and the wedding was wonderful. About two days into our trip we noticed three tiny kittens and one older cat hanging out at our back door. We didn't feed them for a while, but then gave in. They kept their distance but appreciated the food. About two days before we were going to return home to the States, the runt of the three came up to Cynthia and rubbed up against her leg. Right then I knew we were going to take a cat home with us! We took the ferry to St. Martin to get the proper carrier we needed to take "Guilla" home with us. Amy at the Morlens, said if we could catch the other two kittens she would find them homes. We did that and she checked out all three kittens and placed the other two. Guilla was great on the flight back and after a couple of weeks she became very close to our other cat, Bailey. Now the two are inseparable and they are too much! It's been two years and she has been fantastic. She is a great reminder of our special time in Anguilla. I would recommend to anybody visiting the island to rescue a cat or dog, if they are able to provide for the animal.
Guilla
---
Something to Think About ......
The Shy One

Hidden deep within her soul
a best friend lies in wait,
as passersby all but ignore
the shy one's frightened face.
Abused? Or was she born this way?
That's not the issue here,
attention to her past won't bring
the love she needs to heal.

The burning fear that clouds her eyes
reveals the painful truth,
that reaching out to trust
is something she alone can't do.

But if instead your loving arms
stretched out to her today
you'd be amazed at all the love
she yearns to give away.

If you take the time to hold
her face within your hands
and look into the frantic eyes
I think you'll understand...

It's not that she's a "problem" dog
nor one who's a lost cause,
it's simply that she needs someone
who won't see her fears as flaws.

You say you want a happy dog
who'll love you all your days?
Right here my friend is what you want
behind the mask of pain.

You hesitate...I understand
how cautious you must be.
It's too late now to change your mind,
she's coming home with me.

But in her place another waits
ignored by passersby,
the shy one with a heart of gold,
a best friend in disguise.
(By Terri Onorato)
---