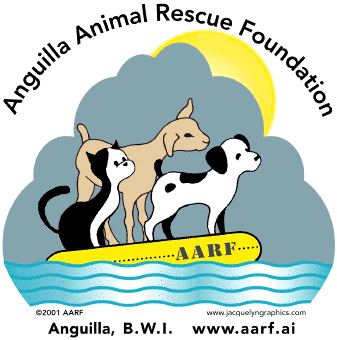 Newsletter
---
Volume 4, Issue 6 October 2004
---
The goal of this newsletter is to keep members and friends up to date on events and plans of the organization. If there is any particular topic you would like to see addressed in the newsletter, please send email to news@aarf.ai
IN THIS ISSUE
---
Education Committee Presents to Soccer Club
In the ongoing effort to spread the news of AARF and its goals, the Education Committee went on the road on August 28th to Webster Park in the Valley. There, members of the youth soccer club learned about animal welfare in Anguilla. Some 30 people including coaches, parents and students were in attendance.
Michelle Owen-Vasilis Asks Students Who Have Dogs and Cats as Pets to Raise Their Hands
Michelle Owen-Vasilis, Education Committee Chair, started off the presentation by asking for students to list the basic needs of their companion animals. Many students listed items such as food, water, shelter and love. Mrs. Owen-Vasilis also told them that like children and adults animals needed to see a veterinarian for annual check ups and vaccinations. She explained that a Veterinarian is a doctor who treats animals.
Students, Coaches, and Parents Watch AARF Presentation
The program was then turned over to Lynn Bartlett and her rescue dog Sarah. Lynn explained that she had adopted Sarah at just 6 weeks of age from The Anguilla Animal Rescue Foundation. Since that time Sarah has been a part of their family along with their two cats and she has been training in basic obedience and some very cute tricks. Lynn demonstrated Sarah's obedience skills including, sit, stay, and come.
Lynn Bartlett and Sarah Display Obedience Skills
Sarah also performed some of the tricks that Lynn has taught her such as roll over, play dead and counting. Sarah can add and subtracts and barks the correct answer. Treats are given as a reward and it seems Sarah loves cheese!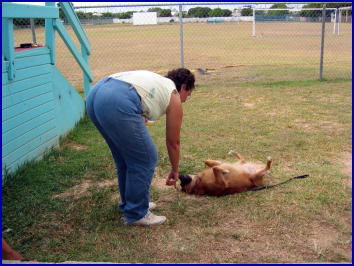 Sarah Displays Her Special Tricks and Gets Her Reward
Lynn explained that Sarah had been spayed prior to 6 months of age to prevent her from ever having a litter of puppies that may not find homes. She explained the importance of spaying and neutering your companion animals and highlighted AARF's free spay/neuter clinic for 2004. She told everyone that having a companion animal was a responsibility that should be taken seriously and that part of her daily routine with Sarah including long walks and lots of love. Lynn also told everyone that if they were looking to adopt a pet, AARF always has pets available to responsible loving homes.
Lynn Praises and Pets Sarah
At the end of the session participants were provided with handouts about diseases in our animal population and preventative care, the benefits of spaying and neutering, tropical weather care, animal care for both cats and dogs and AARF literature.
Student member Jaxson Arnold attended and observed the session as a new member of the Education Committee.
The Education Committee is happy to make presentations for your organization whether it be an adult or youth group. Presentations can be tailored to your needs. If you are interested in this type of presentation for your organization, please contact info@aarf.ai or the contact numbers below.
One of the major goals for the 2004/2005 year is to expand our education program and involve more volunteers especially those with a teaching background. If you are interested in helping out with the education committee and its programs please contact Michelle directly at 497- 5705 or 235-1254 or Lynn Bartlett at bartlett@anguillanet.com
---
AARF Participates in Reverse Auction
On Saturday September 25th, 2004 The Anguilla Animal Rescue Foundation teamed up with Second Chance Pet Adoptions of Cary, NC for their 4th annual Silent Auction for the Animals. The event draws over 300 persons to help support the foundation.
Display at Reverse Auction
AARF Executive Committee members solicited donations from very generous supporters on the island and we put together a 7 night trip for 2 that included the hotel, dinners, lunches and activities. The final auction price was US$2300.00 and under the agreement AARF receives 60% or US$1380.00. The balance will go to support Second Chance Pet Adoptions. The lucky winner was Kristin Lancaster!
The Executive Committee of AARF is aware that businesses are constantly receiving requests to support local organizations. We extend our sincere appreciation and thanks to the following businesses who supported AARF in this effort.
Shoal Bay Villas http://www.sbvillas.ai
Straw Hat Restaurant http://www.strawhat.com/
Roy's http://www.roysbaysidegrill.com/
Prickley Pear
Gorgeous Scilly Cay http://www.scillycayanguilla.com
Cliffside Riding Center http://www.news.ai/ref/riding.html
Anguilla Wellness Center http://www.massage.ai/
The AARF Executive Committee would like to thank Brian Darer, Treasurer of Second Chance Pet Adoptions, for facilitating our participation. We look forward to working with Second Chance on future fund raising initiatives.
---
Hurricane Victims Seek Support
As we all are painfully aware, this hurricane season has been a nightmare for many of our Caribbean neighbors and the residents of the state of Florida. Anne Ostberg of the Pegasus Foundation and the Caribbean Animal Welfare site, has been keeping us up to date on the status of our counterparts in the affected areas and ways in which we can help. In our most recent communications, Anne writes:
Note: the following section is outdated; the links are probably invalid.
I think these are the two best places to donate to the Caribbean animal welfare relief effort:
WSPA Caribbean Disaster Relief:
http://www.wspa-americas.org/disaster_relief_carribbean.htm
Humane Society International Disaster Relief Update and How to Donate:
http://www.hsus.org/ace/21570
Cayman Islands Emergency Response Fund:
http://www.snapus.org
WSPA is spending a great deal of staff time and providing a great deal of funding to assist Grenada and Jamaica (funding in the tens of thousands of dollars). They are also working to get supplies into Haiti.
HSI is operating on a much smaller scale (providing grants of one or two thousand dollars) but still providing much needed funding throughout the Caribbean.
SNAP, the organization operating the Cayman relief effort, is doing a great job at both fundraising and response. Their executive director has committed to spending any excess funds raised on other islands that may need it.
At this time, money is the best donation as there is not a good system in place yet to collect supplies and get them transported to the islands.
---
AARF Trap/Neuter/Release Partners
Sylvester at Shoal Bay Villas
As promised, AARF has undertaken a pilot program to deal with feral cats in the community and specifically at hotels. Over the years a variety of programs have been tried by various organizations to reduce the population of feral cats including trapping and euthanizing them. These programs were not successful. The currently accepted practice is Trap/Neuter/Release (TNR).
In many instances in Anguilla cats and kittens are removed (and possibly destroyed) from hotels in an effort to rid the properties of a growing problem... cats bothering guests, eating their food and pestering in the restaurants. In all cases there exists a facilitator who makes the numbers of cats grow. This person generally loves cats and feeds scraps or leftover's, workers who dump their food on the ground when finished or quite simply, trash containers that are not properly sealed. These actions provide a food source that maintains a certain population level. Research by numerous organizations including Alley Cat Allies has shown that once cats are removed from the food source a new batch will come in to eat it or if members of a colony are lost, birth rates will increase to fill the gap. The March 2004 HSUS/HSI conference in Dallas, TX, provided several examples where this approach was also used with feral street dogs with the same results.
Shoal Bay Villas Manager Kathy Haskins, agreed to participate with her colony this year. After doing much research, she has had success so far and will complete her group this fall. To learn more about the Shoal Bay Villas Colony click here.
Cap Jaluca has also agreed to participate in the program while the hotel is closed for the season. Thus far feeding stations have been set up in 4 locations where the two distinct colonies live.
Cap Jaluca Feeding Stations
Thus far one cat has been trapped of the estimated 25 that live on the property. More information will be provided as it is made available. Suzie Donahue is spearheading this effort.
First Cat Trapped at Cap Jaluca (male)
Our many thanks to both organizations for participating in this program and for helping these lovely feral cats stop the reproductive cycle.
---
These five week old mixed breed puppies were brought into Morlen's this week. The bath makes them look a little spiked but they are really cute. If you would like to adopt or foster any of these puppies, please contact Amy at 497-4600.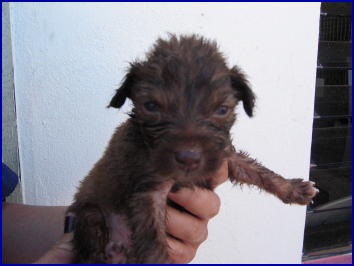 Lester (M) Chocolate (F)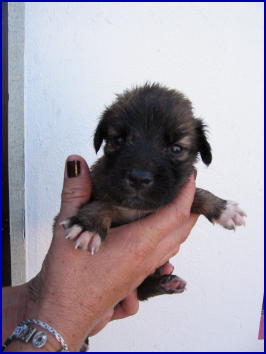 Socks (F)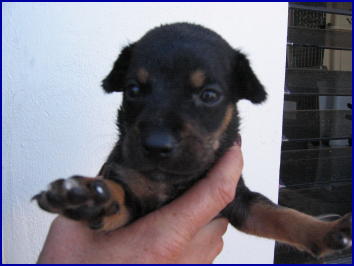 Josie (F) Sadie (F)
Penny Hope-Ross has three adorable 6 week old kittens that recently wandered into her yard with their mom. They are very friendly and are in great health. If you are interested in adopting one or all of these little cuties, please contact Penny at 497-0165.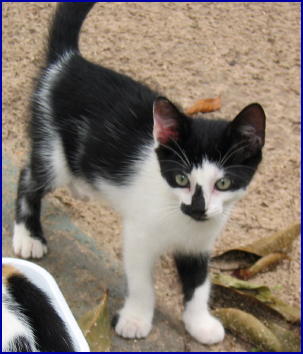 At approximately 3 months of age, Sylvester's socialization is coming along. He is a really adorable kitten and just loves to play. If you are interested in adopting this sweet little boy contact Kathy Haskins at 497-2051.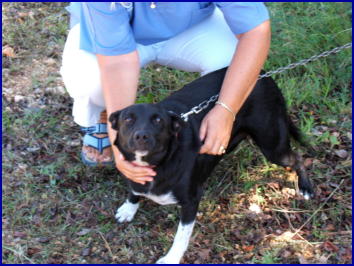 Judy and Susie are adult females approximately 2 years of age that have been spayed and are seeking homes with responsible and loving families. Both dogs reside with Mac Pemberton and are in great health and very friendly. If you are interested in making Judy or Susie a part of your life, please contact Mac at 235-6855. Possible adoption in progress.
Please contact Amy at Morlen's Veterinary Hospital Monday through Friday from 9:00 am to 1:00 pm to learn more about the puppies and kittens available for adoption.
BE PART OF THE SOLUTION... SPAY/NEUTER!
---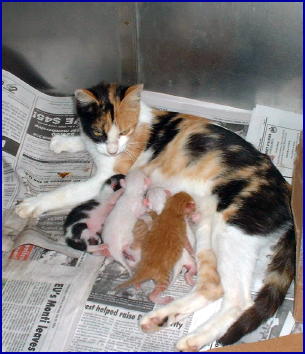 Cybil and her 6 little babies are currently in foster care and will be available for adoption in about 5 weeks. Many thanks to Bethany Riskin for fostering this little family.
---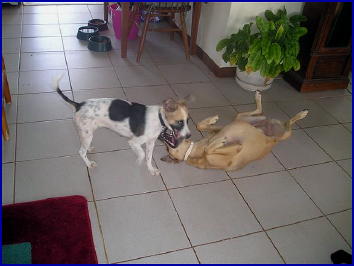 You may recall Lucy from the last two newsletters. She was brought in with her pups during the spay/neuter clinic in July. After Jackie Pascher fostered her for a few weeks, she knew it was a great match. Jackie states that Lucy clearly never had the comforts and socialization of normal dogs. She is now a happy girl who frolics and plays. She is shown here with her new family Samantha (brown) and Jimmy (black/white) who may just be a distant cousin.
Many thanks to Jackie for giving this wonderful girl a second chance and the love she deserves.
Liam was hanging out in the bush by Suzie Donahue's house from a little puppy. For 8 weeks she fed him and gained his confidence. Flea baths and shots made him a happy boy and he found a new home with Marcella here in Anguilla.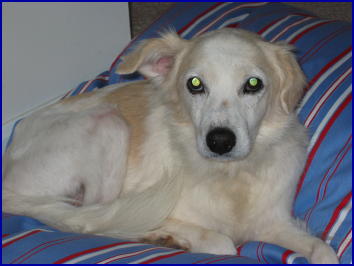 Shay at Clinic in Splint and in His New Home
Many of you may remember Shay as the mascot of our July spay/neuter clinic. He was found by Sherry Morrall by Ripples with a broken hip having just suffered extreme abuse by a local person. Shay flew back with Sherry on her return flight and underwent surgery to pin his broken hip by Dr. Dean Wallace. After several months of recuperation and treatment for heartworm, ehrlichia and skin rashes, Shay is a new man in a new home. It is nice to see him looking so healthy and happy. Everyone said it wasn't worth the effort but look how great he looks now. The Puppy Angels motto is One Dog at a Time. They proved it with Shay!
Jack the Dog (shown above) was dumped at Morlen's the day after our spay/neuter clinic finished in July. Tragically Jack was one of the first dogs neutered in the AARF July 2003 clinic. Jack was shipped off in the last group that went to Puppy Angels and has been treated for heartworm and ehrlichiosis. He is looking quite wonderful and will go to his new forever home this weekend.
If you have photos and stories of your rescued pets, please share them with us and our newsletter community. Contact info@aarf.ai
---
| | | | | | |
| --- | --- | --- | --- | --- | --- |
| Sep-04 | Admitted | 1 | 1 | 7 | 1 |
| | Adopted | 3 | 2 | 1 | 0 |
| | Euthanized | 0 | 0 | 0 | 0 |
| | Waiting Adoption | 0 | 0 | 6 | 1 |
| | Died | 0 | | | |
---
Fund Raising Event to Help Hurricane Victims
On Saturday October 30th, 2004 AARF will hold a fund raising day outside of Ashley's Pet to help the animal welfare groups of the Caribbean who have been devastated by the hurricanes of the season.
All proceeds will go directly to help these organizations recover. Stop by our booth between 10:00 am and 3:00 pm and lets help others who are less fortunate than ourselves.
---
After more than two weeks of being lost - Frankie has been found!!! Thank you all for helping us in our search to find her. Since our arrival back on Sunday all of us have been out searching desperately for her and yesterday I told Jacob that I think that she might be in heaven, and he told me, "no mommy she is near by." He then went up on our roof and said a prayer and at 6:20 this morning we got a call that she was found on Back Street. She is in great shape for being gone for such a long time and I took her to the vet this morning and everything checked out fine. We truly appreciate everyone's efforts in helping us find her. Jacob is so happy and he told me finding her is better than Xmas.
Thank you again,
Anne, Peter, Jacob & Kenny
& Especially Frankie
---
At our most recent meeting, Suzie Donahue shared this with our group. They are words worth reading.
We Are Their Heroes
Copyright © Jim Willis 2001, all rights reserved
If you worry that you have not made a difference, you have,
for only those who do not worry about it have not.
If you feel overwhelmed, if the weight of problems is too heavy to bear,
remember it is a shared burden
and the strength of numbers can accomplish much.
If you think society and government are blind,
it only serves to remind that we need to change
one mind at a time, one law after another.
We effect change by cooperation, not by isolation.
If you consider that we cannot save them all,
and what difference does one make?,
you ought to know the joy of the one who is saved.
Mourn those we cannot save, it is a eulogy to their being.
Do not let their loss be in vain.
Be kind to yourself, remember your needs
and those of your family and friends of every species.
If you give everything, what will you have left for yourself,
or for them?
Strive to be happy and healthy. You are needed.
Achieving balance in life is a lifelong struggle.
We who help those who do not have all that they need
should be among the most grateful for what we have.
Be proud of your accomplishments, not your opinions.
The quality of your efforts is more important than the quantity.
Forgive your own deficiencies - sometimes your caring is sufficient.
Everyone can do something, it is up to you to do the thing you can.
A kind word and a gentle touch can change a life.
If anger wells up within you, because people are the problem,
remember your humanity and that people are also the solution.
Concentrate on specific needs, pay attention to the individual -
they make up the whole.
See beyond the unlovable, the unattractive,
the impure and the wounded -
see that their spirit is as deserving as the rest. Help them heal.
Their eyes are windows to their soul
and the mirror of your sincerity.
All species, all beings, share this Earth in a chain of life.
Care more about what makes us alike than what separates us.
Policies, rules and regulations are not infallible.
Apply them judiciously, interpret them wisely.
No decision based purely on money is ever the right one.
Listen to your heart. Sometimes we have to do that which
we are most afraid of.
Be true to yourself and your beliefs.
Family may abandon you,
friends may disappoint you, strangers will ridicule you.
People shun what they do not understand.
Help them to understand - kindly, softly, gently.
Those who do not respect all life are to be pitied.
Often the wrongdoer is as in need of help as his victims.
Forgive, then teach by example.
Educate yourself or you cannot hope to teach others.
No action based in hatred is ever right
and anger drowns out wisdom.
Yours may be a voice crying in the wilderness,
make it a voice to be respected.
Listen more than you talk, be courteous and reliable.
Learn to ask for help. Never waiver from the truth.
Know that it takes a lot of strength to cry
And with every defeat, we learn.
All Creation celebrates that which is in its own best interest.
The Children are our hope - nurture them.
Nature is our legacy - protect it.
The Animals are our brethren - learn from them.
Your rewards will not be material, but they will be meaningful,
and the courage of your convictions can survive anything.
We are small boats cast adrift on a cruel sea,
but someday the tide will turn toward a safe harbor.
No matter how dark the storm clouds,
or deep the pain of heartbreak - never forget:
We are their heroes.
---