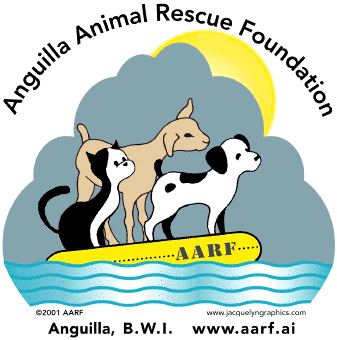 Newsletter
---
Volume 4, Issue 3 June 2004
---
The goal of this newsletter is to keep members and friends up to date on events and plans of the organization. If there is any particular topic you would like to see addressed in the newsletter, please send email to news@aarf.ai
IN THIS ISSUE
---
AARF "Flea" Market/Garage Sale - Volunteers Needed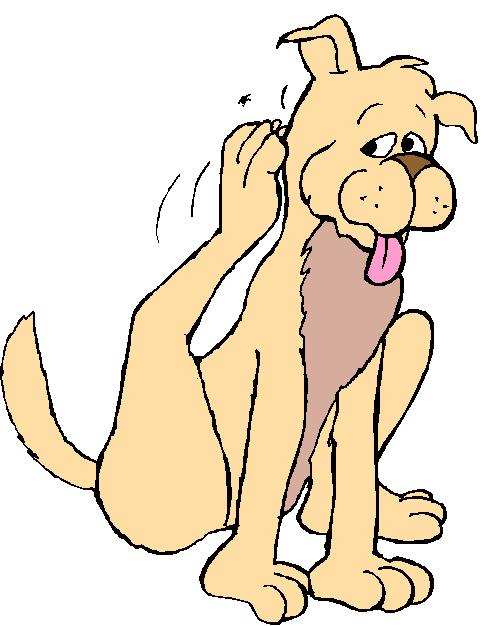 Saturday June 19th, 2004
Agriculture Grounds
10:00 am to 5:00 pm
We will be selling a variety of items new and used including kitchenware, computer supplies, clothing, household items, books, baby clothes, VCR movies, and much more.
Meet some of our adoptable pets seeking new homes.

Sign up for our Free Spay/Neuter Clinic July 3rd to 5th, 2004.
Also serving Chicken BBQ and drinks.
Bring your friends and come shop. It will be a fun day for all.
_________
We are still looking for donations of items to include in the sale. Drop offs may be made at Anguilla Techni-Sales or Morlen's Veterinary Hospital.
We will also need a large number of volunteers for this event. If you are interested in helping out with sales or any other aspect such as set up and clean up, please contact Chris Carty at 497-2419 or cacdesign@ anguillanet.com.
We will setup tents and tables Friday evening beginning at 5:00 pm at Agriculture.
---
Student Members Work Hard For AARF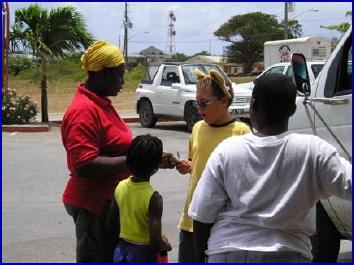 Jaxson and Rakev Selling Tickets
On Saturday May 1st, 2004 student members Clarissa Lloyd, Jaxson Arnold and Rakev Webster made an all day effort to sell raffle tickets and find new homes animals waiting for adoption. They were joined by Alexander Crabtree who was helping AARF as a part of his community service project for school. The first thing they did was sign up a new student member Michellina Meade who joined in the program for the day. The students were responsible for selling 23 raffle tickets and helping to find homes for 4 kittens and an adult dog. They were assisted by Chris Carty, Suzie Donahue and Jackie Cestero.
Jake made himself at home and found himself a great new family to live with
The day started at Ashley and Son's where Reuben Richardson (a.k.a. Rat) was kind enough to allow AARF to use his tent for the morning. The afternoon was spent at Albert's Marketplace. Many thanks to Lee Brooks and Suzie Lake for allowing AARF to use their premises and for their continued support of our programs.
Clarissa, Michellina and Jaxson compare sales
Jaxson has been busy for the last month selling raffle tickets in his neighborhood and around the island. Manned with his money box and a sign showing the raffle information or the option to donate, Jaxson sold 4 tickets and raised EC$70 in donations.
AARF would like to thank our dedicated student members for their efforts to support AARF and its goals
Keep up the good work!
---
After months of selling tickets the drawing for the 7 day southern Caribbean cruise raffle to support AARF was held on Saturday June 5th on Heartbeat Radio 107.5.
398 tickets were sold out of 500 printed.
First Prize: Greta Vanterpool, Scotia Bank Anguilla Ltd. - Ticket # 081
Second Prize: Ernest Bryan, East End Anguilla – Ticket # 452
Third Prize: Alan Gumbs, Rendezvous Bay Anguilla – Ticket # 254
| | |
| --- | --- |
| | Walter MacCalman and Greta Vanterpool winner of 1st prize Cruise Raffle Drawing with Jimmy Carter Elected Member and Suzie Donahue Secretary making the presentation |
| Suzie Donahue, Lisa Gumbs (accepting for her husband Alan) - 3rd prize winner, Greta Vanterpool - 1st prize winner and Jimmy Carter making the presentations | |
Our special thanks to DJ Sheriff and Heartbeat Radio for allowing us to hold the drawing live on the air and giving us an opportunity to provide information about AARF. Jimmy Carter, Jaxson Arnold and Rakev Webster performed the drawing starting from 3rd place and moving up.
DJ Sheriff in the control booth prior to the raffle
Congratulations to all winners!
The AARF Executive Committee would like to thank all those who participated in the raffle to help the homeless animals of Anguilla. Special thanks goes to Kathy Haskins who spearheaded the fund raising effort and paid for the printing of the tickets. We also thank all those who sold tickets including: Chris Carty, Suzie Donahue, Amy Williams, Jimmy Carter, Alex Ballin, Jackie Pascher, Jill Walker, Althea Lloyd, Avril Romney, Jaxson Arnold, Clarissa Lloyd, Rakev Webster, Alexander Crabtree, Michellina Meade, and Jackie Cestero.
Thanks also to businesses around the community that allowed us to sell tickets including the Anguilla Post Office, Ashley and Sons, Albert Lakes, Anguilla Techni Sales, Shoal Bay Villas, Taino Wellness Center, and Morlen's Veterinary Hospital.
Thank you to Cap Juluca Hotel for donating the free dinner at Pimms and The Gienger Family of Upton, MA for donating the DVD/VCR combo player.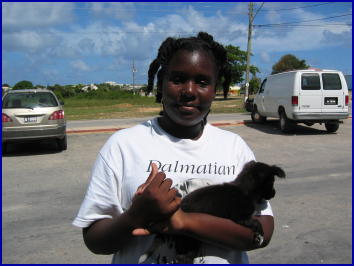 Student members Rakev Webster and Mitchellina Meade spend the last few hours prior to the raffle selling tickets and looking for suitable adoptive homes for 4 of AARF's homeless animals outside Ashley's Pet Store.
---
July 2004 Spay/Neuter Clinic Approaches
AARF will kick off the first free spay/neuter clinic for 2004 the first week of July. Puppy Angels has been busy retaining veterinarians and technicians to assist during this period. Sherry and John and all the gang will begin arriving in Anguilla beginning June 29th. Surgery will begin at 6:00 am on Saturday July 3rd and continue through Monday July 5th. AARF expects to provide surgeries to 200 animals during this period.
AARF members have already begun to sign up dogs and cats for this clinic. If you are interested in participating or know someone who would benefit from the free surgery especially those who can not afford such procedures, please use our spay/neuter application form and return it as soon as possible to:
AARF, PO Box RI 4228, Anguilla, BWI or drop the form by Morlen's Veterinary Hospital Monday - Friday 9:00 am - 1:00 pm
AARF will be seeking a number of volunteers to assist with the clinic. Please see below.
We are also seeking donations of many items to assist like newspapers! Click here to view our Wish List.
---
The Executive Committee of AARF would like to recognize and thank the following villa/hotel owners in Anguilla for offering their villas to visiting veterinarians and technicians who will be assisting with our July 2004 clinics:
| | |
| --- | --- |
| | Shoal Bay Villas |
| | Breezy Wind Song Villa |
| | Seaclusion Villa |
| | 18 Degrees North |
| | Ferry Boat Inn |
| | Tree Top Villa |
| | Bayberry Villa |
We would also like to thank Gayle Gurvey of Mycaribbean.com for facilitating this process and donating the maid fees for the villas that requested it.
---
Seeking Volunteers For July Spay/Neuter Clinic
To have a successful spay/neuter clinic, AARF requires a number of volunteers to assist with the program. We are looking for people to assist with the following tasks:
| | |
| --- | --- |
| | Animal Check in/out |
| | Pre and Post Op Care |
| | Animal Monitoring |
| | Animal Clean Up |
| | Animal Transport |
| | Disbursing/Discussing Educational Materials |
| | Discharge and instructions |
| | Running errands |
None of the jobs are glamorous nor do they pay well (US$0.0), but the rewards and the special feeling you get from helping the animals and interacting with your community is priceless!
If you are interested in helping with the program in any way please contact info@aarf.ai or Suzie Donahue at axasuzie@anguillanet.com. Remember you can work as often or as little as you like. Even an hour of your time would be greatly appreciated.
---
Campus B Students Donate to AARF
Students who ride Ms. Anita Richardson Otto's bus to and from Campus B are often faced with a dilemma. They most likely have forgotten their tie or their shoes aren't polished. So Anita came up with a plan for renting the things needed by students. She rents ties for EC$0.25 to any student who needs it. They money goes into a pot on the bus and Anita matches it with her own money. The money is then donated to local charities.
In May AARF received a box full of money in the amount of EC$104.00 from the Ms. Richardson Otto. She said she would normally change the coins into bills and give it but the children asked that it be given the way it was in coins. That way it would be really the children's money that was given not hers.
AARF would like to thank Ms. Anita Richardson Otto and her Campus B students for helping the homeless animals of Anguilla in such a special way. This is the second donation from this group. We really appreciate your ongoing support.
---
The AARF Annual General Meeting will be held on Wednesday July 7th, 2004 at 5:30 pm in The Teacher's Resource Centre. All members and friends are welcome to attend. We expect to have a number of the participants from our spay/neuter clinic as special guests. Light refreshments will follow.
As a reminder only members in good standing are eligible to vote in the elections. If you have not paid your dues please get the form from our membership page (in Microsoft Word or PDF formats) and return to to AARF as soon as possible.
Click here to view the Minutes of the 2003 AGM
---
Kathy Melby Memorial Education Project
Kathy Melby with her dog Speckles
In 2003 long time member and supporter of AARF Kathy Melby passed away. As a legacy to her commitment to animals, the family developed a memorial education program to be used at the Road Primary School. This program highlights the importance of caring for animals. US$500 was granted by the family to AARF to produce the program over the next 5 years.
Education coordinator Michelle Owen-Vasilis headed up the program with Road Primary School Teacher Sheila Richardson and a decision was made to do a poster project. The criteria for the poster was to include a picture/caricature of animals and an original slogan regarding animal care and welfare. The school supplied students with appropriate materials to make the posters in color on 81/2" X 11" size paper.
Students from the kindergarten and Class 1 participated in the program and there were 23 entrants. As an experienced artist Mrs. Vasilis judged the posters and the winners were announced at a school assembly on July 10, 2004. Prizes for the winners included an AARF T-shirt and the Overall Winner was given a copy of the book Paddy the Goat by local writer Joanne Mason.
Students Await Results of Poster Contest
Michelle Introduces the Winning Posters
The Winners of the contest were as follows:
Kindergarten: Yennifer Gumbs
Runners Up: Te Mani Hawley, Hasani Hennis, Rushion Phillip
Overall Winner: Carlan Romney
Carlan, Rushion and Hasani
Congratulations to all the winners. We look forward to even greater participation when the program resumes in the fall. The winning posters are shown below.
Yennifer Gumbs
Te Manu Hawley and Hasani Hennis
Rushion Phillip
Carlan Romney
We hope to display the posters in the Library shortly.
---
Art is a 6 to 8 week old male puppy found by Savannah Gallery. Frank brought him in yesterday and boy is he a cutie! Art would make a great family pet.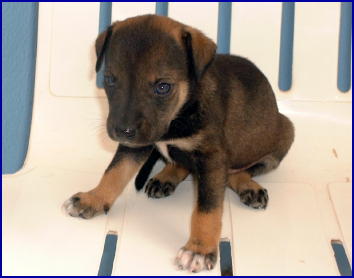 We currently have 6 kittens available for adoption. They are approximately 8 to 10 weeks of age and so cute!
Mittens, Tiger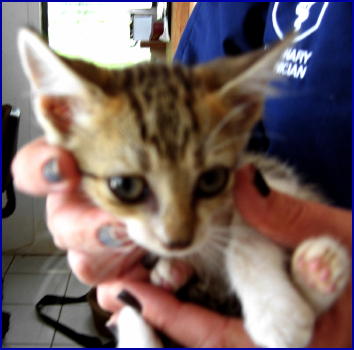 Meow and Snowy
If you are interested in adopting one of these wonderful pets, please call Amy at 497-4600 Monday through Friday from 9 am to 1 pm or stop by.
---
Reggie shows off his lovely pups

Madeline Kelly Pierz of Sur La Plage on Meade's Bay found 12 puppies dumped behind the West End School. They were very young with no apparent mother to feed them. So she brought the littlest 2 home and tried to feed them with a dropper. Then her assistant Reggie Mongerie went to pick up the rest from the school. They proceeded to feed them and get them healthy as best they could. With 7 pups left of the original 12 (2 adopted) they are very proud of their good work. As Reggie says "whoever gets these puppies will be very lucky because we have taken good care of them and they are healthy." "When I went to pick them up and put them in a box no one even asked what I was doing."

4 of the puppies flew to Puppy Angels May 21st to a very new life.

In the meantime, Madeline has taken on responsibility for fostering 4 two week old kittens. They are back to dropper feedings.

Many thanks to Madeline and Reggie for being great foster parents to these wonderful little animals!
---
"2C" (for Second Chance) Finds Home in Wyoming

Greetings from JACKSON HOLE Wyoming...USA...Mari and Chris want to thank Amy, Claudia and Dr. Vanterpool, for all their help. We adopted "2C" on April 6 or so and brought him back to the Tetons to meet his new furry friends...Smooch a/k/a "Sparky" our 6 year dog old mix...Zip a/ka/a "trouble" and Tux a/k/a "Thunderbell" our two black cats...along with Moose, Deer, Coyotes, Elk and lots of other critters in the neighborhood...needless to say he is doing well...two days in the crate on AA from WALLBLAKE to SALT LAKE CITY & 5 hour drive was a bit much ....he terrorized the towels at the Wyndem Hill Hotel in Miami on the layover...he had his first taste of snow today..fresh 3 inches...he kept asking us today to remind him why we took him from an 85 degree beach with trade winds and soft sand to wet blowing snowstorms at 6,500 feet MSL....especially when he has the beach hair cut...and is not accustomed to the altitude!.

_____________________

Mari and Chris have shared these great photos with the mountains in the background. 2C continues to grow and do well in his new home. Many thanks to Mari and Chris for sharing your story and really giving 2C a second chance!
Kathy with Miguel (Brown/Black), Pupito (Black and White) and Shy Pupero (beige)

After fostering Miguel for many months and trying to gain his confidence Kathy and Raymon Haskins decided they couldn't give him up. He is now a permanent member of the Haskins family and joins her other two rescue dogs Pupito and Pupero as well as the family of cats.

This family is no stranger to the rescue business and are constantly scooping up those who are dropped and left homeless at the Corito Dump.

Kathy has also been working tirelessly to support our cruise raffle by selling tickets all over the island.

Thanks to both Kathy and Raymon for all you efforts on behalf of the homeless animals of Anguilla and for giving Miguel a wonderful home.
If you have photos and stories of your rescued pets, please share them with us and our newsletter community. Contact info@aarf.ai
| | |
| --- | --- |
| On Saturday June 5th Selina Tulsie and family adopted Fluffy into their home. Fluffy is an 8 week old female puppy who will be entered into the July spay/neuter clinic. Thanks Selina for giving her a great new home! | |
---
May 2004 Transport to Puppy Angels
On May 21, 2004 Althea and Bob Turner flew off to Isla Grande Airport in Puerto Rico with 10 AARF rescue animals on board. They were off to their daughter Breeze's graduation and made the stop along the way at no cost to AARF. They were met at the airport by volunteers who transported the pups to San Juan airport and an awaiting American Airlines flight to Boston. The flight was compliments of Save a Sato in Puerto Rico and the entire lift was facilitated by Ronda Cates Moren of Second Chance Rescue.
Ronda gave birth to her new son Cole that night. Congratulations on your new bundle of joy!
AARF would like to thank all those who participated in this rescue especially Bob and Althea Turner and Chris Carty, Amy Williams, Save a Sato, Second Chance Rescue and of course Puppy Angels. Below are some photos of the happy event along with adoption photos. All animals except one adult have been placed in new and loving homes. Buddy is currently undergoing treatment for ehrlichiosis and will find a new home soon.
Many thanks to PA and all the adoptive families who shared their photos and stories.
| | |
| --- | --- |
| | Bob and Althea Turner with volunteers in Puerto Rico |
| | |
| | |
| --- | --- |
| | These puppies take the entire trip in stride. |
Buddy and Roxi Enjoy Life at Sherry and John Morrall's Home
Adoptions here and above. It is amazing how the adult dog and puppy have the same colors!
Roxi was found in the bush by the Turner's and a friend. She was very shy but slowly acclimatized to people. Here she finds her new happy home.

How do they always end up on the couch?

Callie (formerly Roxi) with her new kitty friend Newman

Hi!

This is Kris, I adopted (Roxie) now Callie, from you. We just love her. She is the sweetest thing in the world. I was wondering if you have her rabies certificate so I can register her at Town Hall? I may just need the paperwork that you gave me, but I was uncertain.

She has had her check up, stitches checked, heartworm medication(12 months supply instead of 6) and has a clean bill of health. She is so smart. She dances at the door when she needs to be walked, sits nicely for a treat, walks right beside you on her leash. We could not ask for a better dog! She sleeps in my bed and does not budge until about 6am. Greg and I take her for about three walks a day and in between she just goes on the leash in the meadow near the house. She is has a great life and we are so lucky to have her---thanks again! Kris
Another adoption and Denise Lebrie of PA cuddles one of the little pups
And finally this little Anguilla puppy formerly Victoria now Nina has her own web site! (Note: as of 2013, the web site has disappeared)
Hi Sherry,

I know it's been a couple of weeks, but I wanted to send you a picture of the Manny (previously Brutus). He is doing great and gets to play with his sister, Nina (previously Victoria) fairly often.

Thanks again, we love him and are so happy he's now a part of our family!

Kelly Zerveskes
---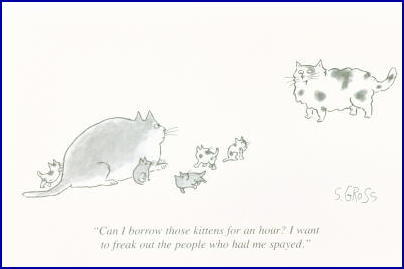 Thanks to Suzie Donahue for sharing this bit of humor. With spay/neuter coming up it is so timely.
---
| | | | | | |
| --- | --- | --- | --- | --- | --- |
| | | Puppy | Dog | Kitten | Cat |
| Apr-04 | Admitted | 8 | 1 | 7 | 0 |
| | Adopted | 2 | 1 | 5 | 1 |
| | Euthanized | 0 | 0 | 0 | 0 |
| | Waiting Adoption | 9 | 1 | 10 | 0 |
| | | | | | |
| May-04 | Admitted | 11 | 1 | 1 | 0 |
| | Adopted | 15 | 2 | 10 | 0 |
| | Euthanized | 5 | 0 | 0 | 0 |
| | Waiting Adoption | 0 | 0 | 1 | 0 |
---