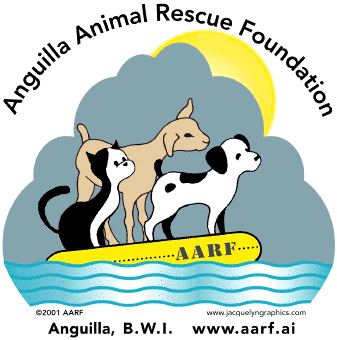 Newsletter
---
Volume 4, Issue 7 December 2004
---
The goal of this newsletter is to keep members and friends up to date on events and plans of the organization. If there is any particular topic you would like to see addressed in the newsletter, please send email to AARF News
IN THIS ISSUE
---
We wish all our members, volunteers and friends a very happy holiday season. Many thanks to all those who have contributed so much to AARF during 2004. We could not have accomplished all we did this year without your support!
We look forward to your continued support in 2005!
---
AARF Participates in Soroptimist Christmas Fair
Once again AARF participated in the Soroptimist Christmas Fair at Government House. This year a number of puppies and kittens were brought along for adoption. This was a major attraction for both young and old. As a result of this event 10 puppies were adopted to new homes in Anguilla.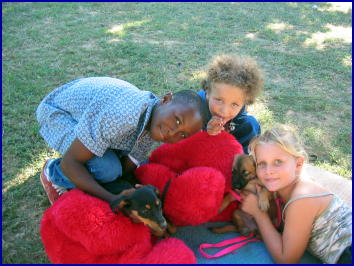 Many thanks to our volunteers for the day Jackie Pascher, Gayle Gurvey, Jaxson Arnold, Clarissa Lloyd, Becky Tooland, Althea Turner, Chris Carty, Rakev Webster, and Helen Huckle for their hard work throughout the day. Also many thanks to the staff at Anguilla Techni Sales for tent set up! And to Amy Williams for getting our puppies ready for their big day.
Volunteers Gayle Gurvey, Clarissa Lloyd and Althea Turner
Here are some photos of our adoptable pets with their new caretakers! We wish you a long and happy life together and many thanks for giving our little friends new and loving homes!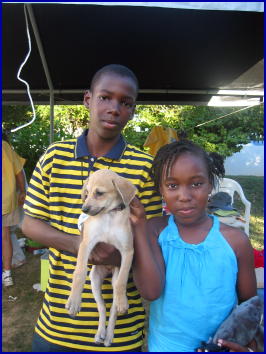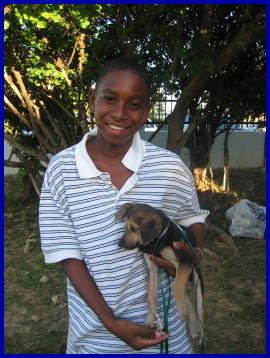 ---
The Midnight Express Flies Again
On November 10, 2004 sixteen adoptable pets including 12 puppies, 2 adult dogs and 2 kittens flew to Puerto Rico and on to Puppy Angels in New Hampshire for adoption. Once again Bob Turner provided transportation on his plane to Puerto Rico.
Refueling plane in Aguadilla as pups await transport
Here are some photos of the puppies at adoption time in New Hampshire.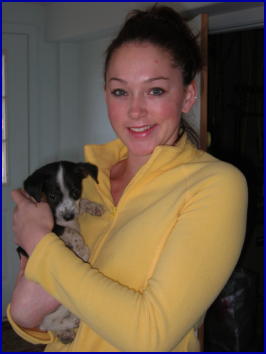 ---
Look What We Brought Home From Anguilla
If you are looking to make your next vacation to Anguilla a memorable one then look no further than helping the Anguilla Animal Rescue Foundation (AARF) (www.aarf.ai) transport animals to the United States. We recently had the pleasure of bringing back 6 female puppies ranging from 9 weeks to 12 weeks old. How did this adventure come about for us? It was simple. One day while surfing the Internet, I came across an article about the need for assistance in bringing puppies from Anguilla back to the States. I learned that there is a group in New Hampshire called Puppy Angels (www.puppyangels.com) who work with AARF. With one email to Sherry and John Morrall of Puppy Angels our memories of Anguilla are even better than we ever imagined.
What do you have to do to help? It is simple. Just email AARF Information to let them know that you are willing to help and when you will be arriving. In the meantime, call your airline carrier to make reservations for the return flight home. We made reservations for the two of us to carry on a crate and for two crates to go into cargo. Once we arrived in Anguilla we kept in contact with Jackie Cestero to find out about how many puppies would be coming with us and what time we should meet at the ferry.
Transporting the puppies from Anguilla to Saint Martin was easy. Having 4 crates with 6 puppies will get you a lot of attention. We were amazed at the number of people who stopped to ask about the puppies, asked how to adopt puppies or asked if we needed help with them. No matter where we were people would stop to admire them. This gave us a chance to educate people about rescuing the dogs and to give them the names of AARF and Puppy Angels. In Saint Martin , we even got an invitation to stay with another couple next year who are involved with animal welfare for that island.
When we arrived at the airport everything went smoothly. Once we filled out the paperwork we found a cool spot to give the dogs some water and to wait for boarding. Reluctantly, we had to place 2 of the crates, containing 4 of the puppies, in cargo but not until we got reassurances that the puppies would be okay. Once those puppies were all set we went to wait at the gate to board with the 2 other puppies.
Our connecting flight was in San Juan and that meant going through security with the puppies. After we cleared Immigration, the airlines had a young man waiting to assist us and we collected the cargo puppies. All along the way, the puppies had admirers. Once security physically checked each puppy we were all set. We made sure all the puppies were fine and sat with them until it was time to board. We had to give the four puppies that were flying in cargo to the airport personnel and we proceeded to the gate with the two puppies we were carrying on with us. We met other people who were traveling with their pets and the airline only allows so many pets per cabin and in cargo. That is why it is important to make reservations for the puppies as soon as possible.
The two puppies that we took on the plane sat underneath the seat in front of us. For most of the trip home they slept but there were a few times they wanted to play. They kept us amused and we kept them entertained by allowing them to teethe on our fingers.
Once we arrived at Logan , John Morrell from Puppies Angels was waiting for us and welcomed the puppies. We were sad to say good-bye to our traveling companions but were delighted that the puppies were going to new homes for the holidays.
Our memories of Anguilla are always wonderful, however, this time they are extra special thanks to 6 little bundles of fur. Helping AARF and Puppy Angels made our vacation all the more memorable and knowing that these 6 puppies, and possibly other puppies, are going to new homes is a great way to end the year. As long as help is needed in transporting puppies, you can count on us to never leave Anguilla without puppies.
Happy Holidays!
Cathy and True
The above account is from Cathy Ard and her husband True who recently volunteered to take back our homeless puppies to Puppy Angels. The AARF Executive Committee extends many thanks for your assistance with this group of puppies.
---
Mike Rasso shares photos of Guilla. She was adopted here in Anguilla during their honeymoon two years ago in October. As you can see, she has a wonderful home. Congratulations to the Rasso's on their anniversary!
Following are photos shared by Sherry and John Morrall of puppies who traveled to Puppy Angels for Adoption. They speak for themselves for sure! Thank you for sharing these special holiday moments with us.
Brodi's First Christmas
Peanut and Jaluca Christmas 2004
Jack and Ginger Share a Special Moment
Chrissy's First Christmas 2004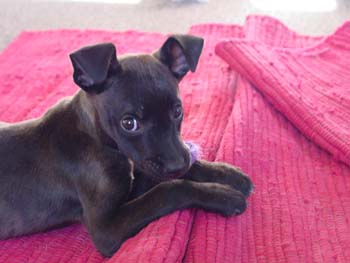 Emily Enjoys Her Rug
Cloe Relaxing in Her Home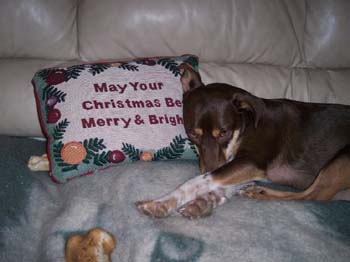 Callie's First Christmas - Napping is Perfect!
If you have photos and stories of your rescued pets, please share them with us and our newsletter community. Contact AARF Information
---
On Saturday December 18th, 2004 AARF held an adoption day across from Ashley's. A total of 8 puppies were taken and 6 were rehomed here in Anguilla. The remainder are currently in foster care with Sandra Wallace awaiting adoption.
Our many thanks to Ashley's for once again allowing us to use their facilities to help find homes for our adoptable pets and our volunteers for the day Suzie Donahue, Althea Turner and Chris Carty.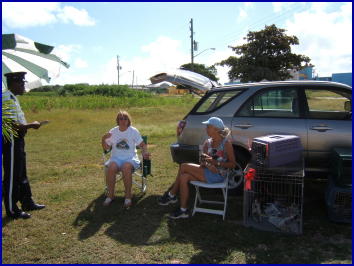 Special thanks to Sandra Wallace for fostering the little ones who need special attention and giving them a second chance at adoption! We would also like to thank Chris Cutler for paying for boarding of the puppies while they were at Morlen's Veterinary Hospital.
---
Maggie's Adventures in St. Martin
Suzie Donahue with Maggie and her new caretakers Steve and Angela Stanczyk on Adoption Day
In November of this year Maggie found her new home with Steve and Angela (shown above). Her adventurous trip home is fully detailed in the article below.
http://host.madison.com/ct/?ntid=18954
Here is Maggie with her new best friend Webster. Certainly she is a very lucky girl!
Maggie in Dog Bed with New Friend Webster
---
Suzie Donahue Spay/Neuter Committee Chair reports the completion of 268 surgeries through December 2004. A breakdown is shown below. It is expected that the balance of surgeries will be completed to fulfill the grant in early 2005.
Our many thanks to committee members Chris Carty and Amy Williams for assisting with this project. We would also like to thank Joanne Davies for volunteering on a weekly basis to help with the clinics and Sylvia McMeen for assisting with kennel clean up. Also Jackie Pascher, Jaxson Arnold, and Clarissa Lloyd for their assistance. As always thanks to Morlen's Veterinary Hospital for working to complete the surgeries.
| | |
| --- | --- |
| Surgery Type | Total |
| Dog Spay | 109 |
| Dog Neuter | 76 |
| Cat Spay | 34 |
| Cat Neuter | 49 |
AARF once again extends special thanks to The Pegasus Foundation and Puppy Angels for supporting our free spay/neuter clinics in 2004. Without your help, this work would not be possible.
---
| | | | | | |
| --- | --- | --- | --- | --- | --- |
| | | Puppies | Dogs | Kittens | Cats |
| Oct-04 | Admitted | 27 | 1 | 0 | 0 |
| | Adopted | 16 | 0 | 2 | 0 |
| | Euthanized | 7 | 0 | 0 | 0 |
| | Waiting Adoption | 4 | 1 | 4 | 1 |
| | Died | 0 | | | |
| | | | | | |
| Nov-04 | Admitted | 16 | 1 | 6 | 0 |
| | Adopted | 16 | 2 | 6 | 1 |
| | Euthanized | 1 | 0 | 0 | 0 |
| | Waiting Adoption | 3 | 0 | 4 | 0 |
| | Died | 0 | | | |
| | | | | | |
| Dec-04 | Admitted | 27 | 0 | 1 | 0 |
| | Adopted | 21 | 0 | 5 | 0 |
| | Euthanized | 6 | 0 | 0 | 0 |
| | Waiting Adoption | 3 | 0 | 0 | 0 |
| | Died | 0 | | | |
---