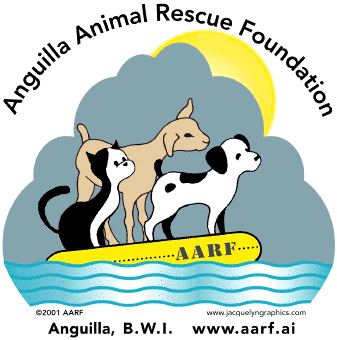 Newsletter
---
Volume 4, Issue 2 April 2004
---
The goal of this newsletter is to keep members and friends up to date on events and plans of the organization. If there is any particular topic you would like to see addressed in the newsletter, please send email to news@aarf.ai
IN THIS ISSUE
---
Officers Participate in HSUS/HSI Conference in Dallas, TX
On March 9th, 2004 Chris Carty (Vice President) and Jackie Cestero (Treasurer) traveled to Dallas, Texas to attend The Humane Society of the US (HSUS) and Humane Society International (HSI) Annual Expo. A grant that covered registration fees for the conference was provided for both attendees by the HSI. As we were primarily part of the international program of the HSI, we were in the company of over 50 attendees from various countries around the world.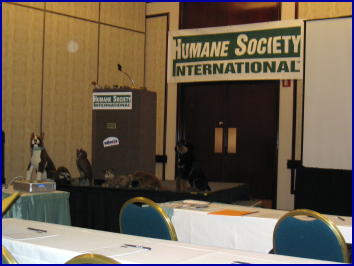 The conference was very broad based and included information on topics such as humane capture of animals, Trap/Neuter/Release Programs, working with Legislation to improve animal welfare laws, marketing your programs and humane slaughter. We also had one day during which we attended open forums through HSUS including improving educational programs, keeping a successful volunteer program and the perils of dangerous dogs.
AARF was fortunate to be one of a few organizations selected to participate in a marketing program during our stay in Dallas. The program included professionals from the Yudisthira Bali Street Dog Program. The benefits to our organization are many and will definitely improve our community exposure.
The last day of the Expo included a visit to two local municipal shelters and the HSUS Low Cost Spay/Neuter Program. We learned first hand how difficult it is to deal with shelters that handle 20,000 to 40,000 stray and homeless animals per year.
At the end of our visit we were energized with new ideas and ready to apply what we learned here in Anguilla. We realized that we have many of the same problems that other communities do and we are not alone. Most importantly we felt that there were so many communities with much greater problems than we have here in Anguilla. In places like Mexico City and Jaipur, India there are between 2.5 and 3 million street dogs alone. This does not include owned and community dogs. In many ways it makes us see that we have an opportunity to make a real change in Anguilla and make our Island Nation a model for the Caribbean with regard to animal welfare.
Following are pictures of some of the locations we visited along the trip.
Presentation on humane slaughter issues

Marketing presentation

Prairie Paws Adoption Center

This state of the art shelter has only been open for 6 months. It reinvented itself from a standard municipal shelter and changed its name to an adoption center with a new attitude. In the 6 months since it opened in a park setting, their adoption statistics have increased from 20% to 54%. They handle between 16,000 and 20,000 animals per year. There is no veterinarian on staff but they may take animals to outside practices if necessary.

The state of the art cattery provides play areas as well as isolation areas for cats and kittens. No dogs allowed!

State of the art cage systems allow for in floor drains and doors between cages so that animals can move from one cage to the next without being touched for cleaning. Every cage has its own special bed for comfort. Like every shelter there are the same share of pit bulls seeking new homes. In this shelter special care is taken when placing a pit bull including a home visit and letters of reference. Temperament testing is also performed.

Next Stop The Greater Fort Worth Municipal Shelter

This shelter is 15 years old and is looking to expand its facilities in the near future. They handle between 30,000 and 40,000 animals per year with a very low adoption rate. The great thing about this shelter is once an animal is identified as being adoptable it is kept until it either finds a home or gets sick and must be euthanized. Animals are separated by size so smaller dogs and puppies have their own locations. They also work with local animal rescue organizations to find homes for animals especially in the case of specialty breeds. There is no veterinarian on site at this shelter either.

A small breed dog waits hopefully for new adoptive parents.

One of the shelter's many animal control vans parks safely inside the garage to allow removal of the animal to be registered.

The HSUS Low Cost Spay/Neuter Program

Sponsored by the HSUS and partially funded by a wellness clinic adjoining, this clinic provides spay/neuter surgeries to anyone who comes through the door. No surgery is over $45.00 including pregnant females. The clinic next door provides low cost basic health care including preventative care and even heartworm treatment. Caregivers are required to take the animal home and provide the basic care themselves along with detailed instructions and a phone number for night emergencies. No animals are housed overnight.

A dog waiting for his owner to pick him up post surgery.

The pre surgical prep and anesthesia areas

Surgical areas

The Practice Manager and the Staff Technician discuss the procedures and the benefits of a heated blanket to maintain an animals body temperature during anesthesia
---
Time is soon approaching for our cruise raffle drawing. This is a major fund raiser for 2004 to help support our spay/neuter and animal welfare programs.
AARF would like to thank Jane and Gary Gienger and Family of Upton, Ma. for their donation of the DVD/VCR Combo player. We really appreciate your support of our programs!
Caribbean Cruise Raffle to benefit The Anguilla Animal Rescue Foundation (AARF)
and its ongoing programs including free spay/neuter clinics.
First Prize: 7 Day Southern Caribbean Cruise for Two* on Carnival Cruise Lines. Beginning July 10, 2004 leaving from San Juan , PR. Includes Round Trip Airfare from Anguilla to San Juan , PR.
Stops include: St. Thomas , Antigua , St. Lucia , Dominica , La Romana, San Juan .
Second Prize: Dinner for Two at Cap Juluca•s• Pimm's Restaurant
Third Prize: A DVD/VCR Combo Player
Ticket Price US$25.00
Drawing: May 31, 2004

*Prize includes the cruise and airfare only. All other expenses are paid by the winner. All meals are included in the cruise. At least one traveler must be 25 years of age or older.

Tickets are available at the following locations:

Morlen•s•

Veterinary Hospital

Anguilla Techni Sales

Shoal Bay Villas

Ben and Dolly•s• Furniture

Or contact info@aarf.ai

MasterCard and Visa accepted!
---
As a reminder, Annual Dues for AARF were due on March 31, 2004. Annual Membership dues are an important part of our funding that supports the ongoing care of the homeless animals of Anguilla. We look forward to your ongoing support of our programs. Click here for our Membership Renewal Form.
We will also be at the Anguilla Post office Tuesday April 6th from 8:30 am to 3:00 pm if you want to pay your dues at that time.
---
Time to Renew Your Dog License
April is Dog Licensing month in Anguilla. All dogs 4 months of age and older are required to be licensed by the Government of Anguilla. Fees are payable at the Treasury in the Valley. Once the license fee is paid, a tag with the current year and a number will be provided to the caretaker. The dog is required to wear the tag at all times to be in compliance with the law. Animals not displaying current license tags are at risk of being confiscated.
The tag is also useful if an animal is lost, as the caretaker can be traced through the tag. AARF recommends that you identify your dog with a personalized tag with pet name, owner name and telephone number in addition to the license to improve the animals chances of recovery.
There has been a lot of confusion regarding when you can license your dog. Although April is the month for renewal of license tags, dogs may be licensed any time during the year. Therefore if you obtain a new dog or your puppy reaches the age of 4 months at any time during the year, you are required to license the animal. Licenses are sold throughout the year in the same location.
The poster below outlines some of the important features of the Dog Act 2001 including licensing and leashing of animals.
---
The new shirts are in stock at Bartlett's Collection. Make sure you stop buy and get one before they are gone! We have already asked for a second printing. Many thanks to Caribbean Silk Screen for their hard work on our shirts as well as Jackie for a super design!
---
One at a Time - A Week in an American Animal Shelter
This book was featured at the HSUS/HSI Expo 2004 at one of the many interesting booths. It is a heartbreaking book that traces the lives of a number of animals in one shelter during a typical week. The stories are the same, they are found abandoned on the street looking for food or their owner, or they have simply been surrendered for all the "right" reasons. Either way they end up in the same place, confused and looking for someone who will give them a second chance and a permanent home. In many cases that never comes.
The book also points out the stress that is inflicted on shelter workers who must deal with the tragedy day in and day out when they are asked to do the unthinkable to those they have chosen to care for.
It is a difficult read but a worthwhile one. Perhaps everyone who gives up their animal either by dumping it on the street or taking it to a shelter should be forced to read it and rethink what they have done.
Buy a box of tissues before you start.
It is available on Amazon.com at the following link Here you will find further reviews of the book.
---
Pets Currently In Foster Care Await Adoption
Our list of adoptable animals is always changing. Check Dogs Available for Adoption and Cats Available for Adoption for current information. Don't forget that fostering is a big key to our success. If you are interested in helping out contact info@aarf.ai
| | |
| --- | --- |
| | Trixie was given a second chance at finding a new home. She is currently in foster care with Tracy Heppel until July. She is a sweet old girl approximately 4-5 years old with a lovely temperament. It is unclear if she has had preventative heartworm so we would suggest that she be tested. |
| | |
| --- | --- |
| Paige is an approximately 6 week old female puppy currently in foster care. She is in great health and has lots of spunk. If you are interested in adopting this lovely little girl, contact 497-4600 or 497-5024. She will be in foster care until mid April. | |
This is our group currently being taken care of at Cocolobo. Coconut (M) and Callie (F) are become more socialized and await surgery dates.

Mary is a third member of the group who surfaced a few weeks ago. She is much more feral but Suzie is working on her. If you are interested in adopting any of these lovely cats, please contact Suzie Donahue at 497-8177.
Marie Helen Batisti is fostering 3 litters of kittens from her semi-stray population. Currently 6 kittens of the 3 litters are available for adoption at approximately 6 weeks of age. These kittens have been very well cared for and are fairly well socialized. The love to romp and play and would make great pets in a new home. All kittens are female and are able to eat dry food. The other 2 litters are still young and will be photographed and made available for adoption as soon as they are ready to go. Please contact 497-5045 regarding adopting any of these adorable kittens.
| | |
| --- | --- |
| Sadie | Sugar |
| Tess | Trudie |
| Casy | Claire |
| | |
| --- | --- |
| This 6-7 month old male is reluctant to be social but is trying very hard and is especially close at food time. He is currently in foster care but will be moved to Morlen's in the next week. He is really lovely and with some socialization and love he would make a great new friend. If you are interested in working with or adopting Toby, please contact info@aarf.ai | Toby (Blackie) |
---
Gypsy Rose Lee is shown here while in foster care in New Hampshire. She was fostered by a specialist in abused dogs and adjusted well. She was sent to her forever home with a new family on March 26th. We await photos with her new family.

Many thanks to Kathy and Raymon Haskins for saving her from sure death at the dump, and Ellen Lee for giving her a foster home and lots of love here in Anguilla. Without your time and patience these photos would not be possible.

Gypsy and her new friends from Second Chance Rescue play happily at Puppy Angels in New Hampshire.

Further thanks to Sherry and John Morrall for having the patience to deal with our somewhat difficult little rescues. What would we do without you!
This great holiday photo is of Makita (formerly Celia). She went to Puppy Angels in January of this year and on to a wonderful new home along with her new companion Deno. It doesn't appear that she is too spoiled. What an angelic face!

Many thanks to Melissa and Sherry for sharing this great moment with us.
Ezra Jane (formerly Kelly) was adopted in December 2003 by Mary Walter. We recently received this picture of her and her story. She now lives happily with 3 other cats (Sherman, Ernie, and Buffy) as well as 2 dogs (Hund and Bert). At night she sleeps under the covers next to Mary. What a lucky girl.

We wish Ezra all the best in her new home and many thanks to Mary Walter for making her part of such a special family.
---
Local Puppy Gets A New Home in the USA
Amy, Mazy and Claudia
On a recent trip to Anguilla, Claudia was sent on a mission. Her friend in Martha's Vineyard had seen a puppy named Mazy on our web site and she wanted to adopt her. Mazy was living around a residence and was not really socialized. It was Claudia's job to get her to a new home in the US. Claudia spent some time with Mazy who had been hit by a car the week before. She managed to get a wag of the tail and that was it. Mazy will fly off to her new home on April 3rd.
Claudia is an animal lover and carried two of her own dogs with her on vacation.
We thank her for her exceedingly generous donation to AARF and for helping to facilitate Mazy's trip to the States and a new forever home.
---
In our last newsletter we announced funding for our free spay/neuter programs for 2004. The 2004 registration form is available here. If you know of individuals with pets in need of surgeries, please encourage them to participate in our program. As we did last year, we will rely heavily on community support and encouragement of our programs. Tentative dates for our clinics are May, July and October.
We are seeking qualified veterinarians to volunteer their time to help with the clinics. Proof of qualifications will be required to obtain clearance from the Labour Department. We are also seeking volunteers to help with pre and post op care, registration and discharge instructions. If you are interested in participating in our clinics or donating supplies please contact us at info@aarf.ai
Remember to save your newspapers. We use many of these during our clinics!
---
| | | | | | | |
| --- | --- | --- | --- | --- | --- | --- |
| Month | | Puppy | Dog | Kitten | Cat | Totals |
| Mar-04 | Admitted | 2 | 1 | 11 | 3 | 17 |
| | Adopted | 1 | 0 | 3 | 2 | 6 |
| | Euthanized | 0 | 0 | 0 | 0 | 0 |
| | Waiting Adoption | 3 | 1 | 8 | 1 | 13 |
| | | | | | | |
---
Post Office Booth Volunteers will be manning a booth at the Anguilla Post Office on Tuesday April 6th from 8:30 am to 3:00 pm. Our primary focus will be on selling Cruise Raffle Tickets but we will also take membership payments at that time.

Bingo Night We are tentatively scheduling a bingo night on April 16th, 2004 at Soroptimist Day Care Center. We await confirmation that the center will be free that night. If you are interested in donating prizes for this event, please contact Jimmy Carter at jimmyc105@hotmail.com Remember it is a fun night for all with fun prizes. Join us in support of the animals of Anguilla!

Garage Sale We had to postpone the garage sale due to lack of a location for storage. If you have empty space available that AARF can use as a drop off point for 1 week please contact us at info@aarf.ai. Also if you want to clean out your house of unwanted items, please save them for us. We will post a notice as soon as we have a location. Remember one person's junk is another's treasure!
---