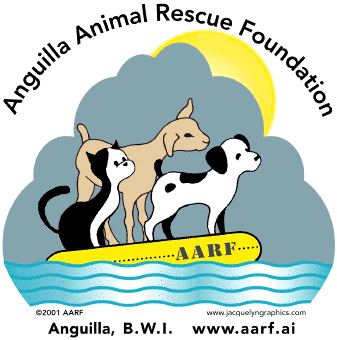 Newsletter
---
Volume 3, Issue 6 October 2003
---
The goal of this newsletter is to keep members and friends up to date on events and plans of the organization. If there is any particular topic you would like to see addressed in the newsletter, please send email to news@aarf.ai
IN THIS ISSUE
---
On Wednesday October 22, 2003 The Anguilla Animal Rescue Foundation held its second Annual General Meeting. With 23 members and visitors attending, Mrs. Chris Carty read the minutes of our first AGM. AARF's President Mr. Joseph Payne provided the report of the years positive activities noting an increase in membership to 65, and increase in animals sheltered and adopted, and our very successful spay/neuter pilot clinic in July. Mrs. Barbara Owen provided the financial report for the period ending December 2002.
Anita Richardson made a donation of $40 to AARF. The money was obtained from her students on the school bus. She charges 25 cents for dirty shoes on her bus and 50 cents to rent a tie from her when students forget. What a great way to raise funds for AARF. Thanks Anita!
During the meeting Mr. Jaxson Arnold, a student member of AARF, was given the organization's Volunteer of the Year Award. Mr. Arnold was praised for his unselfish commitment to the organization and his continuing support of the less fortunate animals of Anguilla.
Mr. Jaxson Arnold and Mr. Payne
The following officers were elected to serve for the coming year:
President
Joseph N. Payne
Vice President
Christine Carty
Secretary
Suzan Donahue
Treasurer
Jackie Cestero
Elected Ordinary Members
Jackie Pascher

Jamian Carter
KPMG of Anguilla was elected as auditor.
Mr. Payne's annual report can be viewed by clicking here. The minutes of the 2003 AGM are available here.
---
Fund Raising Event - 7 Day Southern Caribbean Cruise Raffle
As a part of our new fund raising efforts for 2003/2004 AARF will hold a 7 Day Southern Caribbean Cruise Raffle. Details of the raffle are shown below. Tickets are available through members of the Fund Raising Committee: Chris Carty, Kathy Haskins, Kim Straubing, Suzan Donahue or Jackie Cestero. You may also contact us via email at info@aarf.ai .
Individuals living outside of Anguilla may purchase tickets by sending a check or money order in US dollars to AARF, PO Box RI 4228, Anguilla, BWI. Your ticket will be sent to you via return mail. Please include your name, address, telephone contacts and email address.
Note: The prize includes cruise and airfare only. All other expenses are paid by the winner. At least one traveler must be 25 years of age or older.
The is a great Christmas gift idea for friends and family!!!!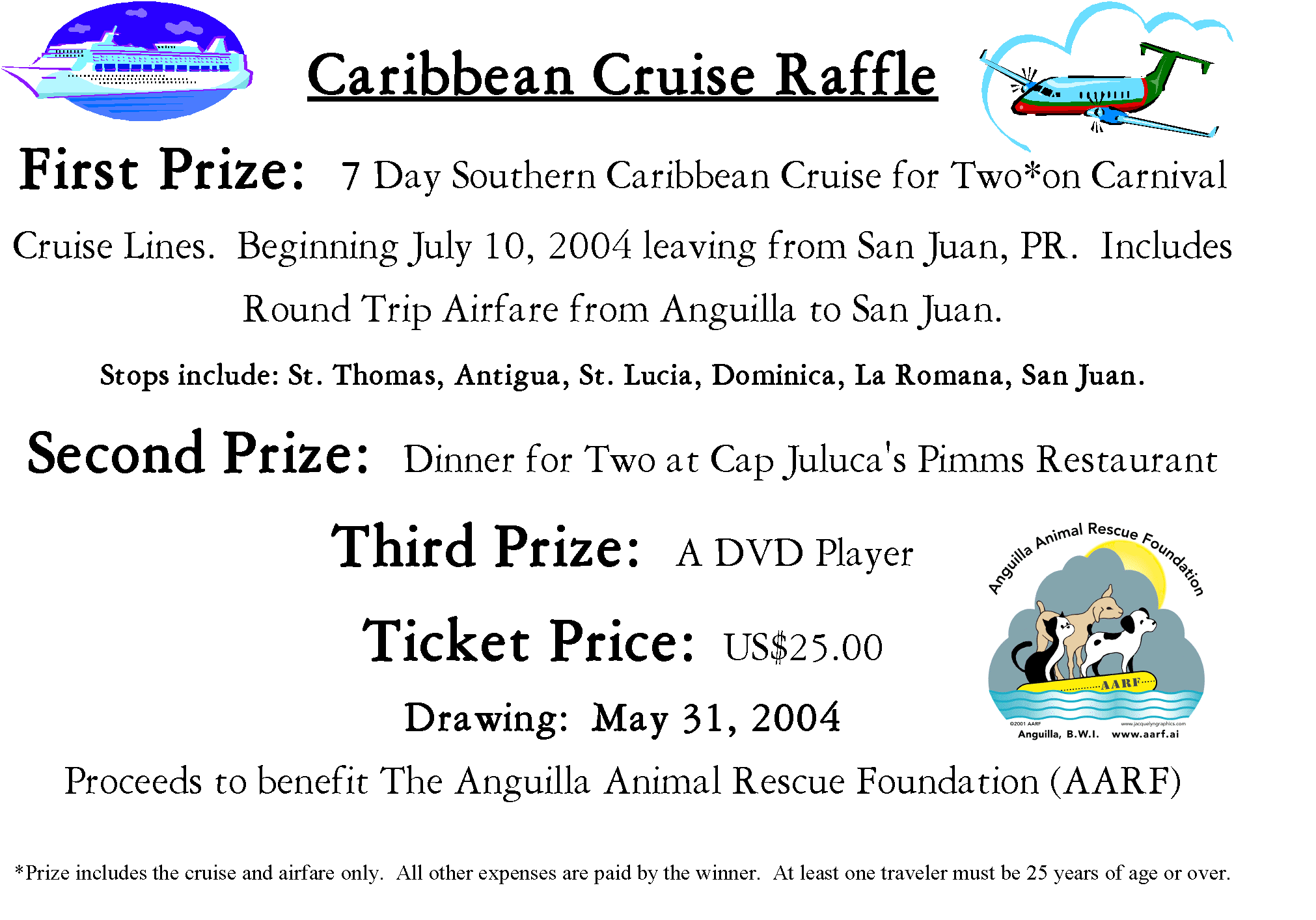 ---
The Anguilla Animal Rescue Foundation has a new mailing address:
AARF
PO BOX RI 4228
Anguilla BWI
All correspondence should be sent to this address. We are currently updating our publications to reflect the change. Mail will be forwarded from the old address in the mean time.
---
In an effort to increase our membership, AARF is asking each member to try to sign up 5 new members. If everyone does their part, we can significantly expand the organization. Anyone who signs up now will be a member for the 2003/2004 year and no further dues will be due until January 2005. Please become a member by filling out our membership form. You can learn all about our membership and download the form (in Word or PDF formats) from our membership page.
---
Wednesday afternoon August 27, 2003 on my walk with Katie, Wilson and Boo I heard a strangely familiar sound. After calling out and searching for several minutes I found 4 very tiny and very wet gray tabby kittens that someone had thrown into the bush. The plastic bag they had been discarded in lay nearby. I took them home, found a recipe for abandoned infant kittens on the internet and began a feeding schedule of every 2 -3 hours with an eyedropper. They are adorable and so sweet.
That same night around 12 AM Jeff David (Kim Straubing's husband) called to borrow our cat carrier. Kim and Jeff had met a very friendly cat on Sunday while they were at Cap Juluca, where Jeff is Food and Beverage Director. Kim had called to find out what we should do with her and we felt since Amy wasn't working on Sunday we could go back on Monday and rescue her. On Monday when Kim tried to find her she was gone. Wednesday night when Jeff was leaving the resort the same cat ran up to him and practically jumped in his car. He said she seemed very stressed so he took her with him and came to get the cat carrier to keep her in until the next morning. That morning Kim called to say the cat had a very restless night and must have had kittens as her nipples were huge. I suggested I bring over a couple of the kittens I had found to see if the mother cat would take them. "Luca" the mother cat, first looked at them very carefully and two seconds later had jumped into the basket and was purring and cleaning them and they were nursing like crazy. I went home and got the other two, which she took just as quickly. Now Luca is happily settled in the basket with all the babies and we are wondering if they could have actually been hers all along. Since the gardeners at CJ get rid of any kittens they find and since they leave CJ via our road who's to say that these were not her kittens. We like to believe that it was indeed an AARF miracle!
Suzie and Kim
Our many thanks to Suzie and Kim for sharing this story and fostering these lovely kittens. I think there can be no doubt that a family was reunited. As of this date, all the kittens have been placed in new and loving homes. Luca still awaits adoption and is being fostered.
Luca and her kittens resting peacefully
Luca Awaits Adoption in Her Foster Home
---
A page of interesting links has been added to the AARF web site. Here you will find links to many other animal welfare organizations and supporters of AARF and its goals.
---
More Puppies Travel to New Hampshire
On September 18, 2003 five more puppies traveled to Puppy Angels in New Hampshire thanks to our great supporter Roy Bossons. Steve Donahue accompanied Roy on this journey facilitated by our friends at Second Chance Rescue and the cargo company in Puerto Rico. It was a great day for flying and all our pups were very well behaved through the trip. Once again our many thanks to all who were involved in this event especially Roy for providing his plane.
Special thanks to Maria and Jim Mulligan who paid for this trip and for offering to sponsor other missions in the future!
If you are interested in traveling with our adoptable pets from Anguilla to Boston please contact us at info@aarf.ai. There is no cost to you but you will help give our little friends a second chance.
Views of the Trip
---
I am often asked, what does fostering mean? Fostering involves providing a home, socialization, food, love and some times medical care for one or more animals who are waiting to be adopted or transferred to the US for adoption. The time limit for keeping animals at the clinic is just 7 days. With a very small number of local adoptive homes, this may not always be enough time to find a good home. Animals being transferred to the US really need to have at least two of the three vaccination series prior to travel, to limit risk of health problems. With four weeks between each vaccination, they must be placed in foster care.
Fostering can be a great idea for people who do not spend the entire year here in Anguilla, but would like to have the joy of caring for an animal on a short term basis.
In the case of our previous news story about puppies going to New Hampshire, two families provided foster care for the pups. Frank Costin and David Johnson, and Chris and Lennie Carty stepped up and helped out with the pups. In both cases, companion animals were already part of the family and their adult dogs took on a nurturing role of their own. There is nothing like an adult dog to show the young ones the ropes!
Fostering can be an extremely rewarding experience for all involved. It is an opportunity to give of oneself to help an animal in need and it is not a life long commitment (unless of course you want it to be).
All 4 puppies were adopted within 24 hours of reaching New Hampshire. Without the support of these adoptive families, these 4 gorgeous girls would have been euthanized. Our many thanks to all our volunteers who helped give our rescue animals a second chance at a new life.
If you are interested in providing a foster home for any of AARF's animals, please contact us at foster@aarf.ai
| | |
| --- | --- |
| | David Johnson relaxes with fosters Lucy and Linus, while their family friends Luther and Lola provide guidance. |
| | |
| --- | --- |
| Sugar and Spice pose under a tree in the yard enjoying the fresh air. | |
| | |
| --- | --- |
| | Papa dog Casique shares a moment of investigation with Sugar. |
Incidentally all 4 puppies were liter mates thus the reason they look so much alike.
---
In September Kelly Carpenter was lucky to find our friend Lucy (from articles above) to fill her life with joy. Her new name is Kayla and she is pictured here with Kelly and Kelly's sister's dog Issabell. Kelly states the two dogs get along great together.

Many thanks to Kelly for giving Kayla a wonderful new home.
Also in September the Blankenship's adopted this sweet little puppy and named her Stompy. Her new friend Torque seems quite happy with her.

Many thanks for giving Stompy a great new home!
If you have pictures/stories of adopted pets, please share them with us at info@aarf.ai
---
AARF Receives Supplies From the US to Support Spay/Neuter
Long time supports of AARF and visitors to Anguilla Cheryl Tiffany and Bob Ball of Rochester, New York have been hard at work finding supplies to help support our spay/neuter clinics. Once they knew our needs they were out pounding the pavement to get help. They recently made contact with Intervol, a company in Rochester that recycles unused medical supplies. Although the supplies are generally from local hospitals, many of the items have cross purposes like suture material, syringes, blades and sterile gloves. This month 2 suit cases arrived in Anguilla filled with supplies, drugs and animal medications from their local Butler representative. These items will go a long way toward helping our next clinic. Cheryl and Bob are able to attend this site at regular intervals to help us restock. They have also acquired another big donation for our clinics and we hope to tell you about that in our next issue. Stay tuned!
Our heartfelt thanks to Cheryl and Bob for all their efforts to obtain these supplies as well as their ongoing support of the homeless animals in Anguilla! Also many thanks to Intervol for allowing them to "shop" in their bins!
---
A girl was visiting her blond friend who had
acquired two new dogs, and asked her what their
names were.
The blonde responded by saying that one was named
Rolex and one was named Timex.
Her friend said, "Whoever heard of someone naming
dogs like that?"

"HELLOOOooo," answered the blond. "They're watch
dogs!"

---
I will never bring about world peace. I won't single handily save the rain forest.

I am not a brain surgeon, and I will never transplant an organ to save a life. I don't have the ear of a powerful politician or world power.

I can't end world hunger. I am not a celebrity, and God knows I am not glamorous! I am not looked up to by millions around the world. Very few people even recognize my name.

I will never win a Nobel prize, or end global warming. There are a lot of things I will never do or become....

But today I placed a Dog!!

It was a small, scared bundle of flesh and bones that was dropped off in a shelter by people that didn't care what happened to it, but yet were responsible for its very existence in the first place.

I found it a Home, a Forever Home!!

It now has contentment and an abundance of love. A warm place to sleep and plenty to eat. Two little boys have a warm and fuzzy new friend who will love them unquestioning, and teach them about responsibility and love.

A wife and a mother has a new spirit to nurture and care for. A husband and father has a companion to sit at his feet at the end of a hard day of work and help him relax and enjoy life.

No, I am not a rocket scientist... But TODAY, I made a difference!

Author Unknown

---