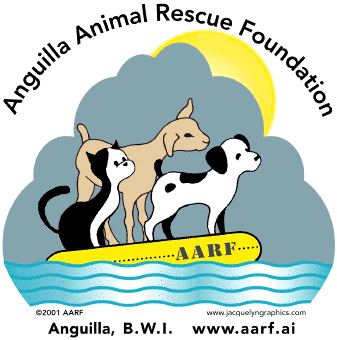 Newsletter
---
Volume 3, Issue 3 May 2003
---
The goal of this newsletter is to keep members and friends up to date on events and plans of the organization. If there is any particular topic you would like to see addressed in the newsletter, please send email to news@aarf.ai
IN THIS ISSUE
| | |
| --- | --- |
| | |
| | |
| | |
| | |
| | Save a Sato and Second Chance Rescue Help AARF Relocate Pups |
| | |
| | |
| | |
| | |
| | |
---
Unfortunately we are unexpectedly leaving the island and due to the UK's quarantine laws we are unable to return with our dear cats.
We are looking for a loving home for Sherbert (black and white) and Sapphire (all white)
They have just had their 1st birthdays, all inoculations are current and have both been neutered.
Saffy (alias Sapphire) likes to spend most of her time indoors and loves human company.
Sherby (alias Sherbert) likes to go exploring occasionally but prefers to cuddle up with Saffy and watch tv with us.
We are looking to re home our cats together as they love each other so much.
We very much regret leaving our cats, they are very loving and have great characters.
If you can help in any way please contact AARF at
info@aarf.ai
or call Carol and Charlie on 497-8022
---
July Spay Neuter Clinic Press Release/Volunteers Needed
The Anguilla Animal Rescue Foundation will be holding a month long FREE spay neuter clinic in July 2003. The program is made possible through funds from AARF, Puppy Angels and The Pegasus Foundation. A full Press Release is available. Please click here for our application form.
AARF volunteers will be conducting a sign up booth and merchandise sales at the Post Office Tuesday May 27th, 2003 from 8:30 am to 3:00 pm. During this time we will be taking names of those individuals who are interested in volunteering to assist with the program. We will need a large amount of help including pick up and delivery of animals, pre and post op care, bathing etc. If you are interested in assisting with this very important project, please stop by the AARF table and talk to one of our volunteers.
---
The MacDonald's Take More Pups to New Hampshire
On April 11th, 2003 Barbara and Jack MacDonald took 4 pups back with them on their flight to Boston. Barb and Jack are no strangers to this process. In 2000 they brought back their current family pet Angu from Anguilla. Angu was about 6 months old at the time and covered with ticks. As you can see from her photo below, Angu now has a very comfortable life in the United States.
Angu at home
In April 2002 they took back April and Princess 2 young females who had just watched their mother be shot by their owner.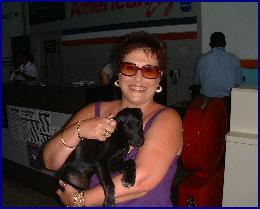 Barbara is shown here with Babs one of the lucky puppies that went on this flight with them. AARF and Puppy Angels would like to take this opportunity to thank Barbara and Jack for giving such great support to both organizations and for helping four more lucky pups find a new life in the USA.
---
Peter and Alexis take pups to New Hampshire
Peter and Alexis came to Anguilla for their honeymoon in April. While here they found the article in Anguilla Life regarding the Morrall's and Puppy Angels and offered to take pups back with them to New Hampshire where they live. After some airline rescheduling, they were able to leave from St. Martin on April 19th for Manchester. Unfortunately they got stranded in Philadelphia and had to overnight there with four busy puppies. This left their two dogs at home alone for the night.
The AARF Executive Committee would like to apologize for any inconvenience caused. We are all very grateful to you both for taking the time and effort to help these wonderful pups to a new home in the United States! Congratulations on your recent marriage and great happiness in your life together!
Peter and Alexis at Blowing Point Ferry
---
Save a Sato and Second Chance Rescue Help AARF Relocate Pups
On May 15th the annual air embargo on flying animals to the US expired. Prior to that date, we had many puppies waiting to go to the United States that were either being fostered or in the clinic. At certain times we had 30 puppies. The question was how to get them all to the US in time. AARF and Puppy Angels started exploring other avenues to getting them off Anguilla including transport through St. Martin. Unfortunately all avenues were limited to 4 crates. Fortunately we contacted Chantal Robles of Save a Sato in Puerto Rico.
Save a Sato is very used to transporting animals to the United States and they have a number of organizations in Seattle and New England that find homes for their rescue animals. Chantal put us in contact with Ronda Cates Moren of Second Chance Rescue in Puerto Rico who found us a company in Puerto Rico that would ship them as cargo on a direct flight.
Roy Bossons of Roy's Place volunteered to take Amy Williams our Vet Tech and all the puppies to Puerto Rico for the price of his basic expenses.
The cargo company has asked to remain anonymous but we must thank Mary Ellen and Karen for the help in organizing this amazing project. All 25 pups ended up having to overnight at the cargo company due to a paperwork problem in customs. During that time Mary Ellen and all the cargo staff kept a maternal watch on their charges and took very good care of them for over 36 hours. One of our pups even stole the heart of the employees and she ended up being adopted right on the spot.
Chantal Robles of Save a Sato was able to secure a way for all of our crates to be returned directly to Anguilla at no cost.
AARF and Puppy Angels would like to extend our heartfelt thanks to everyone involved in this project especially Roy Bossons, Mary Ellen N., Karen V., Chantal Robles, and Ronda Cates Moren. It was truly a labour of love and we will never forget your kindness.
As we come closer to the airline embargo on pet travel, we note that 57 puppies have been sent to New Hampshire to great homes. We are sure that each puppy appreciates its new and special home.
AARF would like to thank all those who have helped us in this effort including our visitor volunteers who transported pups, Puppy Angels, and American Airlines personnel for facilitating the transport.
Many thanks to Karen for sharing these photos of their experience in Puerto Rico.
AARF Puppies in New Clean crates Taco Belle finds a new dad!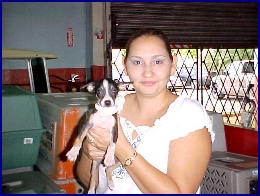 Mary Ellen and Karen give extra attention to our little friends
---
Petal in her new Home - Photo Update
In March 2003 Petal went to New Hampshire to find a new home. She is now living happily with Lynne Beck and family in Salisbury, New Hampshire.
Lynne writes:
Okay, I think her name is Brandy now! We're all having a hard time
deciding. She's really cute, we love her. I got her paperwork the other
day, thank you.
---
Mike and Cynthia Raso are sharing their latest photo of Guilla with us this month. It seems she has made herself right at home. Mike and Cynthia adopted her while in Anguilla for their wedding last October. Thank you for sharing this great photo and we wish much love and success in the future with Guilla!
---
Paris was adopted by the Scipio family here in Anguilla in May. She is shown here in her new home. Thank you Pamela for sharing this photo with us.
Nika is Paris' sister. She is shown here in her new home in the USA. It would appear she has moved right in and made her space. Again, thanks for sharing these photos.
---
" Take my pups. You will raise them and call them Dog. They will be your guardians. They will alert you to danger, keep you warm, guard your camp, and even lay down their life to protect your life and the lives of your children. They will be companions to you and all your generations, never leaving your side, as long as Mankind shall survive. In return, you will share your food and the warmth of your fire. You will treat my children with love and kindness, and tend to them if they become ill, just as if they were born from your own belly. "
First Man and First Woman agreed. ... Before she disappeared into the darkness, she turned and spoke once more to First Man, "My children will honor the pact for all generations. But if Man breaks this pact, if you or your children's children deny even one Dog food, warmth, a kind word or a merciful end, your generations will be plagued with war, hunger, and disease, and so shall this remain until the pact is honored again by all Mankind."
With this, First Dog entered the night and returned in spirit to the Creator.
--from The Pact of the Fire, Lakota Sioux Legend
---
AARF has 7 new puppies available for adoption. All are approximately 6 weeks of age and very adorable!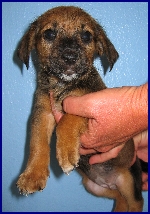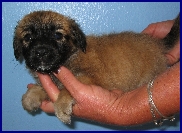 Sandy (F) Lola (F) Trixie (F)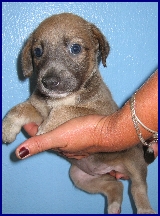 Kyla (F) Randy (M) Tammy (F) Buddy (M)
For further information on adoptable pets, please contact Amy at Morlen's Veterinary Hospital 497-4600 Monday through Friday from 9:00 am to 1:00 pm.
---