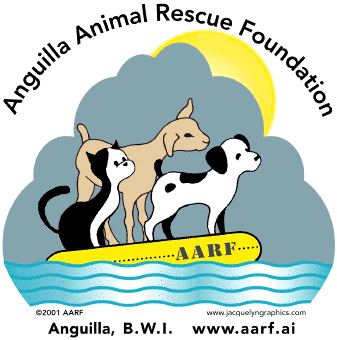 Newsletter
---
Volume 3, Issue 4 June 2003
---
The goal of this newsletter is to keep members and friends up to date on events and plans of the organization. If there is any particular topic you would like to see addressed in the newsletter, please send email to the Communications Chairperson
IN THIS ISSUE
---
July 2003 Spay Neuter Clinic Schedule of Events
AARF's FREE spay neuter clinic will begin the weekend of July 4th, 2003. Our schedule of events is listed below. Please join us for these special events. We are still looking for volunteers for all aspects of the program. If you are interested in helping out, please contact Suzan Donahue at 497-8177.
Remember -Application Deadline is June 13th, 2003!!!!
Date
Time
Event
Location
July 4, 2003
6:30 pm - 8:00 pm
Kick Off Celebration

Light Refreshments Served

Teacher's Resource Center - Public Library
July 5, 2003
All Day
Spay Neuter Surgeries
Morlen's Veterinary Hospital
July 6, 2003
All Day
Spay Neuter Surgeries
Morlen's Veterinary Hospital
July 6, 2003
3:00 pm - 7:00 pm
AARF BBQ
Gwen's Reggae Grill Upper Shoal Bay

Tickets US$11.50 pp*
Surgeries will continue throughout the month of July with most of the work being conducted on the weekends.
* Tickets are available from Suzan Donahue and must be purchased by Saturday July 5, 2003
---
Animals Available for Adoption
Star is an adult male seeking a new home. He has lovely blue eyes and a great disposition. He needs lots of love and attention. He would make a great pet in any home.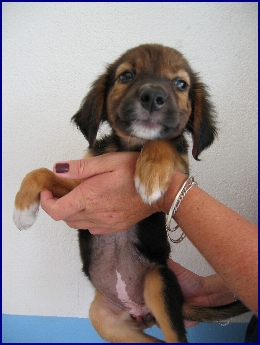 Betsy is an approximately 8 week old female pup seeking a new home. She would make a great pet in any home.
For further information on adoptable pets, please contact Amy at Morlen's Veterinary Hospital 497-4600 Monday through Friday from 9:00 am to 1:00 pm.
Remember to spay and neuter your pets to reduce the number of homeless animals!
---
Bartlett's Collection Sells AARF Merchandise
A common question asked on the web site is.... Where can we buy AARF t-shirts?
The answer is Bartlett's Collection!
Calvin and Lynn Bartlett have a great new location at the South Hill Roundabout. The new location has allowed them to expand and Pamela Miller and Julius Africa sell Smoothies as part of the new business look.
Bartlett's collection has a great selection of local craft items, gifts and furniture. If you are looking for everything Anguilla, this is the stop for you. Their unique style is a must see for all visitors to Anguilla.
Take a break from the hot sun and enjoy one of Pam's Smoothies like Mango Madness or Crazy Coconut!
If you are lucky, you might meet Sarah the counting dog while you are there. Sarah is an AARF rescue puppy that does many tricks. Lynn and Sarah also volunteer with the AARF Education Committee and bring the work of AARF to school children throughout the island.
AARF merchandise includes t-shirts, tanks, bags and our latest addition men's polo's. We extend our sincere thanks to Lynn and Calvin for their support of AARF and we wish them every success in their wonderful new location!
| | |
| --- | --- |
| | Lynn and her assistant Marsha Sutherland with the AARF display |
| Store view with local crafts and a new addition of furniture | |
| | |
| --- | --- |
| | |
| View from the exterior with inviting colors | Pamela Miller shows off her home made crafts and the daily selection of Smoothies! |
Summer Hours 10:00 am to 5:00 pm
Closed Sunday and Thursday
264-497-7293
---
By Hannah Edwards
Cinnamon is the best dog I know and I loved her very much. She wagged her tail like no other dog. She was so sweet it makes you smile. I only knew her for three months but it is like she was my best friend. She was so cute I just wanted to hug her. I miss her a lot and I will always remember her and some times when I think of her it makes me cry. Saying good bye to Cinnamon was very hard for my friends and family but we know she will like her new home and she will be loved a lot. Cinnamon was our most favorite friend. Cinnamon is our pal. That is why we called her our puppy. I have so many great memories that will never be wasted . Cinnamon makes the highlight of my day.

We love you forever Cinnamon.

Cinnamon in her new home in New Hampshire
Hannah and the Edwards family were responsible for fostering 3 females through 3 pregnancies over the last 6 months here in Anguilla. Cinnamon (above) and her two pups went to New Hampshire in January and found loving homes.
Fluffy and Hannah share a hug
Fluffy had 5 puppies in April and were fostered and cared for from birth by the entire family. One puppy was adopted here in Anguilla and three others went to New Hampshire in May. Hannah couldn't resist keeping Geranium for herself.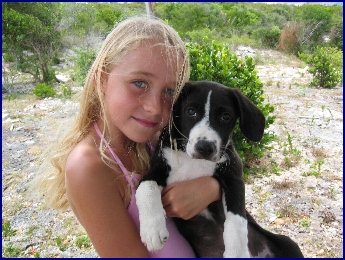 Geranium at 10 weeks...will she fit in that carrier and pass the weight limit?
The Edwards are currently caring for Coco who gave birth to 6 puppies about 3 weeks ago.
The Edwards' leave Anguilla this month and will take Geranium with them to the US. They will embark on a new road, learning how to raise a puppy.
They leave behind a legacy of caring for the less fortunate animals of Anguilla and can be assured that the ones they have sheltered will never forget them.
AARF wishes to express our sincere thanks for the care and love you have given to Anguilla's animals. We will miss you and look forward to your return.
---
Hana (black cat) was adopted over a year ago by Cathy from Maryland. It would appear that Hana is quite the lovely young lady now and shares a good part of her time with Norman. It looks like they are inseparable.
Thanks to Cathy and her mom Jane for sharing the great photos.
---
A wealthy man decided to go on a safari in Africa . He took his faithful pet dachshund along for company. One day, the dachshund starts chasing butterflies and before long the dachshund discovers that he is lost.

So, wandering about, he notices a leopard heading rapidly in his direction with the obvious intention of having lunch. The dachshund thinks, "OK, I'm in deep trouble now!"

Then he noticed some bones on the ground close by, and immediately settles down to chew on the bones with his back to the approaching cat. Just as the leopard is about to leap, the dachshund exclaims loudly, "Boy, that was one delicious leopard. I wonder if there are any more around here?"

Hearing this, the leopard halts his attack in mid-stride, as a look of terror comes over him, and slinks away into the trees. "Whew," says the leopard. "That was close. That dachshund nearly had me."

Meanwhile, a monkey who had been watching the whole scene from a nearby tree figures he can put this knowledge to good use and trade it for protection from the leopard. So, off he goes.

But the dachshund saw him heading after the leopard with great speed, and figured that something must be up. The monkey soon catches up with the leopard, spills the beans and strikes a deal for himself with the leopard.

The leopard is furious at being made a fool of and says, "Here monkey, hop on my back and see what's going to happen to that conniving canine."

Now, the dachshund sees the leopard coming with the monkey on his back, and thinks, "What am I going to do now?"

But instead of running, the dog sits down with his back to his attackers, pretending he hasn't seen them yet... and just when they get close enough to hear, the dachshund says, "Where's that damn monkey? I sent him off half an hour ago to bring me another leopard."
Return to Top
---