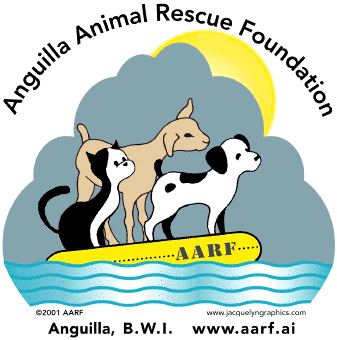 Newsletter
---
Volume 3, Issue 1 February 2003
---
The goal of this newsletter is to keep members and friends up to date on events and plans of the organization. If there is any particular topic you would like to see addressed in the newsletter, please send email to news@aarf.ai
IN THIS ISSUE
---
Sherry and John Morrall Visit Anguilla
Sherry and John Morrall visited Anguilla this month and the AARF Executive Committee had an opportunity to have discussions with them regarding collaborative projects. Through their organization Puppy Angels, they have made contacts with the Pegasus Foundation in New Hampshire. Pegasus supports a number of humane society projects and in particular is interested in supporting humane societies in Island Nations. On Thursday January 31st the Executive Committee met with Sherry to discuss a number of options with regard to spay and neuter clinics and obtaining health care supplies such as heart worm testing, treatment and prevention medications. Sherry shared with the group a number of articles with case studies of programs in other Island Nations.
We all left the meeting with positive feelings about a way forward and we will be communicating with Sherry & John over the next several weeks to put together proposals for the Pegasus Foundation to consider.
On February 5th Sherry and John addressed a small group at a general meeting to discuss their goals and plans for a cooperative alliance with AARF. Kathy Haskins made a heartwarming speech and thanked the Morrall's for giving even one puppy a good home. She also thanked Amy Williams for her countless hours of support to the homeless animals of Anguilla.
Kathy introduced the group to Bambino her first rescue puppy of 2003. Bambino left for New Hampshire the following day with a couple from Boston who read about our cause in Anguilla Life Magazine and volunteered to help. We thank them for taking back FOUR rescues who otherwise would have been euthenized.
William Payne President of AARF presented a gift of thanks from the organization to the Morrall's for their efforts on behalf of our homeless puppies.
We would like to thank Cheddie Richardson for donating the engraving on the gift.
Mr. Payne introduces Sherry and John Morrall
Kathy Haskins introduces us to Bambino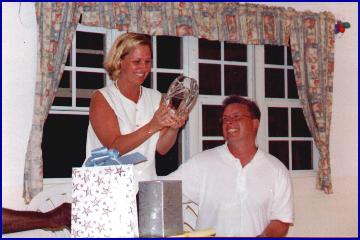 Presentation of the gift
Sherry and Kathy share a moment with Bambino
Sherry, Kathy, Bambino and John
---
Peanut and Friends Go to New Hampshire
On Sunday February 9th, 2003 Sherry and John left Anguilla to return to New Hampshire with 6 puppies.
Peanut had been fostered in Anguilla since October recovering from a front right leg amputation. Now healthy and ready to travel, it was tough to say goodbye.
The Edwards family frequent visitors to Anguilla, had been feeding and caring for 4 dogs over the past eight weeks that lived in their neighborhood. Hannah Edwards had become the champion for these dogs and realized that one was pregnant. They were given the opportunity to send them to New Hampshire. However, they were uncertain who the real owner was. After some investigation the owner was found and they found out that Cinnamon had in fact already had her pups. At 6:00 am Sunday morning after frantic search of the bushes, the 2 pups were found. Hannah promptly named them Chocolate and Chip. Though it was a tough decision the owner said Cinnamon could go and all three boarded the plane to a new life.
Mr. Ashton from North Hill had been caring for 2 puppies since they were about 6 weeks old. The two females were the pups of a neighbor dog who has had countless litters. Bing Bong and Malissa flew together on the plane. The mother is scheduled to spayed in the next couple of weeks.
With the 6 puppies going on this day and 4 on the 6th of February, 10 more animals have gone to New Hampshire and the hope of new homes full of love and care. Our hats are off to Sherry and John who will have these 10 plus their own pets (Remi, Lion, Tasha and Ratatat) at home to care for.
Ellie "drives" Peanut to the airport
The Edwards family comforts Cinnamon and her two young pups prior to departure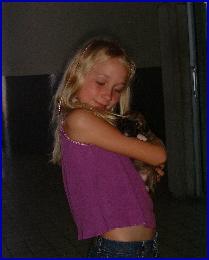 Life father like daughter - Hannah and Peter snuggle with the pups
Sherry with the Edwards family waiting for departure
At long last they are on their way
---
As of this posting we have the following updates:
Kathy Haskins' puppy Bambino (shown above) found a home with a school teacher and her cockapoo.
Peanut has decided along with Bing Bong and Mallissa that snow is a wonderful thing. Sherry can't get them to come back in the house. Peanut has moved into the bed with Lion and Remi, the Morralls' other permanent rescues.
3 more pups were to find homes this week.
On Friday February 14th 4 more pups went with a gentleman who lives 15 minutes from the Morralls. That brings our total for the past 2 weeks to 14 rescues in the US!
AARF extends it sincere appreciation to all who participated in making this happen including those who volunteered to bring our animals back to the US. In particular we would like to thank Claire Devener for giving us space in Anguilla Life Magazine to tell our story. This most recent article has brought us a number of volunteers to bring animals back to Puppy Angels.
---
Animals Available For Adoption
Kimmi
Kimmi is an adult female currently seeking a new home.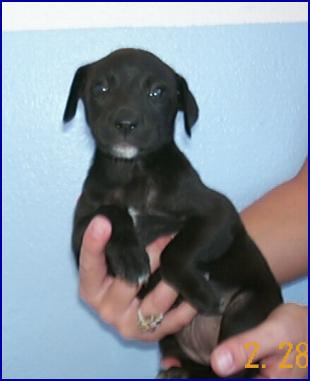 Petal Fiona
Tess
These three female pups are approximately 7 weeks old and are full of love. They have been with AARF since February 25th and are seeking warm and loving homes.
If you are interested, please contact Amy at 497-4600 Monday through Friday between 9:00 am and 1:00 pm.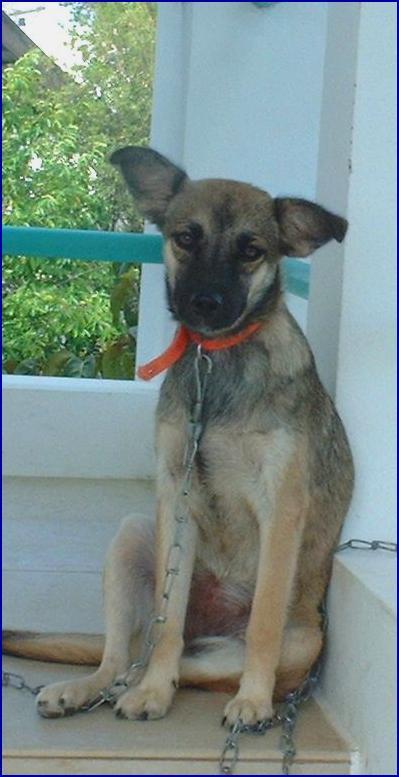 Pumpkin
Pumpkin is an approximately 6 month old spayed female being fostered by Kathy Melby. Kathy states she is partially trained and is very bright. Kathy also has her sister Speckles but can not keep both. If you are interested in adopting Pumpkin, please contact Kathy directly at 497-8729.
---
Success In Life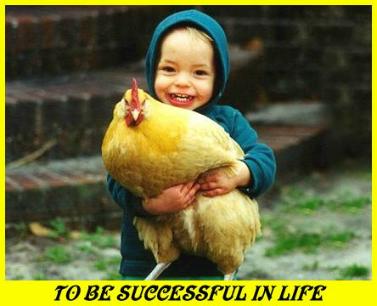 Above All, Learn How To Relax







Finally, Be Content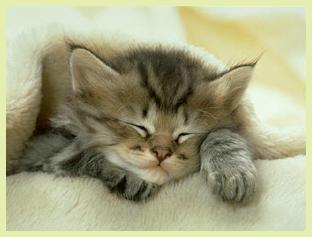 Have a wonderful week!!!