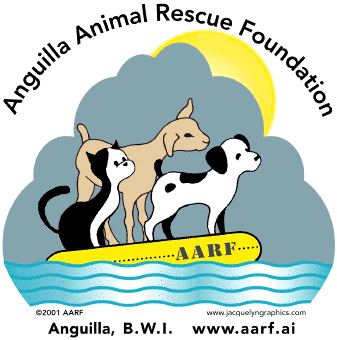 Newsletter
---
Volume 3, Issue 7 December 2003
---
The goal of this newsletter is to keep members and friends up to date on events and plans of the organization. If there is any particular topic you would like to see addressed in the newsletter, please send email to news@aarf.ai
IN THIS ISSUE
---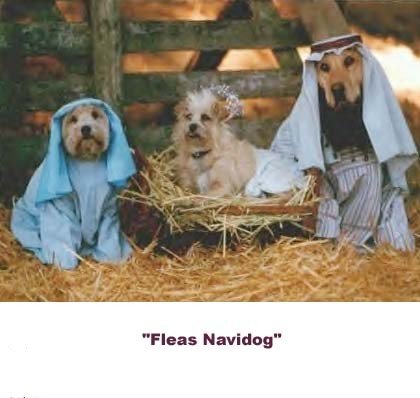 We would like to take this opportunity to wish everyone a happy and healthy holiday season!
HAPPY NEW YEAR!
Thanks to John and Rina Bedford for sharing this great photo!
---
Carnival Cruise Lines has notified us that the cruise that we are currently raffling has changed its sailing date. The 7 day Southern Caribbean Cruise will now depart San Juan on July 11, 2004. Please note the change in date on your ticket if you purchased prior to the change.
Tickets may be purchased at Morlen's Veterinary Hospital in Sandy Hill or at Anguilla Techni-Sales in North Hill. They are also available by contacting info@aarf.ai. The following members are also selling tickets:
Amy Williams, Suzie Donahue, Kim Straubing, Kathy Haskins, Chris Carty, Ralph Cestero, Jackie Cestero and Jaxson Arnold.
The is a great Holiday gift idea for friends and family!!!!
---
AARF at Soroptimist Christmas Fair
On Saturday December 6, 2003 the Soroptimist's held their annual Christmas Fair at Government House. It was a great day and we were sparred the rain. Many persons attended including island residents and tourists.
AARF was especially lucky to have a number of volunteers for this year's booth including: Michel Faligant, Steve Donahue, Keith Robinson and Chris Carty for tent setup. Our volunteers manning the booth included: Sally and Mark Baumwell, Suzan Donahue, Chris Carty, Kim Straubing, Gayle Gurvey, Kathy Haskins, Claire Devener, Clarissa Lloyd, Jaxson Arnold and Jackie Cestero.
Once again Lee Brooks of Ashley's Pet Store provided the goodies for our dog and cat raffle baskets and they were a big hit. Also New World Art and Antiquities donated a number of animal fans for our trinket table. Caribbean Silk Screen was right on top of things with our new merchandise including hats and beach coverups.
Our student members Clarissa and Jaxson were out pounding the lawn signing up new members and selling raffle tickets too!
The winners of the raffle were:
Dog Basket - Judy Guthrie
Cat Basket - Claire Devener
It was a very successful day and we raised over US$1000.00 to assist with our spay/neuter activities in 2004. Our many thanks to everyone who volunteered their time and made our day at the fair special and fun.
Sally and Mark Baumwell of California spent the entire day helping to set up and sell merchandise!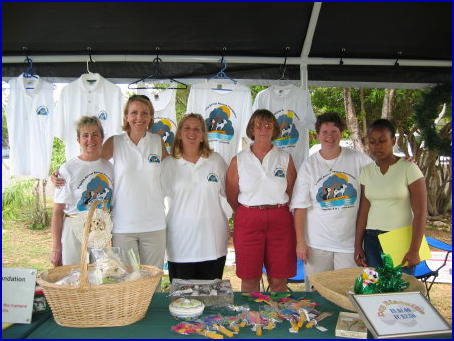 Sally Baumwell, Kim Straubing, Suzan Donahue, Chris Carty, Jackie Cestero and Clarissa Lloyd
---
More Puppies Travel to New Hampshire
On December 2nd Roy Bossons and Steve Donahue made the final run of the "Midnight Express to the US" for 2003. On board they carried 16 puppies to Aguadilla, PR for their journey to New Hampshire and Puppy Angels.
Puppy Angels was assisted this time by the Sterling Animal Shelter in Sterling, Ma. The puppies were delivered by Puppy Angels directly to the shelter upon arriving at about 5 am. They were all spayed/neutered by noon time and listed on the organization's web site for adoption http://www.sterlingshelter.org/. As of this date, all puppies have great new homes and we await the pictures of the adoptions from Sherry and John.
Unfortunately New England received the blizzard of the season about 12 hours after the puppies arrived. This little guy was fostered at the Morrall's for a couple of days and got his very first taste of winter weather.
Pink for a boy? What were you thinking Sherry?

Thanks for sharing Ellie!

Ellie and John give Rocky his first taste of a snow storm!
Our many thanks to Puppy Angels, The Cargo Company, Ronda Cates Moren of Second Chance Rescue, Roy Bossons, Steve and Suzan Donahue, Amy Williams and Sterling Shelter for helping with this rescue. You made a Happy Christmas for 16 puppies and their new adoptive families.
Special thanks to Maria and Jim Mulligan who sponsored our mission once again!
Thanks to all those who answered our desperate cry for old newspapers including Kathy Haskins, Carrolle Perry Devonish, Sylvia McMeen, and the Harold staff.
Remember... don't throw out those old newspapers. Leave them at Morlen's or we will pick them up from you!
Puppies at Sterling Animal Shelter after surgery
If you are interested in traveling with our adoptable pets from Anguilla to Boston please contact us at info@aarf.ai. There is no cost to you, but you will help give our little friends a second chance.
---
Puppy Angels/IVA Support Spay/Neuter Clinic
Following our successful spay/neuter clinic in July of this year, Puppy Angels stepped in to provide more financial support to finish some of the animals that could not be altered due to budgetary constraints. Subsequently, The International Veterinary Assistance Program (IVA) provided support in the form of a $500 grant to match the Puppy Angels grant.
On December 17, 2003 another 14 animals from the original group were spayed/neutered under the guidelines of our original program. Surgeries performed were as follows:
| | |
| --- | --- |
| Dog Spays | 6 |
| Dog Neuters | 3 |
| Cat Spays | 2 |
| Cat Neuters | 3 |
| TOTAL | 14 |
This surgery day allowed us to use all of IVA's money prior to the end of year deadline. AARF has agreed with Puppy Angels to extend the balance of their funding into the early part of 2004. A voucher system will be used to grant surgeries to other animals on the original list who could not participate at this time due to pregnancy or recent delivery dates. A deadline of March 15 will be set for those involved.
The Executive Committee would like to thank both Puppy Angels and IVA for their support of our program.
We would also like to thank our surgical team, Dr. Patrick Vanterpool and Amy Williams as well as our volunteers Clarissa Lloyd, Gayle Gurvey, Jaxson Arnold, and Jackie Cestero. Many thanks to those who dropped off newspaper and provided transport including Sylvia McMeen, Chris Carty, and Althea and Bob Turner.
| | |
| --- | --- |
| Blair | Bush |
Blair and Bush born during the Iraq War in February take the day in stride!
| | |
| --- | --- |
| | This kitty relaxes while waiting for surgery. |
| | |
| --- | --- |
| After entering the clinic with nothing but a tight rope, Boy gets a new collar for Christmas! | |
---
Pets Currently In Foster Care Await Adoption
| | |
| --- | --- |
| | This wonderful young man is currently seeking a new home with someone who is willing to spend some time socializing him. He is very sweet but reluctant to come too close. He loves playing with other dogs and is a real home body. What he needs is someone with patience and care. |
| Miguel is currently in foster care with Kathy Haskins at 497-2460. If you are interested in adopting this great dog, please contact Kathy directly. | |
Judy is a 7 month old spayed female born in May of this year. She is currently with her owner Mac Pemberton. She was originally placed in a home but the person did not care for her properly. Mac has nursed her back to health and she is ready for adoption and made sure she will never have puppies.

If you are interested in making Judy a part of your life, please contact Mac at 235-6855.
---
An approximately 8-9 week old male puppy is seeking a new home. Buck is very sweet and friendly. He would make a wonderful pet in any home.

If you are interested in adopting Buck, please contact Amy at 497-4600 Monday through Friday from 9 am to 1 pm
---
Supplies Donated to Support Spay/Neuter Clinics
In early December Sheri Bach and Paws Unlimited donated a number of supplies to support our spay/neuter clinics including: assorted suture materials, needles/syringes and collars and leashes.
Also Sylvia McMeen has rounded up 4 brand new foldable cat carriers for AARF. These will be very helpful when people take animals back to the US with them inside the airplane. They are foldable and very easy to mail back and be used again.
Our many thanks for your continued support of our cause.
---