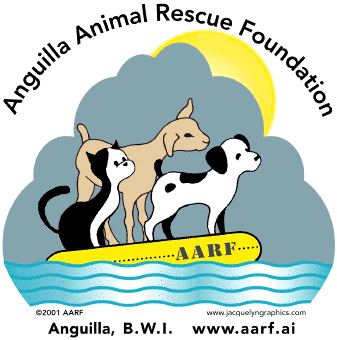 Newsletter
---
Volume 2, Issue 6 December 2002
---
The goal of this newsletter is to keep members and friends up to date on events and plans of the organization. If there is any particular topic you would like to see addressed in the newsletter, please send email to news@aarf.ai
IN THIS ISSUE
---
Happy Holidays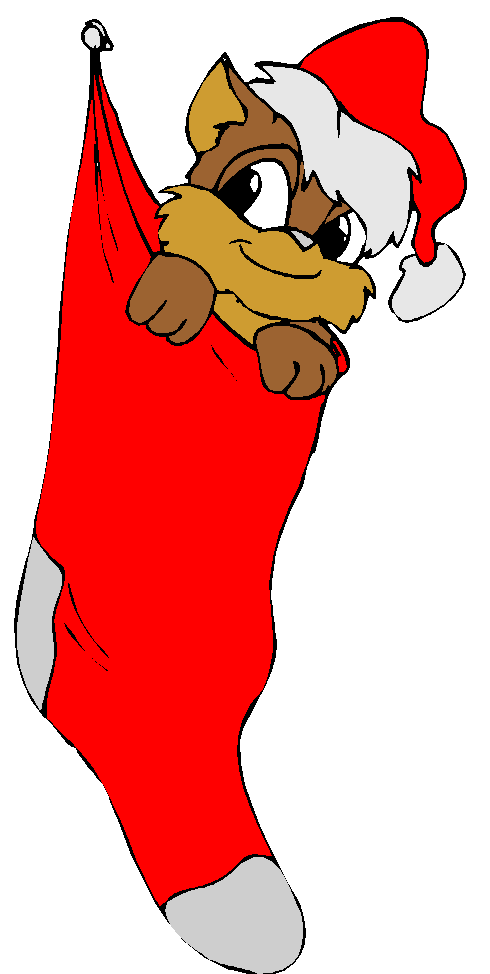 The Executive Committee of the Anguilla Animal Rescue Foundation would like to wish all its members and supporters a very Happy Holiday Season! We thank you for your support in 2002 and look forward to great new initiatives in 2003.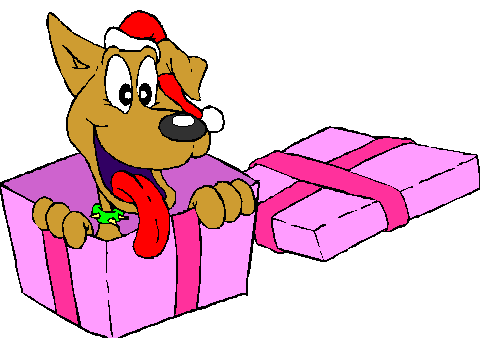 ---
AARF participated in the annual Soroptimist Christmas Fair on Saturday December 7, 2002.
Our Fund Raising Committee headed by Jacquie Connor came up with 2 new fund raising options for this year. In addition to our t-shirt sales, AARF raffled off 2 pet gift baskets at EC$5.00 per ticket and sold home made dog biscuits prepared by Jacquie Connor. Disa Billington was instrumental in arranging the donation of food and toys for the raffle.
Our special thanks to Ashley's Pet Center for their generous donation of food and treats.
Many thanks also to our volunteers on the fund raising committee for the new initiatives. Also thanks to our volunteers Jacquie Connor, Chris Carty, Suzan Donahue, Amy Williams, Lisa Thomson, Barbara Owen, Ralph and Jackie Cestero and Donald Curtis for assistance in putting up the tent!
The winner of the dog basket was Tucker Hill
The winner of the cat basket was Blacks Carty
Thanks to all for making the day a great success for AARF!
Jacquie Connor displays her home made dog biscuits
Dog and Cat raffle baskets donated by Ashley's Pet Center
Pictures of our booth and hard working volunteers
---
A Holiday Gift For the Person Who Has Everything
Are you constantly trying to find a special gift for that family member or friend who has everything?
Why not consider giving a gift that will help the animals of Anguilla? Make a donation to AARF in the name of that special person, and we will send a holiday greeting either via post or email to notify them of your contribution in their name.
Just complete our gift form and mail to info@aarf.ai . Visa and Master Card also accepted.
---
IVA Spay & Neuter Clinic in St. Lucia
The International Veterinary Association recently conducted a spay and neuter clinic in St. Lucia in combination with The St. Lucia Animal Protection Society (SLAPS). We look forward to their visit to Anguilla early in 2003 to begin discussions about a similar clinic here.
---
"Guilla" Finds a Home in the USA
My husband and I were in Anguilla for most of October and brought three kittens to the shelter. We decided to take the female home with us and we are happy to report that "Guilla" is doing well and adjusting to her new home and big brother. She was so wonderful on the trip home and even survived being taken out of her cat carrier at the San Juan airport.
We would both really like to know what happened to the two male kittens. They were tiger cats and one had a very loud meow. We brought them in on the 25th or 26th of October and found them at La Sirena hotel. We did not see them on the website, but hope they found a home. We would love any information you might have.
You are running a great operation! We wish you continued success.
Regards,
Cynthia Raso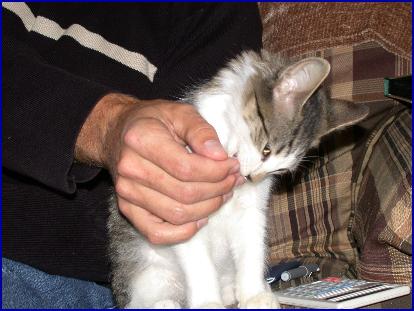 ---
CJ is an approximately 3 month old male puppy who was left at Cap Jaluca. He would really love a new home for Christmas and is very sweet!
Rocky is a 2 year old part Rotweiller male. He is full of energy and will require lots of training and energy.
If you are interested in either of this adoptable pets, please contact Amy at 497-4600 Mondy through Friday from 9:00am to 1:00pm
---
No animal should ever jump up on the dining-room furniture
unless absolutely certain that he can hold his own in the
conversation." -Fran Lebowitz

The reason a dog has so many friends is that he wags his
tail instead of his tongue." -Anonymous

"Don't accept your dog's admiration as conclusive evidence
that you are wonderful." -Ann Landers

"If there are no dogs in Heaven, then when I die I want to
go where they went." -Will Rogers

"There is no psychiatrist in the world like a puppy licking
your face." -Ben Williams

"A dog is the only thing on earth that loves you more than
he loves himself." -Josh Billings

"The average dog is a nicer person than the average person."
-Andrew A.Rooney

"We give dogs time we can spare, space we can spare and love
we can spare. And in return, dogs give us their all. It's the
best deal man has ever made." -M.Facklam

"Dogs love their friends and bite their enemies, quite unlike
people, who are incapable of pure love and always have to mix
love and hate." -Sigmund Freud

"If I have any beliefs about immortality, it is that certain
dogs I have known will go to heaven, and very, very few persons."
-James Thurber

"I wonder what goes through his mind when he sees us peeing in
his waterbowl." -Penny Ward Moser

"A dog teaches a boy fidelity, perseverance, and to turn around
three times before lying down." -Robert Benchley

"I wonder if other dogs think poodles are members of a weird
religious cult." -Rita Rudner

"Dogs need to sniff the ground; it's how they keep abreast of
current events. The ground is a giant dog newspaper, containing
all kinds of late-breaking dog news items, which, if they are
especially urgent, are often continued in the next yard."
-Dave Barry

"Anybody who doesn't know what soap tastes like never washed
a dog." -Franklin P. Jones

"If your dog is fat, you aren't getting enough exercise."
-Unknown

"My dog is worried about the economy because Alpo is up to
$3.00 a can. That's almost $21.00 in dog money."
- Joe Weinstein

"Outside of a dog, a book is probably man's best friend;
inside of a dog, it's too dark to read."
-Groucho Marx

"Ever consider what they must think of us? I mean, here we
come back from a grocery store with the most amazing haul
-- chicken, pork, half a cow.They must think we're the
greatest hunters on earth!" -Anne Tyler

"Women and cats will do as they please, and men and dogs
should relax and get used to the idea."
-Robert A. Heinlein