Volume 2, Issue 2 April 2002

The goal of this newsletter is to keep members and friends up to date on events and plans of the organization. If there is any particular topic you would like to see addressed in the newsletter, please send email to news@aarf.ai
IN THIS ISSUE

Adorable Kittens Available for Adoption
For the first time in many months AARF has 5 kittens available for adoption. These lovely kittens are from 2 separate litters and are in good health. Since we rarely get kittens, they will go quickly. If you are interested in learning more about these lovely adoptable pets, please click here or call Amy at 497-4600.
---
Princess and Kelly
These 2 very sweet 4-5 month old female pups are seeking a new home. A gentleman rescued them after their mother was killed by his neighbor. Fearing they had the same fate, he brought them to AARF.
If you are interested in these wonderful girls, please call Amy at 497-4600 Monday through Friday from 9:00 AM - 1:00 PM.
Update: These puppies went to Sherry and John Morrall at the end of April!!!
---
April is License Your Dog Month
All dogs living in Anguilla over the age of 6 months are required to be licensed by the Government. Simply go to the Treasury department (far right window) and give the gentleman a description of your dog including colors and the dog's sex. You will pay a $25EC fee and receive a tag with the year and a license number printed on it.
tag
Please note the tag will now have 2002 on it.
---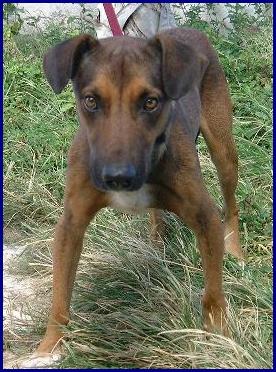 Sherry and John Morrall returned to Anguilla in April on another quest to bring back homeless animals to their home in New Hampshire. Lion shown in the picture above is an approximately 1 year old male who they rescued some months ago and they became attached. He was suffering from heart worm at the time. They paid for his boarding and heart worm treatment here in Anguilla. Now fully recovered Lion has moved to New Hampshire to enjoy life on their farm.
Along with Lion they took 4 other puppies and they have already placed them in good homes.
AARF would like to thank the Morrall's once again for their support of animals here in Anguilla.
---
One year later Sarah is found getting into BIG Trouble! She found a plant pot after a good rain storm. Her mom Lynn calls this photo "The Guilty Party." Lynn reports that Sarah is very smart. "She knows lots of tricks: sit, shake, lay down, roll over, spin, bark, fetch, come and stay. We are especially proud because she can add!!! It's amazing!!"
If you have a picture or a story about one of the rescued animals from AARF we would be thrilled to hear about it. Please send information and updates to cestero@anguillanet.com
---
Bartlett's Collection Sells AARF Merchandise
Up to this point AARF has been selling merchandise at local events from the boat races to the Agriculture Fair. As of this month, Lynn and Calvin of Bartlett's Collection are now selling AARF merchandise in their gift shop. Lynn has been a supporter of AARF since she arrived on island last fall. She adopted Sarah above and is also active in the education committee. She offered to place the shirts in her store because so many people have met Sarah and are interested in AARF and our cause.
Located on Backstreet overlooking Sandy Ground, Bartlett's has a wide variety of gift items. You can read all about their great shop in this edition of the Anguilla News http://news.ai/ref/bartletts.html
We would like to thank Lynn and Calvin for their continued support of AARF.
---
On March 2, 2002 a number of individuals began dog training with Lynne Coffin from St. Martin. Photos and a description of the first class day can be seen here. The current class should complete by mid May.
If you are interested in dog training classes in Anguilla, please contact Amy at 497-4600. Minimum class size is 10.
---