Volume 1, Issue 2 June 2001

The goal of this newsletter is to keep members and friends up to date on events and plans of the organization. If there is any particular topic you would like to see addressed in the newsletter, please send email to news@aarf.ai
IN THIS ISSUE

Grant Application is Made to Parks Foundation
In April the Anguilla Animal Rescue Foundation applied to The William and Charlotte Parks Foundation for Animal Welfare for a Project Grant in the amount of $3000 US to establish an education program for both children and adults in the humane treatment of animals. The grant writing effort was facilitated by Mary Beth Guyther of Long Island. She is a professional grant writer for the Enterprise Foundation in New York City and dedicates her free time and special talents to helping various rescue organizations.
The AARF Executive Committee would like to thank Mary Beth for all of her efforts in putting this grant together and getting us on the right track. We look forward to working with her in the future.
---
Education Committee Seeks Volunteers
As a result of the grant writing efforts above, an education program outline has been put together. The AARF Education Committee Chair, Michelle Owen-Vasilis is looking for members and friends of the organization to join her committee and further develop this program and bring it to fruition. Michelle has already had an introductory meeting with Mr. Orris Proctor who has been very receptive to her ideas.
The Education Committee is a very important part of this organization and will be pivotal in changing the outlook of companion animals in Anguilla. If you are interested in joining this very important committee and making a difference with education, please contact Michelle at edu@aarf.ai or owenvas@anguillanet.com .
---
AARF has been fortunate enough to have benefited from the talents of Jacquelyn Wavrunek of Chicago, IL. After seeing our web site she offered to do our merchandise logo at no cost to the organization. Jackie is a commercial artist and a frequent visitor to Anguilla. The Executive Committee would like to give her a big Thank You for putting up with our multiple changes and crazy ideas. Also a thank you for putting our logo ahead of her business responsibilities. We hope that Jackie will join us for a general meeting when she returns to Anguilla in February 2002!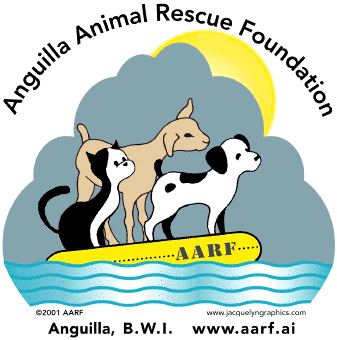 AARF will begin sales of t-shirts at the end of June along with a membership drive. Anyone who is interested in spending some time at the Post Office and manning a booth should contact info@aarf.ai.
AARF would like to thank Philippe & Sylvie Gaudry of Caribbean Silk Screen for advising us on our t-shirt order and waving the set up charge for our t-shirts.
---
Mr. Payne Assumes Vice President Position
Mr. Joseph Payne has assumed the position of Vice President of The Anguilla Animal Rescue Foundation. Mr. Payne will also continue in his role as Trustee along with Ms. Amy Williams. We would like to thank Mr. Payne for assuming this responsibility despite his busy schedule.
---
According to our treasurer, only 15 people have signed up and paid dues to become members of AARF thus far. We have had a number of very nice financial gifts to the organization. Remember that you must pay your dues in order to be eligible to vote in the Annual Meeting.
---
Affiliation with The Anguilla Community Foundation
The Anguilla Animal Rescue Foundation has teamed up with The Anguilla Community Foundation to provide donors with the ability to gain a US Income Tax deduction when donating to AARF via a "Pass Through Fund." This tax deductible status could provide a great advantage to the organization through increased donations as well as allowing AARF to apply for grants and funding to organizations which require US Tax Exempt status. In addition, The Anguilla Community Foundation may provide the facility to set up an endowment fund which will sustain the organization for future generations.
If you are interested in ways of donating to AARF through The Anguilla Community Foundation, click this hyperlink Tax Deductible Donations.
The AARF Executive Committee would like to thank Carolle Devonish (Director, Anguilla Community Foundation) for her time and for facilitating our association with their group.
---
Bob Green and others have asked us to provide clear instructions on importing companion animals to Anguilla. In this case we will discuss cats and dogs in particular. Animals brought into Anguilla must have the following documentation:
| | |
| --- | --- |
| | Proof of rabies vaccine within the last 30 days |
| | Proof of all other shots |
| | A letter written by your vet stating specifically that the dog is in good health and is free of any communicable diseases |
| | A letter signed by the Department of Agriculture which states what you have permission to import the animal. If you are on Island they ask that you come directly to the Department of Agriculture to pick it up. Otherwise, they will fax it to you. Contact agri@anguillanet.com for more information. |

You are required to pay a $100 EC fee per animal to Customs when you enter and a $15 fee to Agriculture for reviewing the paperwork. A representative from the Agriculture Department (usually Dr. Vanterpool) is called at the time you arrive at your point of entry to come and inspect the animal or animals. If they are unable to come to the point of entry, you will be required to take the animal to either Agriculture or Morlen's Veterinary Clinic. Customs should not detain you any longer than 15 minutes to provide humane treatment to the animal.

It is a very good idea to notify Dr. Vanterpool specifically when you will be entering Anguilla and by what port to facilitate this process.

---

Over the past several weeks there have been a rash of poisonings in Island Harbour. Residents in and around the area are asked to keep control of their animals and don't allow them to roam. It is important not to allow your dog to pick up items off the road or area around your home that you are not familiar with.

There has been a rumor around the area that the local police are poisoning animals as a means of control. Dr. Vanterpool strongly states that these are just rumors. In fact the Attorney General's Office has issued an order that no government officer should be involved in poisoning of dogs as a means of control.

It is important to report any poisoning events immediately to the police and Dr. Vanterpool.

Depending on the type of poison used, there may be help for your pet.

Call 497-4600 Monday through Friday from 9:00 am to 1:00 pm

or

Amy Williams Cell Phone 235-6204

or Dr. Patrick Vanterpool Cell Phone 235-6227

Remember Time is Critical In Poisoning Cases!
---
The Anguilla Animal Rescue Foundation has received publicity in both the Anguillian and The Daily Harold regarding our programs. The AARF Executive Committee would like to thank Brenda Carty for all of her help with publicizing our organization. We look forward to working with her in the future as we venture into fund raising projects.
---
One of the things we probably don't think about on a daily basis are the needs of the strays being housed at Morlen's Veterinary Clinic. Remember that Morlen's Veterinary Hospital is still absorbing the cost of these strays. Amy Williams Veterinary Technician and the driving force behind the care of these lovely animals, is in need of old newspapers to line those cages. Please don't throw out those papers you have at home. Drop them off at Morlen's Veterinary clinic Monday through Friday from 9:00 am to 1:00 pm.
AARF currently has 4 dogs/puppies and 2 kittens waiting to be placed in loving homes. Check out these great pets at AARF Pet Adoption.
AARF now has a Wish List of items that would be helpful in caring for the animals. If you have any of these items and would like to share, please drop them by the clinic.