Volume 1, Issue 5 December 2001

The goal of this newsletter is to keep members and friends up to date on events and plans of the organization. If there is any particular topic you would like to see addressed in the newsletter, please send email to news@aarf.ai
IN THIS ISSUE

Saturday 22 December 2001 between 6:00 PM and 8:00 PM in the vicinity of Xerox. Zeus was in his pen behind the building and either escaped or was removed. If you have any information regarding his whereabouts please contact 235-8401.
---
The Executive Committee of The Anguilla Animal Rescue Foundation would like to send warm greetings for a Happy Holiday season to all its members, supporters and volunteers both in Anguilla and around the world!
---
It seems that holiday time is the season for abandoned puppies. This year is no exception. The following are puppies currently available at the shelter. If you are thinking of giving a gift this holiday season, a rescue pet can be a wonderful choice. It is a gift that keeps on giving with love to those who adopt it. Remember that a puppy is also a commitment and requires care and love even after Christmas.
Maggie found a home before she every made it to this page!!!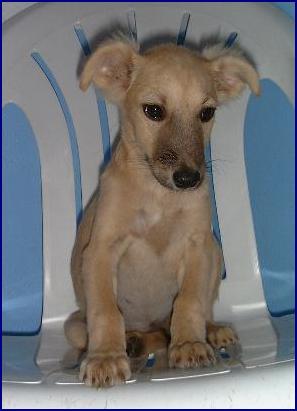 Her sister Sandy still awaits placement. This lovely female is about 10-12 weeks of age.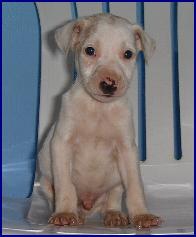 Spot(M) Whitey (M) Alfie (F)
These 3 little half pints are approximately age 6 weeks old. They are very sweet and need some love and good nutrition. They would make wonderful family pets.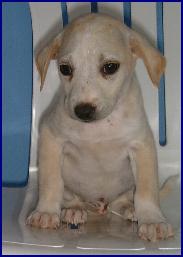 RCA (F) Bo (M) Lisel (F)
These 3 puppies are littermates age approximately 7 weeks. They have been well cared for and will be a great addition to any family.
If you are interested in any of these wonderful rescue animals, please contact Amy Williams at 497-4600. During the holiday season, Amy will be checking her answering machine at the clinic in the mornings. Please leave a message or email her at adopt@aarf.ai.
---
For the past year and a half Kathy Haskins has been caring for 2 cats living by themselves at an empty house. Each day she has faithful fed and nurtured these two lovely cats. Now the house is sold and the new owners do not want the cats! She is desperately trying to find homes for these animals. She states that Canelle is a 14 year old female and Michonet is approximately 2 years old and spayed. Preferably, they would go to a home with no other animals and with much love and attention they would be great family pets.
If you are interested in these lovely cats, please call Kathy at 497-2460 (H) or 497-2052 (W) or email rachbeck@anguillanet.com
Michonet Canelle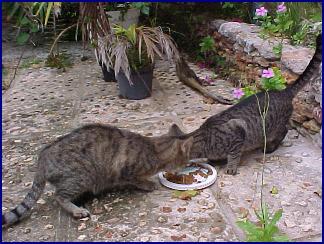 ---
Update AARF at Soroptimist Craft Fair December 1, 2001
On Saturday December 9, 2001 members of the organization manned a booth at the Soroptimist Craft Fair at the Governor's House in Old Ta. The members of the Anguilla Beautification club kindly shared a portion of their tent with our representatives.
Throughout the day a number of individuals visited our booth to learn about the programs of AARF including visitors and residents. A number of people raised questions and concerns about specific animals in the community such as horses and stray cats. A number of t-shirts were sold and we signed up two new members.
Many thanks to our volunteers including Suzan Donahue, Disa Billington, Kellie Bryant, Amy Williams, Oliver Owen, Barbara Owen, Chris Carty and Jackie Cestero. Both Suzan and Disa are new to the organization and we welcome their support.
Chris Carty, Barbara Owen and Disa Billington
---
Puppies Find New Home in the United States
On December 1, 2001 our 2 featured puppies Polly and Petunia took a ride to their new home in the United States courtesy of Sherry and John Morrall along with 2 other 8 month old female dogs (Sasha and Mahogany). Sherry and John are frequent visitors to the Island and no strangers to Morlen's Veterinary Hospital. Over the past few years they have taken several animals back to their home in New Hampshire to find new adoptive homes. They have adopted one from Anguilla as a pet themselves.
They are currently supporting the care of another stray here who is being treated for a number of medical problems. Once the dog is ready to travel they will return to Anguilla to transport him back home.
The Morrall's long term goal is to open a animal rescue program on their 11 acre property.
AARF would like to thank the Morrall's for their great generosity and care of the animals in need in Anguilla. We would also like to thank American Eagle in Anguilla for facilitating their transfer on such short notice.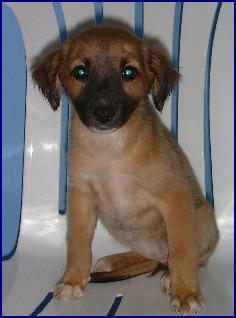 Polly Petunia
Flash Updates:
We have received email from the two new owners of Polly and Petunia that we would like to share with you.
Patrick Lyon Writes - Thanks for the follow up. Yes we gave her the name Dakota (American Indian word for Friend) She adapting to the cooler weather slowly. We live in the State of Hew Hampshire in USA. Our house is on a dead end road with plenty of woods and running space on our one and a half acre property in a dog friendly neighborhood. She is definitely full of love. We are trying to train her to go potty outside. We have 6 cats live with us and they are all adapting quite well. We will try and send you a Christmas picture if you'd like. You can email my wife and myself at our home email lisakatz007@yahoo.com. I will email you when I get home as to which puppy it is we have. Not quite sure.
We have Petunia.
From Kim Lynch
Hello Jackie,
Just wanted you to know that I adopted the other little puppy you were referring to down below. I have to say the minute I saw her I fell totally in love. She is the sweetest little thing. The first few days she was very timid and shy. Now she has totally come out of her shell and is into anything and everything. She lives with myself, my husband Jay, our 2 children (Ashley and Joe), our Dog (Marley) and 19 year old cat (miller) They all get along perfectly. We decided yesterday to name her Indie (since she came for the West Indies!!!) Please feel free to use her information in your news letter. If you want a picture for your next news letter let me know and I will mail one to you. Please include your mailing address. From the picture on your web site it looks as though we adopted Petunia. They both looked so much alike it's hard to tell.
Kind Regards,
Kim Lynch
I think we can all agree from the above, these 2 little girls were very lucky indeed to find a new home in New Hampshire. Thank you to the Lyon's and the Lynch's for giving our homeless animals a second chance at life.
We will have to wait for the follow up pictures to see who really adopted Petunia!
---
AARF will once again be featured in the Winter Edition of Anguilla Life Magazine. You will find this edition on the shelves in January 2002.
Our thanks again to Claire Devener for keeping our cause in the news.
---
Lynne Coffin Makes AARF Presentation
On Sunday December 9th Lynne Coffin made a presentation to the general Membership on the benefits of dog training at the Agriculture Department. Lynne was accompanied by one of her pupils and her dog Magic, and 2 staff members.
About 25 persons from the community attended, some accompanied by their pets.
Lynne's presentation started out with a small warm up demonstration with Magic. She then discussed the principals of dog training and how it is important to train the owner to train the dog. She stressed that consistency is important as well as not giving the animal mixed signals. For example giving the puppy an old shoe to play with and then chastising the animal when it eats your $100 high heals.
Lynne displayed her form of training with Magic on lead and then allowed his owner to demonstrate. She made us all note that Magic felt that he could get away with a lot more when being handled by his owner than with Lynne. This is a typical syndrome owners can fall into when training a dog.
Lynne recommends that you begin training classes at around 4 to 6 months of age. However, she says older dogs can be trained and broken of the bad habits they have learned over time.
Lynne answered questions among the group and discussed our training programs for the new year. To close the meeting, the participants were thanked for their good work and presented with complimentary AARF t-shirts.
In an effort to support both foundations Lynne has offered to give a series of dog training classes to be held in the beginning of 2002. They will be done over an 8 to 9 week period on Saturdays. Ideally we would have a puppy class, and adult class and a class for timid animals who have been abused etc. The sessions will be around 1 to 2 hours long and will be held at the Agriculture Department Grounds. A notice will be sent out when a final decision has been made about dates, times and costs.
Below you will see some views of Lynne's demonstration.
Above views of Lynne working with Magic. Notice how he gives her undivided attention.
Dr. Vanterpool tries to distract Magic from his stay position. Unfortunately he succeeded.
Lynne works with 5 month old Blue a Stafford shire Terrier. Amazingly this totally untrained puppy was watching her and walking at her side within 2 minutes time.
Zeus a 5 month old Springer Spaniel learns how to walk in place after a few tries.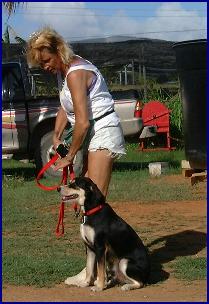 Radar a local dog rescued from the Corito dump suffers from constant pulling on the leash. As you can see she has him sitting in place without struggle.
Zebe a 2 year old Great Pyrenees at 120+ pounds lags when walking and will not sit. As you can see he finally gets into a sitting position.
---
Scar, Rakev and Spike
A few months after adoption, Scar poses for a photo opportunity with his new owner Rakev Webster and his new brother Spike. As you may recall, Scar was found beaten in Little Harbour in August. A truly happy ending!
---
Agriculture Show - Volunteers Needed
AARF is scheduled to have a booth at the 2002 Agriculture Show to be held February 9th and 10th on the Agriculture Department Grounds. Anyone who is interested in volunteering to man the booth for any time during this period should contact Jackie Cestero at cestero@anguillanet.com or info@aarf.ai.