Volume 1, Issue 3 August 2001

The goal of this newsletter is to keep members and friends up to date on events and plans of the organization. If there is any particular topic you would like to see addressed in the newsletter, please send email to news@aarf.ai
IN THIS ISSUE

Government Announces Animal Control Program
On Friday July 6th the Government of Anguilla officially announced its intention to begin an Animal Control Program for Anguilla. The program in the first phase will include the position of Animal Control Officer and assistant, a vehicle, a facility for housing the animals, tranquilizer guns and protective clothing. It is hoped that this program will help to control the wild goats and dogs on the island.
---
Lost and Found Added to Web Site
In response to an individual who requested our help finding a lost parrot, AARF has added a new category to our web site. Please check Lost and Found for further information on Sophie the missing African Gray Parrot.
If you need assistance finding a missing animal and have a picture, we would be happy to post it on our site.
---
Membership Drive/Merchandise Sale at Post Office
On Friday July 13, 2001 a number of volunteers manned a booth at the Post Office to sell AARF merchandise and encourage membership in the organization. It was a great day for all involved. The results of the days activities included 18 new memberships:
2 Student

6 Regular

1 Senior

8 Family

1 Lifetime
Over $1000 US was raised to support the organization!!!
Interviews were conducted by Radio Anguilla and Nat Hodge. We would like to thank the staff of Radio Anguilla and Nat Hodge for the great article he placed in the Friday July 20th edition of The Anguillian.
The Executive Committee would like to thank all of our wonderful volunteers for making the day a success: Wini Scarbrough, Amy Williams, Pat Vanterpool, Joan Hill, Joanne Davies, Jacquie Connor, Pat Harris, Barbara Owen, Chris Carty and Jackie Cestero.
Chris Carty, Wini Scarbrough, Amy Williams and Pat Vanterpool
News Flash: The next batch of t-shirts has arrived in time for carnival. If it can be arranged, we will have a booth at the Monday and Thursday boat races. Many thanks to Sylvie and Philippe of Caribbean Silk Screen for putting our order through despite the busy carnival rush!
Back to Top
---
As of August 1, 2001 AARF has the following members:
2 Student

21 Regular

2 Senior

19 Family

2 Corporate

4 Lifetime
Thanks to all of you who are supporting this very important organization.
---
On July 7th AARF finally received and was able to unpack the cartons of supplies donated by Hartz Mountain Corporation. The many cartons contained supplies which will help in the care of the homeless animals including Flea and Tick Drops in 5 dog sizes, flea capsules in 4 dog sizes, flea collars for both cats and dogs, general purpose and flea shampoo, as well as a number of pet toys. With the rising tick and flea problem here in Anguilla, this donation will give the homeless animals preventative care they desperately need.
AARF would like to formally thank the Hartz Mountain company for their thoughtful gift.
---
AARF Featured in Anguilla Life Magazine
On August 1 the summer issue of Anguilla Life Magazine will hit the stands here in Anguilla. Inside you will find an article about The Anguilla Animal Rescue Foundation. Claire Devener, representative for the magazine was anxious to get our story out. An avid cat lover, she has promised us more space during the tourist season and is willing to help out. AARF would like to give Claire a big thank you for giving AARF great publicity.
---
AARF reports some success stories in placing homeless animals. 7 puppies and 3 adult dogs were place in July. Sparky whose owners had to leave him behind upon departing Anguilla was also adopted to a very good home in early July.
Adult dogs and females are the hardest to place. Remember both males and females contribute to the problem of overpopulation. Spay and Neuter your dogs and cats!
---
Education Committee Participates in Camp Be-Aware
On Wednesday July 18th, AARF paid a visit to Teacher Art Egel's Camp Be-Aware. Accompanied by a puppy who was up for adoption. I, Michelle Owen-Vasilis, Education Committee Chair, chatted with the 40 plus kids of camp Be-Aware about the Anguilla Animal Rescue Foundation and our goals.
I was very encouraged to hear all the positive comments the kids made and our discussions revealed to me that the kids are very informed and already possess a real respect for animals. We talked about everything form spaying/neutering to how to properly care for animals. The kids used words like, "love" and "care for" when talking about their own animals.
All in all, although our time was limited I had a lot of fun and the fact that the kids were so responsive to our organization was the highlight. When we wrapped things up the kids were very excited to hear that they could become members of AARF too! I look forward to our future presentations and trust they will be just as successful. Oh yeah, and the puppy that I brought who was up for adoption - my son adopted her - her name is Feevy!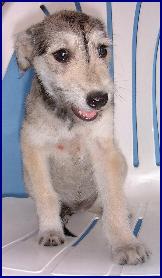 Feevy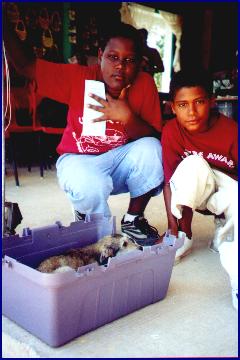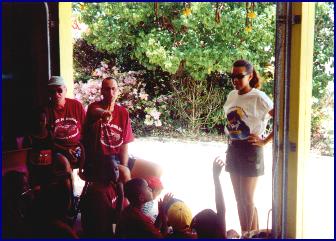 Students meet Feevy close up (left) Michelle Owen-Vasilis, Education Committee Chair talks with students about AARF and the humane care of animals (right)
---
In an effort to collect more money to support AARF, six boxes have been made and are available to be placed at different sites around the island. Currently there is one at Morlen's Veterinary Hospital and at La Sirena Hotel. We hope to be able to place one each at the airport and Blowing Point Ferry. The original cat collection box is at Venissimo Wine Shop on the west end. Our thanks to Christine Cutler and Viviane Masshardt for volunteering to place the boxes and brochures at their locations.
We would also like to thank Damian and Chris Carty for the great design, Lenny (Anguilla Techni-Sales) and David Carty (Rebel Marine) for supplying the scrap wood and Plexiglas, and Ralph Cestero for doing the construction.
---