2004 Annual General Meeting
2004 President's Speech 2004 AGM Minutes
Crossection of attendees to 2004 AGM
On Wednesday July 7th, 2004 AARF conducted its 3rd Annual General Meeting at the Teacher's Resource Centre of the Public Library. 23 members and 9 visitors attended the meeting making it the best turnout ever for an AGM.
Members of Team Puppy Angels who participated in the 3 day spay/neuter clinic were in attendance and thanked for their hard work and in particular Dr. Wallace and Linda Seavy of Plaistow Animal Medical Center in New Hampshire were thanked for their donation of virtually all the supplies to support the clinic.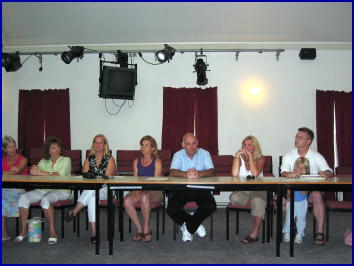 Sherry Morrall, Linda Seavy, Dr. Wallace, Kim Lynch John and Ellie Morrall at AGM
During the President's speech, Mr. Payne outlined the accomplishments of the organization during the year and thanked those responsible for the successful year. He concluded that he was proud to be part of the organization. Mr. Payne was thanked for his service as President for the past 2 years as well as he continued role as a Trustee of AARF.
Mr. Joseph Payne
Mrs. Ellen Lee was awarded in absentia the title Volunteer of the Year for her role as a foster parent to so many of AARF's homeless animals.
The 2004/2005 Officers were affirmed as follows:
President:  Jackie Cestero
Vice President:  Chris Carty
Secretary:  Suzie Donahue
Treasurer:  Jimmy Carter
Elected Ordinary Members:  Jackie Pascher and Althea Turner
The evening concluded with light refreshments.
If you were unable to attend the meeting you can read the minutes and speeches by clicking on the links at the top of this page>.