Anguilla, British West Indies
Anguilla (pronounced an–GWILL–luh) is an island in the Leeward Islands, which is a subset of the Lesser Antilles. (Note: to fit in, do NOT pronounce it as an–GEEEE–luh or an–GWHEEL–luh!)
Europeans came up with the name because the island is shaped somewhat like an eel — and Anguilla is a scientific name for eels.
It is small, only 16 miles long by 3 miles wide (26 x 5 km), with an area of 35 square miles (or about 91 square kilometers).
Anguilla lies about 140 miles east of Puerto Rico and is one of the most northerly of the Leeward Islands. The image at the right shows Puerto Rico via its flag and Anguilla to the East of it.
The latitude and longitude for the island is 18 degrees 15' N and 63 degrees 10' W. If you have a GPS and want to map various locations on Google, here are the coordinates for the Anguilla airport in Google maps.
The closest island is the French/Dutch island of St. Martin/Sint Maarten (about five miles away). St. Bartholomew and Saba are within viewing distance.
Anguilla is a quiet island with award–winning sandy beaches, and equally award–winning hotels and restaurants. It has little traffic, no cruise ships and no casinos. This is the place to visit for the food, beaches, and water sports.
The climate is tropical, but arid. It is served by easterly trade winds; temperatures are in the mid–80s Fahrenheit (27–30 Celsius). Rainfall is only about 35 inches a year (90 cm); most of that rain comes in the latter half of the year. Because of this, the vegetation is largely bush. It's a relatively flat island.
Maps
Below (on the left), is a simple map of Anguilla from Google Maps (you can click on the image to view it directly in Google Maps.).
Skyviews has a much more detailed, very high quality map of Anguilla. You can see it below on the right and can also click on it. Be warned: it takes a long time to load, requires Flash and as such should be viewed on a PC. Note: This is the same high quality paper map you can usually find all over the island (we highly recommend it).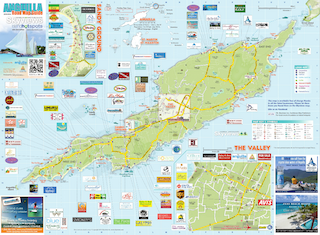 The World Atlas web site has a nice map of the Caribbean.
We lave links to various other maps on our Links page.
Facts, History, Etc.
Local links has lots of pointers to local guides, forums, etc.
Anguilla facts has many Anguillian statistics, figures and more (courtesy of WorldAtlas.com).
Anguillian history is covered in a few places. Articles move, so it is best to simply do a web search for "Anguilla history". Here, though are a couple: